Baking
cakes sans flour may sound intimidating; after all, all-purpose flour is an essential ingredient in almost every recipe. But follow
gluten free
and
healthy eating
trends across the globe and you will be surprised with the spectacular range of recipes that are emerging, and all
without the glutinous wheat flour
.
Flourless cakes are more decadent than the traditional version, being almost fudgy in nature. Doing away with flour perhaps makes the other ingredients shine through, giving you more intense flavours on the palate. No wonder then that the flourless chocolate cake or torte has acquired such an envious fan following in such a short period of time. Trust chocolate to work its magic that you don't really swither when it comes to tweaking a classic recipe. And it works too!
Unlike the fluffier traditional cakes, the flourless version is dense because it doesn't rise during the baking process, but rather collapses, and is therefore also known as "fallen". When you bite into it, it is surprisingly light and creamy. Team it with a citrus flavoured ice cream or sorbet and it makes for a relishing afternoon treat.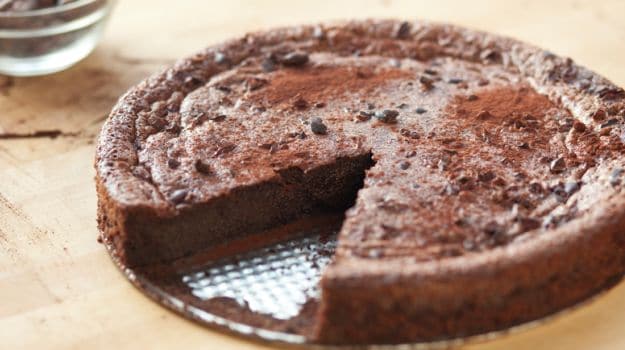 How to Make Flourless Chocolate Cake
The good news is that you don't need to look out for exclusive ingredients to make flourless chocolate cakes. You need the same ingredients as used in a classic cake recipe - chocolate, butter, sugar and eggs - minus the flour. But there are some important points to remember.
Rachel Goenka, Pastry Chef and Partner of Mumbai's popular restaurant The Sassy Spoon, says, "When using flour in a recipe, it tends to mask the flavour of the chocolate. In a flourless cake, chocolate is the real hero. So make sure you use premium quality chocolate to make the cake more flavourful. The darker the better!"
Pastry Chef Kainaz Messman, Owner of Theobroma, says, "Being attentive when you bake is crucial. The difference between a moist and dry cake is often a few extra minutes in the oven. Remember that the cake continues to bake even after it comes out of the oven. Let it be a little fudgy."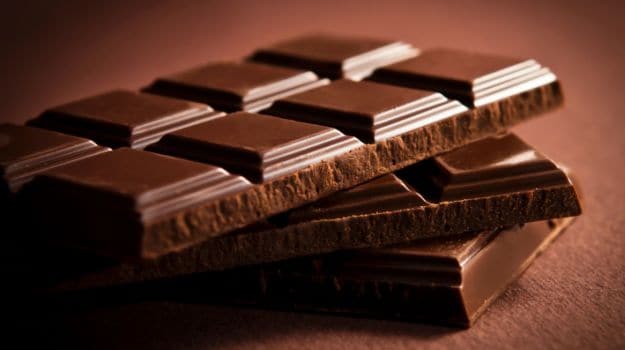 While making flourless chocolate cake, almost all recipes instruct separating the yolks from the egg whites. Doing so makes the cake more mouse-like and light. "Whisking the eggs whites and the folding technique are crucial. You need to make sure the cake is light while incorporating the chocolate into the whipped egg whites," advises Rachel.
The first step is to melt the chocolate and butter, either in the microwave with 30 seconds increments or in a double boiler, followed by beating in the yolks, sugar and baking powder. In a separate bowl, whisk the egg whites till stiff and then carefully fold it into the chocolate batter. Bake it in a preheated oven until a skewer inserted at the centre comes out clean.
Deviating from this recipe, Celebrity Baker Martha Stewart on her website uses the meringue method to make a super light flourless chocolate cake. This also results in the surface being crisp, which easily cracks if you tap it with a spoon. Here, she whisks the egg whites and sugar until creamy, and folds it into the chocolate-egg yolk mixture.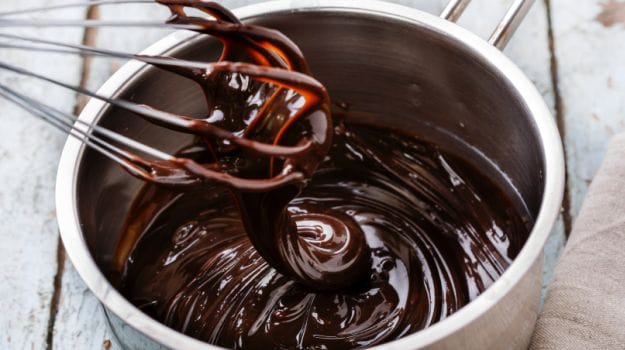 In Celebrity Chef Jamie Oliver's recipe, he uses a three-step method. First, he melts the chocolate and butter; then he beats the egg yolks and sugar till creamy, and tips in cocoa powder and sea salt; and finally, he whips the egg whites till stiff and folds in the other mixtures.
Some expert chefs also like to add in cocoa power for an intense chocolate flavour. Celebrity Pastry Chef and blogger David Lebovitz's flourless chocolate cake even throws in cacao nibs for some crunch.
Whichever recipe you plan to go ahead with, remember to "read the recipe carefully, and follow the instructions precisely. Respect the science while baking. It is easy to get it right but equally easy to get it wrong as well," says Kainaz.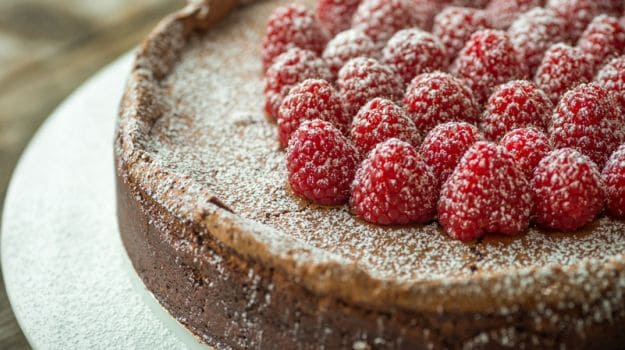 Flavours to Play Around With
If you are looking for ways to spruce up the flourless chocolate cake, then here are some ideas -
1.Go Nuts: Throw in a variety of nuts to add to the flavour, such as hazelnuts, almonds, walnuts and pistachios. You can even use nut flours. Nuts give great taste, wonderful texture and beautiful moistness.
2. Essence is the Key: Adding some essence to the chocolate batter can give a flavour boost to the recipe. "If you have any lavender essence then one can make a beautifully floral chocolate and lavender flourless cake," says Rachel.
3. Citrus Notes: You can add in citrus notes to the batter. Chocolate and citrus pair beautifully. Squeeze in some orange or lime, or use orange flavoured liquor.
4. Veggie Love: "Vegetables work well in cakes. Beetroot, sweet potato, courgette, etc. can be used. Be adventurous," says Kainaz.
5. Coffee Time: Nothing like chocolate and coffee. More than a teatime treat, it makes for a great dessert.
Flourless Chocolate Cake Recipe to Try at Home
Recipe by Chef Joey Mathew
With just five ingredients to work with, this flourless chocolate cake is quick and easy to make. Topped with almond flakes, this cake is a real crowd pleaser. For the recipe, click here.