Fried Chicken Stars in This Make-Ahead Meal
Melissa Clark, The New York Times | Updated: July 19, 2017 12:34 IST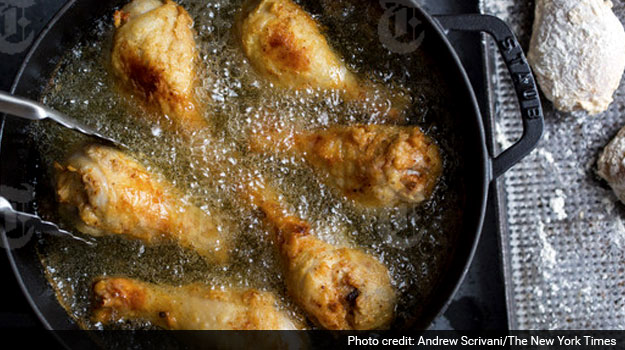 Every cook knows the formula for a winter make-ahead dinner party: stew some short ribs, braise a chicken or layer together a lasagna a few days before, reheat to serve. The flavors are better for having had a chance to meld, and the cook feels better for having a chance to clean the kitchen and take a shower before the doorbell rings.

Summer make-ahead is trickier, especially when one of the goals is to not turn on the stove within several hours of your guests' arrival. Keeping both the kitchen and the cook nice and cool nixes any sweaty thoughts of reheating.

The usual strategy for a make-ahead summer meal is a spread of salads and poached fish, which is fine in June but grows wearisome by August. Instead I suggest taking another path entirely: fried chicken.

A longtime picnic staple, chicken is one of the few fried foods that tastes as good at room temperature as it does warm. And with a few minor tweaks to the classic recipe, this version holds up particularly well, remaining crisp and well seasoned for hours out of the fryer.

The first tweak is to double up on the spices in both the buttermilk brine and in the flour coating mix. Cold numbs the flavors of food, which is why cold foods always need more salt than their hot counterparts. Eaten straight from the fryer, this chicken may seem brashly spiced. But devoured a few hours later, the seasonings are just right.

Another problem with cold fried foods is the inevitable loss of crunch. This can't be entirely solved, but to mitigate it, I double-dredge the chicken in the flour coating before frying. This extra layer of flour helps maintain even room-temperature crispness. It's actually something you may try when you're eating your chicken hot, too.
Other pointers for fried chicken success: Bring the bird to room temperature before frying, which helps the center cook through before the exterior gets too dark, and don't overcrowd the pan. Give the pieces plenty of space to bob around and brown evenly on all sides.

I use drumsticks here because they're easy to hold when you're eating with your hands, but feel free to substitute a whole cut-up chicken, or whatever bone-in chicken parts you like best.

Your best plan of action is to fry the chicken in the morning or early afternoon to serve that night. But don't put it in the refrigerator; the cold humidity will kill the crunch. The chicken can rest at room temperature for four hours or so.

The rest of the meal can be made even further ahead. Panzanella, the Italian tomato bread salad, gets better as it sits. Originally conceived as a way to use up dry, stale bread by moistening it with tomatoes and olive oil, the salad needs to rest for at least 30 minutes before serving. But it's at its best after a couple of hours, when the tomato juices have had a chance to fully imbue the bread cubes with their summery sweetness.

This recipe is a good place to use that slightly overripe tomato you've got sitting on the counter - the juicier, the better. I've also added mozzarella to the mix, which isn't at all traditional but is wonderfully rich and creamy in a Caprese salad kind of way.

Dessert is always the easiest part of the meal to make ahead since so many cakes and tarts can be baked in advance. But to give the cook the maximum flexibility, this peach and coconut cream cake can be assembled up to three days before you want to serve it. As it sits, the macaroonlike coconut cake absorbs the whipped cream and softens into something almost like trifle, but even creamier. Besides, it gets better and better as it rests.

Which is exactly what can be said about the cook.

Recipes:

Panzanella with Mozzarella and Herbs

Time: 45 minutes
Yield: 6 servings

Ingredients:

4 ounces ciabatta or baguette, preferably stale, cut into 1-inch cubes (about 3 cups)
6 tablespoons extra-virgin olive oil, more to taste
3/4 teaspoon kosher sea salt, more to taste
2 pounds very ripe tomatoes, preferably a mix of varieties and colors
6 ounces fresh mozzarella, torn or cut into bite-size pieces
1/2 cup thinly sliced red onion, about half a small onion
2 garlic cloves, grated to a paste
2 tablespoons red wine vinegar, more to taste
1 tablespoon chopped fresh oregano or thyme (or a combination)
Large pinch red pepper flakes (optional)
1/2 teaspoon Dijon mustard
Black pepper, to taste
1/2 cup thinly sliced Persian or Kirby cucumber, about 1 small cucumber
1/2 cup torn basil leaves
1/4 cup flat-leaf parsley leaves, roughly chopped
1 tablespoon capers, drained

Preparation:

Heat oven to 425 degrees. Spread the bread cubes on a rimmed baking sheet and toss with 2 tablespoons oil and a pinch of salt. Bake until they are dried out and pale golden brown at the edges, about 7 to 15 minutes. Let cool on a wire rack.

Cut tomatoes into bite-size pieces and transfer to a large bowl. Add mozzarella, onions, garlic paste, 1 tablespoon vinegar, oregano or thyme, 1/4 teaspoon salt and the red pepper flakes if using. Toss to coat and set aside.

In a medium bowl, combine remaining 1 tablespoon vinegar, the mustard, 1/4 teaspoon salt and some black pepper to taste. While whisking constantly, slowly drizzle in the remaining 4 tablespoons olive oil until the mixture is thickened. Stir in cucumbers, basil and parsley.

Add bread cubes, cucumber mixture and capers to the tomatoes and toss well. Let sit for at least 30 minutes and up to 4 hours before serving. Toss with a little more olive oil, vinegar and salt if needed just before serving.

Make-Ahead Fried Chicken

Yield: 4 to 6 servings

Ingredients:

For the marinade:

1 quart buttermilk
2 torn bay leaves
2 thinly sliced shallots
2 garlic cloves, minced
2 tablespoons Tabasco sauce
1 tablespoon Old Bay Seasoning
1 teaspoon dry mustard powder
2 tablespoons kosher salt
2 teaspoons cracked black pepper
1 tablespoon honey
12 drumsticks, about 2 1/2 to 3 pounds chicken

For the coating:

4 cups all-purpose flour
1 teaspoon cayenne
2 teaspoons kosher salt
1 teaspoon good chile power such as chipotle powder
Corn, grapeseed or vegetable oil, for frying

Preparation:

Make the marinade: Whisk together the marinade ingredients and place in a large bowl or plastic bag. Submerge the chicken in the marinade, cover bowl or seal bag, and let rest in the refrigerator for at least 4 hours or, better, overnight.

Make the coating: In a bowl, whisk together the flour, cayenne, salt and chile powder. Place a paper bag inside another paper bag (to prevent seepage, use large bags or several small ones) and transfer the flour mixture into it. This is so you can shake the chicken pieces. (You can also just mix flour in a bowl and dredge the chicken parts in it, or use a heavy-duty plastic zipper bag for shaking.)

Take a piece of chicken out of the marinade and place it in the bag with the flour mixture. Close the bag and shake it so the chicken is fully coated. (Or, if you are using a bowl, dredge the chicken in the flour mixture.) Remove and place on a plate or sheet pan. Repeat with remaining chicken pieces, one by one. Let chicken rest for 30 minutes so it can come to room temperature. Reserve the coating mixture.

In a large Dutch oven or heavy skillet with a lid, heat the oil until it reaches 350 degrees. Just before frying, shake the chicken pieces in the coating mixture once again, one by one.
Fry the chicken for 6 minutes, covered, then uncover the pot and flip the chicken with tongs. Continue frying for about another 6 minutes, or until the coating is dark golden brown and the juices run clear when the meat is pricked with a fork.

Place chicken on a wire rack set over a paper-towel-lined baking sheet to drain and cool. Serve within 8 hours.

Coconut Cream Cake with Peaches:

Yield: 10 to 12 servings

Ingredients:

For the cake:

Nonstick cooking spray, as needed
4 large eggs
1 1/2 cups/300 grams granulated sugar
1/8 teaspoon/1 gram fine sea salt
1 teaspoon/5 milliliters vanilla extract
4 2/3 cups/280 grams dried unsweetened finely grated coconut
For the filling and topping:
2 1/4 cups/530 milliliters heavy cream
2 to 3 tablespoons/15 to 25 grams confectioners' sugar, to taste
1 teaspoon/5 milliliters vanilla extract
3 large to 4 small ripe peaches or nectarines, diced
Sliced peaches or strawberries, or both, for decoration (optional)

Preparation:

Make the cake: Heat oven to 350 degrees. Line a rimmed 11- by 17-inch baking sheet with parchment paper and spray with cooking spray.

Fill a medium pot with one inch of water and bring to a simmer over medium heat. Combine eggs, sugar and salt in the heatproof bowl of an electric mixer. Whisk until blended. Place bowl over (but not touching) simmering water and continue whisking until warm to the touch.

Remove from heat and whip until mixture has tripled in volume, about 5 minutes. Fold in vanilla extract and coconut. Pour into the prepared pan and smooth the top with a spatula.

Bake until cake is firm to the touch and golden brown all over, about 25 to 35 minutes. Transfer cake to a wire rack to cool for 15 minutes.

Line a 10-inch springform cake pan with plastic wrap, leaving overhang. (You'll need two long pieces of plastic.)

Make the filling and topping: Whip 1 1/2 cups/355 milliliters of the cream with the confectioners' sugar and vanilla. (Reserve the remaining 3/4 cup cream/175 milliliters for serving.)

Run a knife or offset spatula around the edges of the cake; invert onto a baking sheet and peel off the parchment. Cut a 9 3/4-inch round out from the sheet cake and fit it into the bottom of your springform pan (trim the cake round if necessary). Spread half the cream over the cake round, then top with half the peaches.

Cut the remaining cake scraps to make another layer of cake on top of the peaches, then top with more peaches and more whipped cream. Wrap the pan tightly in the plastic, using more plastic if needed. Refrigerate for at least 24 hours and up to 3 days.

Release the sides of the pan and unwrap the cake to the point at which the top is exposed. Carefully flip the cake over onto a serving platter. Remove the pan bottom and the plastic wrap. Whip the remaining cream and spread over the cake before serving. Decorate with peaches, strawberries or both, if you like.

© 2015 New York Times News Service