Ganesh Chaturthi is just around the corner and preparations are in full swing to welcome Lord Ganesha. Also referred to as 'Vinayak Chaturthi', it is one of the most significant festivals among Hindus. It marks the beginning of the festive season that extends over the next few months. This year, the Ganesh Chaturthi celebrations will start on September 10, 2021. It is a 10-day celebration that will culminate on September 19, 2021. Ganesh Chaturthi is celebrated in different states across India - Maharashtra being the most significant one. In Maharashtra, this festival is marked with much grandeur. From larger-than-life celebrations at pandals to small pujas at home - people leave no stone unturned to mark the festival with fun and enthusiasm.


Also Read: Ganesh Chaturthi 2021: Date, Time, And Significance And Modak Recipes


Food plays a major role in Ganesh Chaturthi celebrations. It is believed that Lord Ganesha loves mithai, especially modak; this is why devotees prepare delicious sweet dishes to offer bhog to their beloved deity. This year, we bring you some classic Maharashtrian recipes that hold a constant position on the bhog thaali prepared for Lord Ganesha. Take a look.
Ganesh Chaturthi 2021 Special: 5 Classic Recipes To Offer Bhog:
1. Modak
The very thought of Ganesh Chaturthi instantly reminds us of modak. Deemed to be Lord Ganesha's favourite food, Modak is a must-have during Ganesh puja. Keeping this in mind, we bring you an easy recipe to prepare modak at home. Click here for the recipe.
2. Sheera
Much similar to sooji ka halwa, sheera is a sweet dish prepared using rava, ghee, dry fruits and more. It has a semi-thick consistency and can be customised as per choice. Some like adding pineapple to sheera, whole others like making it with banana. We bring you the classic sheera recipe that is offered as bhog to Lord Ganesha. Click here for the recipe.
3. Basundi
Basundi can be considered a close cousin of rabri. It is rich, aromatic and makes a popular choice for any festive spread. Usually, basundi is paired with poori to enjoy it the best. Click here for basundi recipe.
4. Puran Poli
Discussion on Maharashtrian classics is never complete without mentioning puran poli. Sweetbread, stuffed with sweet dal filling, puran poli screams indulgence. This is why we bring you the traditional puran poli recipe to make the festive spread a grand affair. Click here for the recipe.
5. Laddoo
Can you imagine a festive spread without laddoo? At least we can't. Sweet balls made with different types of ingredients (boondi, rava, besan, dry fruits, etc), laddoo is everyone's favourite. Here we bring a popular Maharashtrian laddoo recipe that can be a part of your Ganesh Chaturthi spread. Click here for murmura laddoo recipe.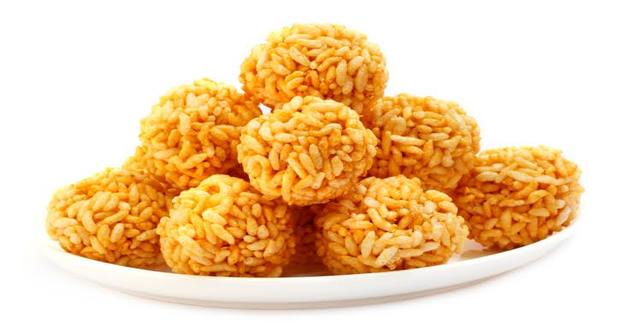 Try these recipes and make the festival a delicious affair.


Happy Ganesh Chaturthi 2021, everyone!


About Somdatta SahaExplorer- this is what Somdatta likes to call herself. Be it in terms of food, people or places, all she craves for is to know the unknown. A simple aglio olio pasta or daal-chawal and a good movie can make her day.