Happy Ganesh Chaturthi! The 10-day long extravaganza is here. Ganesh Chaturthi, one of the most widely celebrated festivals across the subcontinent, especially in Maharashtra and Karnataka. This year it will start on August 31, 2022. Devotees will bring home beautifully sculpted and painted Ganesha idols today. Pandals are also set with grand idols of the deity. Sweet shops have lined their counters with delicious variety of modaks, barfis and ladoos. For the next 10 days, devotees will shower their beloved deity with flowers, prasad, bhog, and sing hymns in the Lord's praise. Any Indian festival is simply incomplete without a host of delectable dishes and Vinayak Chaturthi is no different. Through the 10-day extravaganza, devotees prepare bhog/prasaddaily to please their beloved God. We enlist some popularly prepared bhog on Ganesh Chaturthi.
Here are some popular bhog recipes offered to Lord Ganesha during the course of Ganesh Chaturthi 2022:
1. Modak
This one comes as no surprise. The delicious modaks (sweet dumplings) are considered to be one of Ganpati's most favourite sweets. He is also called Modakpriya in the scriptures owing to his great love for modak. Hence on the first day of Ganesh Chaturthi, devotees tend to offer him a bhog of modak. You can also make delicious variety of the sweetmeat to please the deity. For instance, steamed modak, dry fruit modak, chocolate modak, fried modak and the likes.
(Also Read: Ganesh Chaturthi 2022: Date, Time, Significance, Rituals And Bhog Recipe Ideas)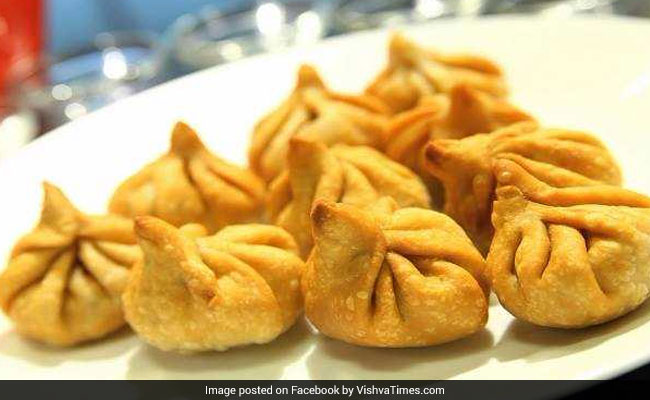 Ganesh Chaturthi 2022: Modak is considered to be Lord Ganesha's favourite treat
2. Satori
Satori is a Maharashtrian sweet flat bread, and one of the most loved festive recipes of Maharashtra. It is a rich delicacy made from khoya or mawa, ghee, besan and milk.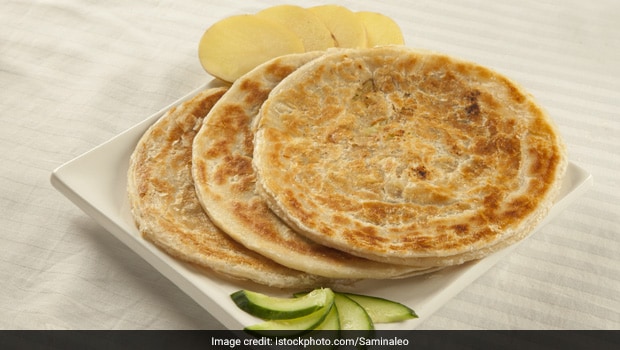 Ganesh Chaturthi 2022:
Satori is Maharashtrian sweet bread
3. Puran Poli
Another festive treat Maharashtrians love preparing for every auspicious occasion is Puran Poli. Several Maharashtrian households offer bhog of Puran Poli to Lord Ganesha in one of these 10 days to seek his blessings. Along with modak, and Coconut Laddoo, Puran Poli tops the list of favourite bhog offered to Lord Ganesha on Ganesha Chaturthi. Puran Poli is a flat bread made of maida stuffed with sweet lentils and jaggery.

4. Motichoor Laddoo
Alongside Modak, Lord Ganesha is also believed to be very fond of ladoos. Motichoor Ladoo is one of the most common form of ladoos offered to him in his bhog. Other melt-in mouth ladoos that are popular are Coconut Ladoo, Til ke Ladoo, Motichoor Ladoo, Atta Ladoo etc.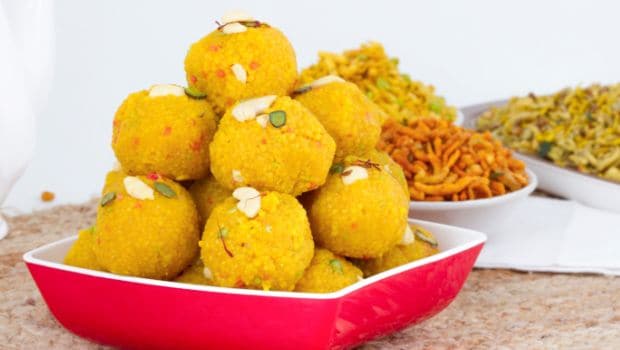 Ganesh Chaturthi 2022: Delectable ladoos are a part of almost every Indian festival.
5. Coconut Rice
This is one of the common offerings to the deity in South India. Coconut rice is a dish prepared by soaking white rice in coconut milk or cooking it with coconut flakes. The delicious treat makes for one of the most loved bhog items to Lord Ganesha.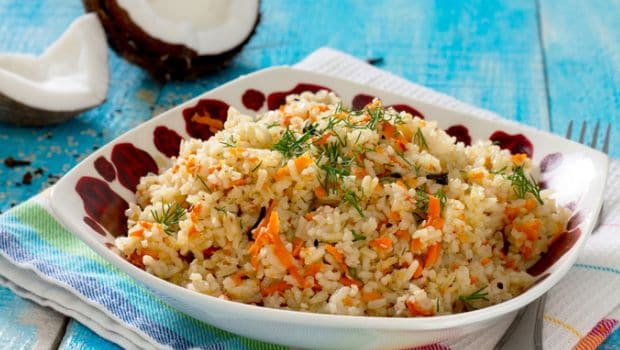 Ganesh Chaturthi 2022: Coconut rice is on of the popular bhog offering on Vinayak Chaturthi.
6. Shrikhand
Shrikhand is an Indian sweet dish made of strained yogurt, and is popular across Maharashtra and Gujarat. It is topped with chunky nuts and raisins. This Ganesh Chaturthi, please your beloved Lord Ganesha with this all-time favourite festive treat.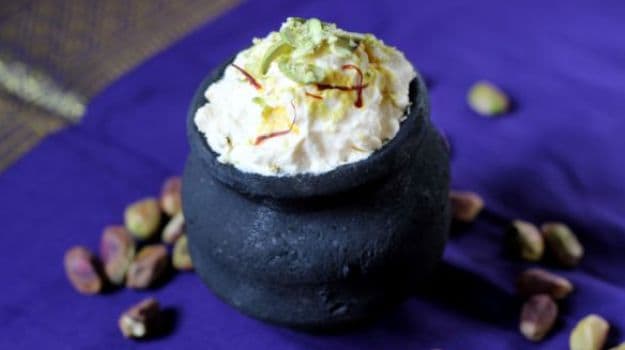 Ganesh Chaturthi 2022:
Shrikhand is a popular Bhog offering for Ganesh Chaturthi.
7. Banana Sheera
Banana Sheera is an easy to make sweet treat, which is one of the common offerings to Lord Ganesha. Made of mashed bananas, semolina and sugar, the sheera is similar to the melt in mouth Sooji ka Halwa.


8. Rava Pongal
Rava Pongal prepared with a dollop of ghee is a delicious breakfast snack in South India. Made with rava (sooji) and moong dal, and topped with flavourful seasonings, the pongal is an absolute treat.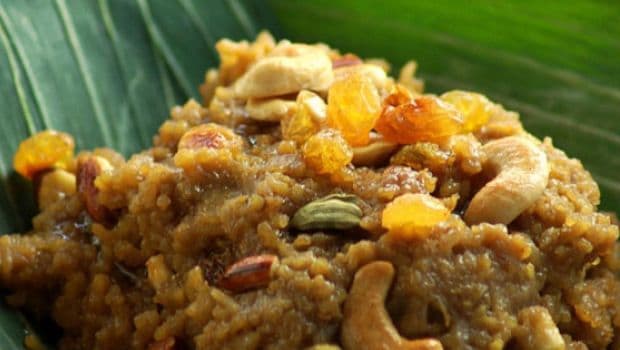 Ganesh Chaturthi 2020:
Pongal is a is a delicious breakfast snack in South India
9. Medu Vada
Medu Vada is a traditional South Indian delicacy commonly prepared in almost every South Indian household. On the pious occasion of Ganesha Chaturthi, devotees offer the delicious vada to their God as a part of the bhog.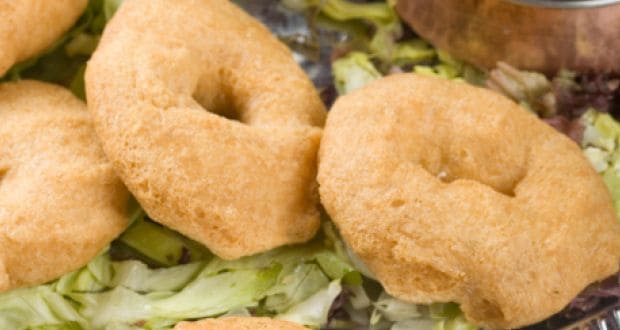 Ganesh Chaturthi 2022:
On Ganesh Chaturthi, Medu Vada is one of the most common forms of offerings
10. Payasam
No compilation of bhog or prasad is ever complete with India's favourite festive treat - Payasam. Payasam is a traditional South Indian kheer. Rice cooked in milk along with jaggery, coconut and cardamom is a hit across the sub-continent. You can also experiment with Payasam, and cook your deity interesting versions of it like Pineapple Payasam, Carrot Payasam etc.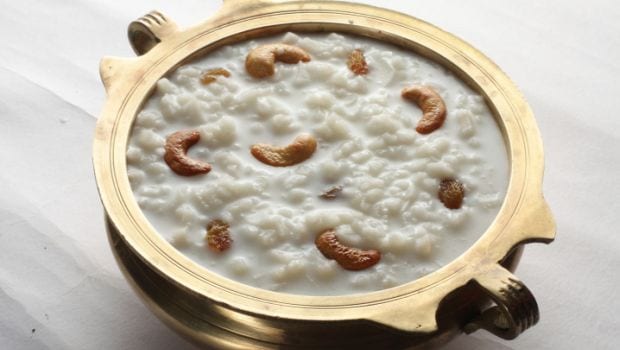 Ganesh Chaturthi 2022: Payasam is an essential part of every Indian festival.
Happy Ganesha Chaturthi 2022!