Go Seasonal: 4 Refreshing Thanksgiving Desserts
Thomson Reuters | Updated: July 13, 2017 10:38 IST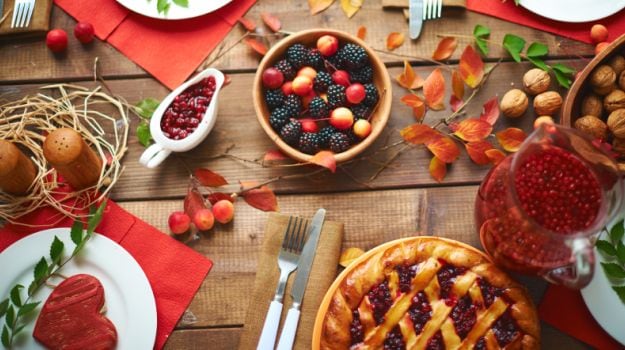 With Thanksgiving just around the corner, many of us are thinking of menus, making shopping lists and planning table arrangements. While the meal has certain traditions that remain the same year in and year out, it is refreshing to add new dishes that speak to the season by using what's available now.

Persimmons are one of those ingredients with a season from October to January. A much misunderstood fruit, the orange globes come in two varieties: the squat and firm Fuyu, which can be eaten as soon as it is deep orange, and the Hachiya, which has a teardrop shape that needs to ripen to a squishy softness before it's ready to use.

One idea for a Thanksgiving dessert recipe is a tart of sliced Fuyu persimmons encased in rich hazelnut shortbread dough. The top is glazed with apricot jam for gloss and showered with crystalized turinado sugar for show. Each slice is topped with a dollop of whipped cream and is sure to keep diners from missing pumpkin pie.

Speaking of pumpkin, ice cream made with this harvest squash can serve as the topping for a spicy gingerbread sauced with caramel and sprinkled with a few grains of sea salt. Rich pumpkin ice cream is available in grocery stores and specialty shops at this time of year, as is delectable caramel sauce. The gingerbread is super quick to mix up and bake, so this elegant dessert's classy flavors belie the ease of putting it together. Trader Joe's makes a decent version of the ice cream and sauce, or check Whole Foods or your favorite grocery store for top-quality caramel sauce (I love Fran's Classic) and pumpkin ice cream.

Apples and fresh olive oil are two more ingredients that are plentiful and seasonal in November. They come together in mini Bundt cakes, which are all the rage right now. The apples add a moist richness, and the olive oil is a healthy fat, a welcome ingredient after the cholesterol-busting turkey dinner. If you don't have mini Bundt pans, the cake can be made in a deep round pan or two layer cake pans. Each little cake is topped with bourbon-laced mascarpone cream and chopped walnuts, adding a touch of decadence.

Another decadent and somewhat traditional dessert for Thanksgiving is pecan pie. My northeastern relatives always made it with maple syrup, which is a perfect match for nutty, crunchy pecans. The combination of maple with brown sugar, butter and corn syrup creates a butterscotch-caramel flavor and texture that makes a fine ending to the holiday meal. This recipe is very easy and quick to make, especially if you use a purchased piecrust.

So shake up tradition around the Thanksgiving table this year and bake some unusual tarts, pies and cakes that take advantage of what's in season now.

Spiced Persimmon Tart With Hazelnut Crust

Prep time: 35 minutes
Bake time: 35 minutes
Total time: 70 minutes
Yield: 10 servings

Ingredients -

For the crust:
1 cup flour
1/2 cup hazelnuts, toasted
1/4 cup powdered sugar
Pinch of salt
8 tablespoons (1 stick) cold butter, cut in pieces
1 egg

For the filling:
3 Fuyu persimmons, about 1/2 pound each, peeled, cored and sliced 1/4-inch thick
Juice of 1/2 lemon
1 1/2 teaspoons sugar
1 teaspoon dried ginger
1/4 teaspoon allspice
1 tablespoon apricot jam, melted
1/2 teaspoon large-crystal turbinado sugar

For serving:
Whipped cream

Directions -

For the crust:
Preheat oven to 350 F. Grease tart pan thoroughly.

Put flour, nuts, sugar and salt in the bowl of a food processor and pulse on and off until the nuts are ground into flour and the ingredients are well mixed.

Add the butter and pulse until the mixture resembles coarse meal.

Add the egg and pulse until the dough clumps together.

Press the dough on the bottom and sides of a 4-inch-by-14-inch tart pan with a removable bottom. (You can also use a 9-inch square pan or a round tart pan.)

For the filling:
Combine the persimmons with lemon juice, sugar and spices and stir until all slices are coated.

Layer the fruit decoratively in prepared crust so the slices overlap.

Bake for 35 to 40 minutes until crust is golden brown and persimmons are tender.

Remove from oven and, while hot, brush fruit slices with apricot jam. Let cool slightly then sprinkle evenly with turbinado crystals.

Cool on a rack then remove the sides of the pan.

At serving time, top each slice of tart with a dollop of whipped cream.


Gingerbread With Pumpkin Ice Cream and Salted Caramel

Prep time: 10 minutes
Cook time: 45 minutes
Total time: 55 minutes
Yield: 12 servings

Ingredients -

For the cake:
2 eggs
1/2 cup sugar
1/2 cup molasses
1/2 teaspoon ground cloves
1/2 teaspoon ginger
1/2 teaspoon cinnamon
1/2 cup canola oil
1 teaspoon baking soda dissolved in 1 tablespoon hot water
1 cup all-purpose flour
1/2 cup boiling water

For serving:
Pumpkin ice cream
Caramel sauce, warmed gently in microwave
French gray sea salt

Directions -

Preheat oven to 350 F. Butter the bottom and sides of a 9-inch square glass baking dish.

Whisk eggs, sugar, molasses, spices and oil in a medium bowl until smooth.

Stir in the dissolved baking soda then beat in the flour, whisking until all lumps are gone.

Add the boiling water and stir lightly until it's incorporated. The batter will be quite thin.

Pour into the prepared pan and bake about 45 minutes, or until a toothpick inserted in the center comes out clean. Cool on a rack.

At serving time, cut squares of gingerbread and put on plates. Top with a scoop of ice cream and a drizzle of warm caramel. Sprinkle a few grains of sea salt on top of each serving.


Mini Apple Bundt Cakes With Mascarpone Bourbon Cream

Prep time: 15 minutes
Bake time: 40 minutes
Total time: 55 minutes
Yield: 6 mini Bundt cakes, plus 2 cupcakes

Ingredients -

For the cake:
3/4 cup good, fresh olive oil (I like California Olive Ranch)
2 cups sugar
4 eggs
2 teaspoons cinnamon
1/4 teaspoon nutmeg
2 cups flour
1 teaspoon baking soda
3 cups cored, unpeeled grated tart apples
1 teaspoon vanilla

For the cream:
8 ounces mascarpone cheese
2 tablespoons bourbon
1/2 cup heavy cream whipped with 1 teaspoon powdered sugar to soft peaks
1/4 cup chopped walnuts, toasted

Directions -

Preheat oven to 325 F. Grease the Bundt pans very well with canola spray.

Whisk the oil, sugar and eggs together until light and fluffy.

Whisk in the dry ingredients and mix just until well combined.

Fold in the apples and vanilla.

Fill the Bundt pans to 1/2-inch from the top. Use any remaining batter for cupcakes.

Bake 40 to 45 minutes, or until a toothpick inserted into the center of the cakes comes out clean.

Cool on a rack.

Make the cream by stirring the mascarpone and bourbon together until smooth, then gently fold in whipped cream.

For serving, place a mini Bundt cake on each plate and mound a generous dollop of bourbon cream in the center hole. Sprinkle with chopped walnuts.


Maple Pecan Pie

Prep time: 20 minutes
Bake time: 1 hour
Total time: 1 hour 20 minutes
Yield: 6 to 8 servings

Ingredients-

For the filling:
3/4 cup Grade B maple syrup
1/2 cup white corn syrup
3/4 cup brown sugar
4 tablespoons (1/2 stick) butter, cut in pieces
3 eggs
1 teaspoon vanilla
1/4 teaspoon salt
2 cups pecans
1 (9-inch) pie shell

For serving:
Whipped cream

Directions -

Preheat oven to 350 F. Combine syrups, sugar and butter in a medium saucepan and stir over medium heat until butter is melted. Raise heat and bring mixture to a boil for one minute. Set aside to cool until lukewarm.

Whisk in the eggs, vanilla and salt until well combined.

Fold in 1 cup of pecans.

Pour filling into pie shell.

Sprinkle 1 cup of pecans evenly over the top of the pie.

Place on a baking sheet or tray to catch any drips and bake for one hour or until a knife inserted in the center comes out clean.

Cool on a rack.

At serving time, cut the pie into wedges and top each piece with whipped cream.