April is the month of celebration in Assam, after all it marks the New Year. A month prior to the auspicious date of Rongali Bihu, the preparations and festivities begin. You will see the local markets brimming with festive treats and all kinds of seasonal vegetables and regional ingredients to lend to the grand New Year feast. Even varieties of traditional Assamese weaves are stocked up in the shops as it is also the time for gifting and splurging on new clothes. This year, Rongali Bihu falls on 15th April, and similar to other harvest festivals across the country, it is celebrated with fervour with close friends and family.Rongali Bihu typically spans through a period of seven days, wherein each day holds significance. The two main days are considered to be Goru Bihu and Manuh Bihu, which will be celebrated on 14th and 15th respectively. Goru Bihu is a festival dedicated to worshiping the cattle, mainly cows, bulls and buffaloes. Since these animals play a significant role in the daily lives of the people and in agriculture, they are treated extra special on this day where the people bathe them with raw turmeric and
urad dal
paste, feed them traditional festive treats like
ladoo
and
pitha
, and allow them to graze freely until sundown, after which the womenfolk wash their feet and tie them in the shed with a new rope. Certain tree leaves like Makhi Yati and Digha Loti are brushed on their bodies to keep mosquitoes and insects away, and praying for their good health.On Manuh Bihu, people wake up early and bathe themselves with the same raw turmeric and
urad dal
paste, don new clothes and seek blessings from the elders while also exchanging gifts. This is usually followed by Jalpan, a light breakfast meal where sticky rice or flattened rice are eaten along with curd and jaggery, resembling a type of porridge. It's also accompanied by festive treats, which are prepared lovingly at home by the womenfolk much prior to the festival. The lunch feast is grand, to say the least. The meal starts with a bitter dish or Khar (raw papayas cooked in an alkaline solution extracted from burnt banana stems), followed by varieties of vegetables and Xaak (saag), fish preparations, mutton and even pork or birds like green pigeon and dove in certain cases.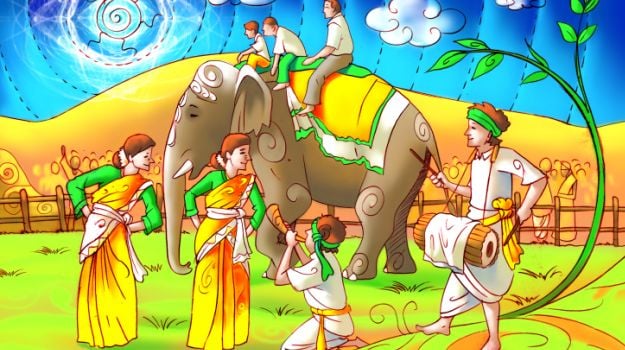 If you are unfamiliar with Assamese dishes, and would like to get a quick lesson before heading out for the Assamese New Year feast, here are a few dishes you should know about –
1. Khar
There is a saying in Assamese when it comes to describing its people – "Khar Kuwa Axomiya", which signifies that Khar is an important dish in the daily diet of the Assamese people. It basically refers to the alkaline substance which goes into its making. Khar is extracted from burnt banana stems, and is cooked along with raw papayas to make a light dish that is believed to be excellent for cleansing the stomach. This is the first course of an Assamese meal, which is eaten along with steamed rice. Apart from raw papaya, it can also be prepared with cabbage and summer squash. Flavourings include onion, garlic, mustard paste, cumin powder and a bit of ginger.
2. Xaak
Xaak refers to all sorts of green leafy vegetables and apparently there's no dearth of it in Assam. According to legend, the night before the feast, the people are supposed to eat 100 different varieties of green leafy vegetables, which are said to boost one's health, shielding them from various diseases. Some of the popular ones include dhekia xaak (fiddlehead fern), kosu (colocasia), shuka xaak, etc. And they are lightly stir-fried in oil sans masalas.
3. Aloo Pitika
This is one of the most beloved Assamese dishes of all-time – comfort food at its best. It is a mashed potato dish, and we all know that there's nothing quite like mashed potatoes, especially when it is teamed with chopped onions, green chillies, fresh coriander leaves, salt and a drizzle of mustard oil. It is usually served with steam rice, dal and lemon wedges on the side.
4. Masor Tenga
Fish forms an integral part of the Assamese cuisine, thanks to the mighty Brahmaputra that runs through the state. There are different varieties of big and small fish that are available throughout the year, which are then prepared in various ways using regional vegetables and greens, and without turning to spices and
masala
mixes to build flavour. The most quintessential Assamese fish dish is called Masor Tenga, 'tenga' meaning sour. Several kinds of souring agents are used to make the curry, such as lemon, kokum, tomatoes, herbs, elephant wood apple, etc and it is served along with steamed rice. For the recipe, click here –
Masor Tenga
.
5. Mangsho
Mutton curry is another favourite dish in Assamese cuisine. In fact, people take it as an offense if they are not served mutton curry and
luchi
or
pulao
when they visit neighbours, friends or relatives on invitation. This is one of the few dishes that witness the use of multiple spices to build flavour. Pork dishes are also popular in Assam, but traditionally they were a speciality among the tribal lot. Pork is prepared using herbs, bamboo shoot,
bhoot jolokia
, and veggies, among other ingredients.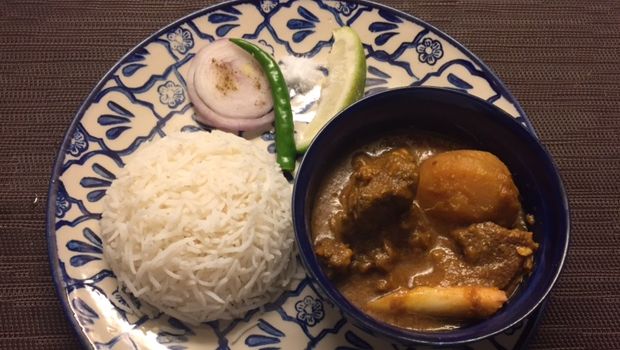 Photo credit: Kalyan Karmakar
6. Pitha
During Bihu, various kinds of
pithas
are prepared in almost every household. They are sweet treats that can be munched on anytime, and are particularly served when guests visit or during teatime and breakfast. Some of the popular ones include
ghila pitha, til pitha, narikol pitha, theni pitha, hutuli pitha
, etc. And yes, there's an art to preparing
pithas
!
7. Jalpan
Jalpan refers to a light meal, which is had as breakfast. Some people in fact start the day with Jalpan and then move on to have breakfast after a few hours. Jalpan refers to a porridge-like dish which is teamed with
dahi
and jaggery. The main ingredient could vary from a kind of sticky rice called
bora chawol
to other rice preparations called
sira
(flattened rice),
kumol chawol, horum, akhoi, handoh
, etc. It is light on the stomach and goes well for the humid climate that prevails in the region.So now that you have got your basic lesson, it's time to go on and indulge. Wish you all a very happy Bihu!