This most majestic of fish may be difficult to catch, but it's easy to cook up delicious dishes in a variety of ways

I have a friend called Luke who is obsessed with salmon. Obsessed. Apart from his wife and children, I don't think he loves anything more. His house is full of fishy trinkets: salmon crockery, salmon mugs, salmon light-pulls, stuffed salmon, sculptures of salmon, oil paintings of great salmon through the ages.
His idea of thrilling reading is the latest edition of Trout and Salmon magazine. He once confessed to me that sometimes, when his wife has retired to bed, he pulls out something from his collection of extreme fly-fishing DVDs - Mayfly Madness, perhaps, or A Passion Called Salmon - and stays up half the night in an ecstasy of vicarious rod-swinging.
I've been fishing with Luke a few times. What surprised me most, at first, was how few salmon we caught. It turns out that catching them is not the point. The fishing itself is the thing: standing up to your waist in a glittering Scottish river, trying to outwit a creature you can neither see nor understand. It's a battle in which beast generally trumps man.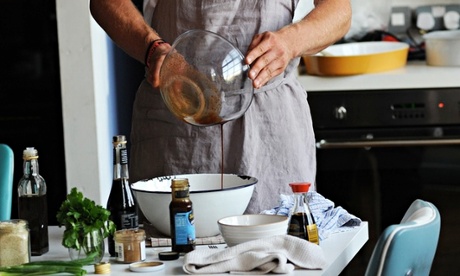 But every now and then, even an amateur can get lucky. After three years flogging the orangey-brown waters of the Tweed, I finally caught a salmon. For someone whose previous experience of fishing was feathering for mackerel in Start Bay, it was a thrilling and unsettling experience. The slow, powerful movements of these creatures feel horribly sentient compared to the instinctive twitching of the mackerel.
Once we got it home (you are allowed to keep your first catch), the guilt subsided as I lost myself in the preparation of a feast. I scraped off the scales, leaving them glinting like silver sequins all over the lawn, then cleaned out the guts and stripped off the fillets. We had salmon caviar on sourdough to start - the orange pearls freed from their sheath with hot water and then brined. This was followed by salmon ceviche with pickled fennel, confit of salmon, and finally - and by far the best - simple poached salmon with mayonnaise, jersey royals and wild garlic. It was, if I say so myself, AMAZING.
I understand now why Luke dreams of salmon. But man cannot live off wild beasts alone - or at least, this man can't. For most of us, the next best thing is supermarket salmon. It's an awful lot easier to land: a neat little parcel of shrink-wrapped protein and omega-3s. It may not always be as lean (or quite as flavourful) as a fish you land yourself, but it is joyously easy to cook well. You just need the right recipes - and here are three that work a treat.

Three ways to cook salmon
• Grilling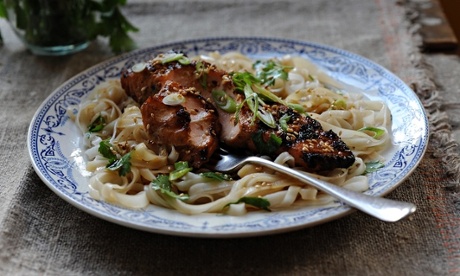 Grilled salmon goes well with a noodle salad and steamed greens. Serve it plain with a variety of punchy, strong-flavoured sauces such as salsa verde or anchovy and rosemary sauce. Or why not try it with the chermoulah marinade from our barbecue dos and don'ts column (22 August).
Serves 4
4 x 125g pieces salmon fillet
For the marinade
1 tbsp soy sauce
2 tsp oyster sauce
2 tsp soft brown sugar
1 tbsp balsamic vinegar
½ tsp five spice powder
2 tsp sesame oil
Chopped coriander, spring onions and toasted sesame seeds
1 Place the salmon fillets in a large bowl.

2 Mix the marinade ingredients together, whisking well, then pour over the salmon. Using your hands, make sure that the salmon is mixed with the marinade and leave covered at room temperature for at least 20 minutes.
3 Heat a griddle pan or grill until hot. Remove the salmon from the marinade and cook the pieces for about 3 minutes on each side. The length of cooking depends on the thickness of each piece. It is preferable to allow the salmon to remain slightly pink in the middle - when overcooked, the fish can become dry (though it will still be delicious).
4 Remove from the griddle on to a serving plate and sprinkle with the coriander, spring onions and toasted sesame seeds.
• Roasting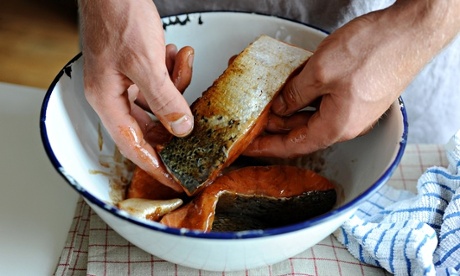 Serves 4
500g salmon fillet
For the maple balsamic glaze
50ml maple syrup
50ml balsamic vinegar
1 garlic clove, crushed
1 Preheat the oven to 200C/400F/gas mark 6. Mix together the glaze ingredients and rub half of it over the salmon fillet.
2 Place in the preheated oven for 5 minutes. Remove the salmon from the oven, pour the rest of the glaze over it, and return to the oven for another 5 minutes.
• Pan-frying

Serves 4

Olive oil
4 salmon pieces
20 cherry tomatoes
10 olives
A handful of french beans
Basil leaves, to serve, shredded
1 In a large frying pan, cook 4 salmon pieces in olive oil for 1 minute on each side. Toss in the cherry tomatoes, the olives and a handful of French beans.

2 Place in a hot oven for 3 minutes. Remove from the oven, finish with some shredded basil, and season.
Recipes by Jane Baxter. Henry Dimbleby is co-founder of the natural fast-food restaurant chainLeon (@henry_leon).

Top Photo:Griddle your salmon for lovely seared stripes - but remember it's best when still pink in the middle. Photograph: Jill Mead/Guardian