Let's make it easy for you. Most of the time, you don't have to peel a tomato to prepare dishes. A quick slice or chop is all you have to do to add their juicy, tangy flavour to your salad, pizza, burger, or to other tomato recipes. So, why make the extra effort? However, if you are preparing dishes like salsa, soup, jam or sauce, then removing the skin is the way to go. But, unlike other veggies like carrots, cucumbers and potatoes, tomatoes should not be peeled with a blade. Yes, that's right, as it gets a lot messy! Since tomato has a delicate texture, it needs a more creative approach. Culinary experts around the world have some tried-and-tested techniques for how to peel tomatoes. So, without much ado, let's learn how to peel tomatoes like a pro.


Method 1: Peeling Tomatoes Through Blanching


STEP 1: Wash the tomatoes thoroughly and remove the stem with the help of a knife.
STEP 2: Cut a shallow 'X' on the bottom of the tomatoes and place them in a pot of hot boiling water for just 30 seconds, you will notice that the skin will begin to peel.


STEP 3: Now, put the tomatoes in a bowl of ice cold water and leave them untouched for about 5 minutes.


STEP 4: Once the tomatoes are chilled take them out. You will notice that the tomatoes are firm but the extra covering is about to peel. So, just squeeze it out or peel it with your hands. Your naked tomatoes are ready!


(Also Read:Tomatoes For Weight Loss: 5 Reasons Why You Must Include Tomatoes In Your Weight Loss Plan )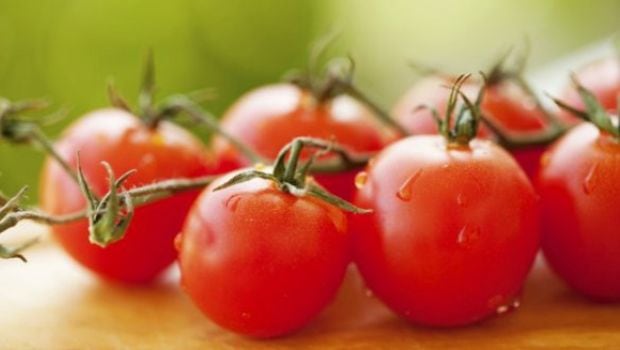 Method 2: Use The Flame (You Can Also Use A Torch)


STEP 1: Wash the tomatoes thoroughly and cut off the stem. Now, cut a shallow 'X' on the bottom of the tomato.


STEP 2: Turn on the gas burner on high and hold a tomato at a distance of 1 inch with a pair of tongs from the flame for it to scorch and keep rotating it for 15 seconds. The tomato will cook and soften.


STEP 3: Once the tomato has loosened up, leave it to cool down for about 5 minutes on a glass or a wooden cutting board. Never place it on a plastic cutting board as it will melt.


STEP 4: Now, put the tomato in a bowl of ice cold water. Once the tomato cools down, take it out and peel off the skin with your hands with the help of that 'X' you cut on the bottom of the tomato.


METHOD 3: Peeling Tomatoes By A Peeler


STEP 1: Get your wooden cutting board and place a tomato on it. Hold the tomato with one hand and grip the blade of the peeler with another.


STEP 2: Now, with one gentle stroke of the peeler, apply gentle pressure to make a small nick in the skin to get a hold. Start to peel the tomato lengthwise. Make sure you don't cut it deeply, or else you will remove too much of the flesh.


STEP 3: Work your way around the whole tomato using the gentle sawing motion. (Prefer using special tomato peeler as other vegetable peelers won't work nicely on tomatoes.)


(Also Read: Tomatoes For Skin Care: Here's How You Can Use Tomatoes For Soft And Supple Skin)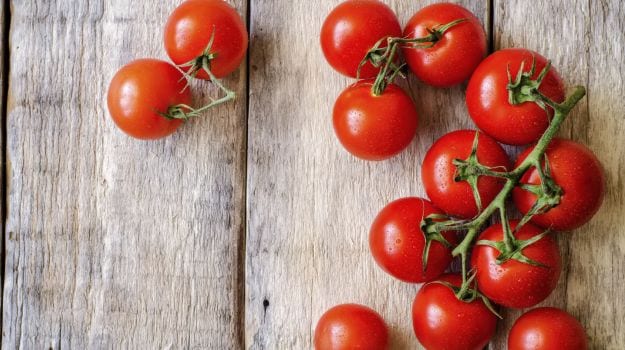 Now, that peeling tomatoes have been taken care of, nothing else should stop you from cooking up a delightful meal like.


Recipe by Bawmra Jap, Owner Bomra's Restaurant, Candolim, Goa


Tomato bits tossed with tamarind, jaggery, coriander, ginger, garlic along with peanuts, sesame seeds and dry shrimp for that extra crunch.



2. Tomato Curry


Recipe by Anjali Dhawan


Tomatoes and moong dal come together to make a tangy curry along with some mixed veggies and chickpea flour.


Recipe by Chef Roopa Gulati


Here's an easy-to-make fish delicacy from Chef Roopa Gulati's kitchen. Fresh tomatoes and herbs come together to create a sensational sauce, poured atop perfectly baked fish.


Recipe by Chef Chef Amit Ghosh Hotel Taj Westend, Karnataka


Here's a special preparation straight from Karnataka. Juicy chicken pieces are cooked in a blend of tomatoes, spices and coconut paste.


Recipe by Chef Niru Gupta


The saltiness of fish comes together with the saucy flavour of tomatoes! Who in their right mind would want to skip this?


(Also Read: 10 Interesting Benefits of Tomato: Plump Up with Essential Nutrients)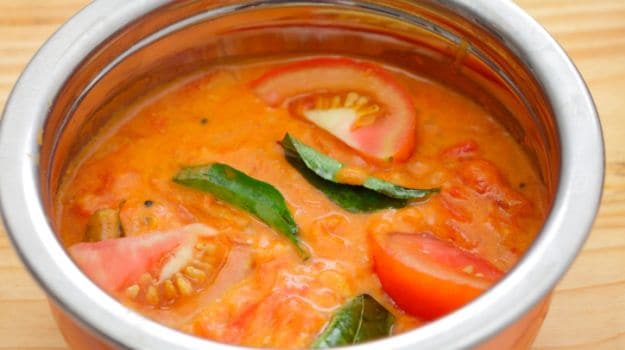 Now, that you know how to peel tomatoes and some interesting tomato recipes, enjoy their juicy and tangy flavour in your dishes and tell us your experience in the comment section below. Bon apetit!