It has almost become an impulse of sort to be associating Hyderabad and
Biryani
together, so much so that we often tend to forget that there exist regional variations to the delicacy as well. And why not? This elaborate Nizam preparation of rice and meat has got millions obsessed for its impeccable taste and aroma. For over four hundred years the delicacy has vowed not only Hyderabad, but managed to travel across the world and gain a reputation hard to replicate. In such a scenario, it is only shocking that the much loved
'Hyderabadi Biryani'
was officially denied the rights to be called so. It has failed to secure a geographical indication (GI) tag.A geographical indication tag points to a specific place or region of production which determines the characteristic qualities of the product, supposedly originating from that place. It was in the year 2009, that the Deccani Biryani Makers Association applied for the GI tag by filing an application with the Assistant Registrar of Geographical Indications, Geographical Indications Registry in Chennai for registration of 'Hyderabadi Briyani'. But according to the GI registry, the applicant apparently failed to provide supporting documents about its historical origin and data.
Also read: (10 Best Biryani Recipes)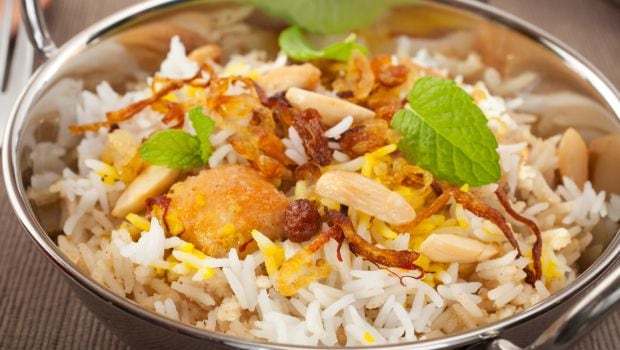 Assistant Registrar of Trademarks and Geographical Indications Registry, Chinnaraja G Naidu, said that the registry had issued examination reports thrice in the past. The registry further asked the Deccani Biryani Makers Association to produce the documentary evidence with respect to the historical data from the gazetteer and proof of origin of the 'Hyderabadi' Biryani in Hyderabad but no reply was received from the applicant's end.The development is sure to take the biryani connoiseurs by surprise, but whatever be the historical origins of the delicacy, none can come in the way of our love for this rice preparation.