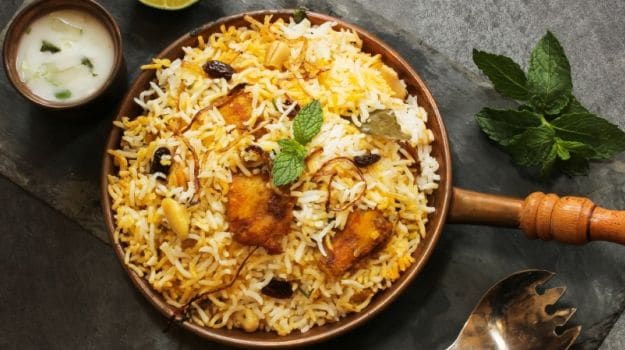 Kozhikode Vs Thalassery Biryani
Kozhikode and Thalassery (equally famous for its unique bakery culture) are about 70 km apart and both these locations can stake claim to Kerala's most famous
biryanis
. It's common for both versions with slight variations to be referred to as Malabar
biryani
or even Kozhikode
biryani.
Both versions use Kaima rice but the cooking style in
Thalassery
is slightly different. The rice (is light fried) and the meat are cooked separately and then assembled together to cook in a
dum
style (reminiscent of the more spicy Ambur
biryani
). The Kozhikodan
biryani
is also a
dum biryani,
but the rice is not fried. Both versions are cooked with ghee in most
Malabar
households.
Appearances can surely be deceptive, the Kozhikodan
biryani'
s mix of spices is subtle and the
biryani
gets its colour almost exclusively from the fried onions. Abida tells me how the onions are fried even longer for the chicken
biryani
to lend a mild brown hue. While mutton
biryani
might be the first choice for special occasions, the Malabar
biryanis
are best known for their their ability to soak up everything from chicken (the use of spring chicken is unique here) to prawn and seer fish.
From big Sunday meals at home to weddings, the Kozhikodan
biryani
is almost an integral part of celebrations and special occasions in the city, and just like
biryanis
around the South of India, the large scale wedding
biryanis
cooked on wood fires always taste best. It's common for wedding cooks to add coconut shells to these fires that have an inevitable impact on the flavours.