Japan's Prime Minster Shinzo Abe arrived in India along with his wife Akie Abe yesterday - 13
th
September 2017, for a two-day visit during which he will be visiting the state of Gujarat. There has been a lot of talk about him being served a vegetarian
'Gujarati Thali'
for dinner last night, which was organised specially by Prime Minister Narendra Modi for him at a beautiful and famous rooftop restaurant in Ahmedabad called Agashiye. The restaurant is particularly known for its splendid view of some heritage monuments in the city such as the Siddi Sayeed Ni Jaali mosque and takes pride in serving authentic Gujarati cuisine.
Had the honour of taking Mrs. Abe and PM @AbeShinzo to the Sabarmati Ashram & showing them this iconic place. pic.twitter.com/RFsFA8KpHg

— Narendra Modi (@narendramodi) September 13, 2017
The dinner was attended by the Japanese Prime Minister Shinzo Abe, his wife and other officials. It is believed that some Japanese dishes were also a part of the menu. While the special menu designed for Prime Minister Shinzo Abe has been kept under wraps, we've heard that it probably featured some classic Gujarati dishes - one of them being Prime Minister Narendra Modi's favourite Gujarati snack - Handvo.
Handvo is a delicious savoury cake which is very nutritious as it is made with vegetables like bottle gourd, carrots and green peas, mixed lentils, rice and crushed peanuts. It is usually cut into bite-sized cubes and served with coriander chutney and a glass of refreshing buttermilk. It is healthy because it is baked and not fried. That's the beauty of Gujarati cuisine. It employs a play of various simple ingredients and subtle spices that are used to make delicious, unique and nutritious dishes. If you didn't know, here are five popular dishes that form an important part of a quintessential Gujarati thali.
1. Gujarati Kadhi: A light and sweet broth flavoured with curry leaves, mustard seeds, yogurt, gram flour and red chillies. It has a wonderful sweet and spicy flavour. (Recipe by Chef Aditya Bal)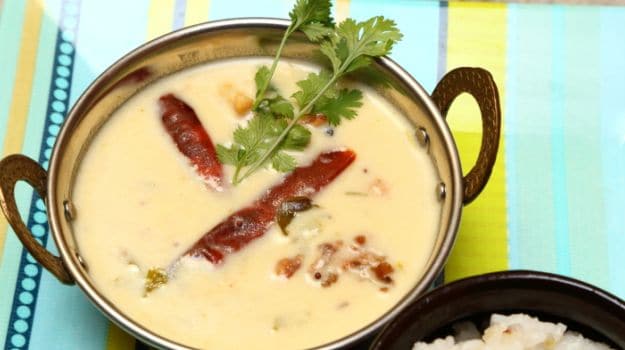 Gujarati Kadhi is a light and sweet broth. Photo Credit: Istock
2. Dal Khichdi:
Dal Khichdi is an essential part of the Gujarati thali. It is light and soothing and served with oodles of desi ghee.
3. Aamras: Keri No Ras or Aamras is a delicious concoction of sweet and tangy mangoes, dry ginger powder and desi ghee.
4. Undhiyo: This is a popular mixed vegetable dish. It is a delightful combination of seasonal vegetables like brinjal, potatoes, raw bananas and yams.
(Also read:
10 Best Gujarati Recipes
)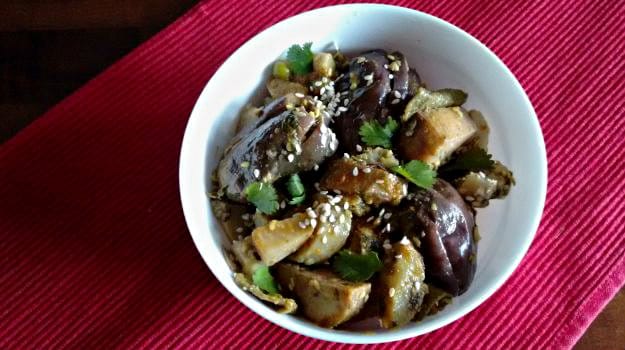 Undhiyo is a popular mixed vegetable dish. Photo Credit: Plavaneeta Borah
5. Shrikhand:
A creamy dessert made with hung curd, some whole spices like cardamom and nuts like pistachios. This light dessert is the best way to end the grand meal.
A typical Gujarati Thali is an assortment of many more dishes and is worth experiencing. The world 'thali' itself refers to a ' a full plate meal ' and it is no less than a feast.