Photo Credit: Instagram/mumbaifoodie
I've probably written about this before, but one of the great joys of living in Mumbai is having on hand, a wealth of Indian cuisines to dive into whenever the mood strikes. And the mood strikes often! Within even just one area in Mumbai — Fort — I can circumnavigate the country through the food on my plate. There's Deluxe, for superb sadya, Ideal Corner and Cafe Universal for the Irani cafe experience, Yazdani for apple pie and freshly-baked brun, Pratap Lunch Home for Crab Sukka, Trishna and Mahesh Lunch home for butter garlic squid and crab, Khyber for a regal North Indian experience, plus Pancham Puriwala for puri sabzi. And then there's Chetana (which is in Kala Ghoda) where I had my first thali ever, and began my enduring affair with Gujarati food.Everybody knows what a Gujarati thali is all about, right? It is a sort of template of vegetables, farsan,rotis made from various grains (bajra, maida), lentils, rice, and sweet. The idea is to bung in as many contrasting textures and flavours (sweet, savoury, spicy) in one meal. Seen in this way, the farsan becomes a necessary element of the plate, not a mere accompaniment. The dishes may shift depending on seasonal freshness, but the template remains largely the same. The food is superb, of course, but the other big draw is of course, the servings, limited only to the amount that your stomach can stretch.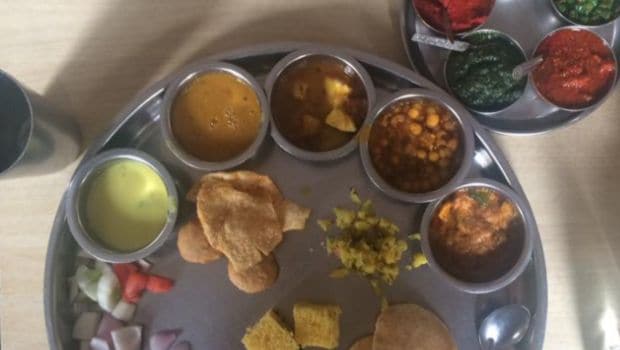 A typical Chetanathali naturally follows this same template, is delicious, albeit a little heavy, and come winter, the undhiyoo is pretty good, although steeped in oil. It has been around for nearly seventy years, and has Rajasthani, and now Maharashtrian fare, too.


But as my taste-buds deepened and matured, my thalilove shifted and turned. At one time, I fell hard for the fancy Rajdhani experience, which has now swelled to become quite an empire across the country. Shabana Azmi was rumoured to be a fan, and what was good enough for her was definitely good enough for me. I remember once being served nearly thirty dishes on a beautiful, silver thali, a memory that still makes me feel quite special (and full).For the last several years though, my loyalties have been split between Friends Union Joshi Club and sometimes Shri Thacker Bhojnalaya. Friends Union Joshi Club has been a part of Mumbai's fabric for around a century. It is said that it began life as a bhojnalaya, serving fresh, cheap Gujarati food to homesick immigrants from the state. It is supposed to have been started by freedom fighter Govindram Joshi, and it became a meeting place for his patriotic friends. Perhaps that is what the name harks back to - a mitr mandal of sorts. Today, Friends Union still serves fresh, delicious Gujarati thali, although the clientele appears to have altered to include small time businessmen from around the area. The food is not oily, or heavy, or drowned under boatloads of masala; it has a variety of textures and flavours (not just the universal sweet taste that some people complain about in Gujarati thalis), and serves two to three vegetable dishes. It feels as close to home-cooked food as possible.


The idea of the one-dimensional sweet Gujarati thali is a fallacy anyway, according to Abhay Mangaldas (of Ahmedabad's superb Agashiye), who tells food writer Chitrita Banerji so in her book Eating India: Exploring the Food and Culture of the Land of Spices. "It's a misunderstanding," he says. "Authentic Gujarati food is not sweet at all." He suggests that this may have come about due to the preponderance of Rajasthani cooks at Gujarati restaurants, who flavoured Gujarati food with plenty of sugar; "the dominant note of a sweetness is a characteristic of the food in many parts of Rajasthan," he explains.
Let us swivel our sights back to Mumbai.
Shri Thakker Bhojnalaya
, hidden away in the tiny lanes of Kalbadevi, has been around since 1945 (with a short break around fifteen years ago, when it shut down and re-opened after a while). The spread here is grand, with
dal
and
kadhi
and
khichdi
and four to five vegetable dishes, accompanying the ubiquitous
farsan.

Similarly named but worlds apart, Thackers in Girgaum Chowpatty offers the bonus of a sea view from within the confines of a comfortable, air- conditioned restaurant. There's also valet parking! But Thackers had humble origins — when the company opened in 1960, its focus was on marine catering and it supplied food to the Shipping Corporation of India and Scindia Steam Navigation Company, among others. Today, not only is it constantly brimming with hungry patrons, but it now also offers catering for big functions, like weddings.Moving on to Golden Star. This Charni Road restaurant was begun rather recently in 1992, by partners Rumi Ranjhi and Zia Eshraghi. The kitchen is helmed by Maharaj Shree Maubji Purohit, and it turns out Gujarati and Rajasthani food, like many other Mumbai thali restaurants. The aamras here is pretty good, but when I went earlier this year, it wasn't unlimited. Sad, because I have been known to eat six katoris of it at a stretch.


These are of course just a smattering of Gujarati thali offerings that the city disgorges for its hungry citizens. There is Samrat for Churchgate dwellers, Maharaja Bhog in Goregaon (the dahi wada and jalebi is reputed to be excellent) and Vashi's Maharaja Thaal, among many, many others. So many thalis, so little time!