Celebrity Nutritionist, Rujuta Diwekar is one of the most vocal proponents of Indian foods and local culinary practices. Whatever the issue, Diwekar always advises her followers to eat what has been eaten in your locality and region for thousands of years. Diwekar often shares pictures of and posts about local and lesser-known vegetables and fruits, bringing them and their health benefits into the light. The nutritionist has a huge fan following on Instagram and Twitter, where she answers frequently asked questions and clears common doubts about weight loss, nutrition and healthy food. However, her focus is always on desi ingredients and foods, as well as on home remedies that have been passed down to us from our grandmothers' generation. On Thursday, Rujuta Diwekar was all praises for a well-known and well-loved Indian snack, khandvi, hailing from the state of Gujarat.


Rujuta Diwekar posted a picture on Instagram with a tray-full of freshly prepared khandvi, gently reminding us of the joys of indulging in this low-fat Indian 'farsaan'. Rujuta captioned the image as, "Sometimes life sends you a reminder that there is protein, B12 and goodness in the kitchens of India. And, we are all just searching for it in the wrong places." For those who are unaware of this delicious and healthy Indian snack, khandvi is a small savoury roll-up prepared from gram flour and yogurt or curd batter. The roll-ups are topped with a tempering of sauteed mustard seeds, sesame seeds, curry leaves and desiccated coconut. The snack is wildly popular in Gujarat and Maharashtra, but Indians all over the world love to indulge in khandvi.


(Also Read: 10 Best Gujarati Recipes)

Although, it looks quite simple, but preparing khandvi is not very easy. The consistency of the batter and the thickness of the khandvi sheets are crucial. However, the snack is packed with nutrition due to the numerous healthy ingredients used in preparing it. For one, as Diwekar mentioned in her post, gram flour is rich in protein as it is prepared from chickpeas. It is also gluten-free and provides the body with fibre, which curbs hunger pangs and regulates levels of blood sugar. The mustard seeds and sesame seeds used in tempering are also good for health. Mustard seeds are rich in calcium, manganese, iron, zinc, protein and dietary fibre.


Also Read: Celebrity Nutritionist Rujuta Diwekar Suggests The Best Spices To Add To Your Chai This Monsoon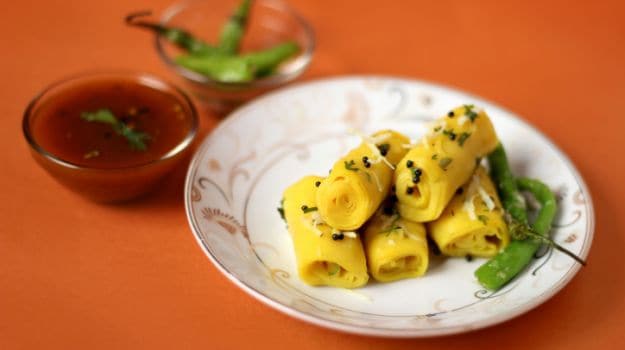 Khandvi is made from protein-rich, gluten-free gram flour.
Sesame seeds facilitate digestion, reduce inflammation and may reduce hypertension. Moreover, curry leaves are rich in antioxidants. Khandvi is quite low in calories too, as it is prepared using very low amount of oil. So, this monsoon, ditch those deep-fried and sugary snacks and make some khandvis instead!