A haven for vegetarians, Gujarat foods is a melange of flavours. Gujarati cuisine makes use of everyday vegetables and mild spices and transforms them into creative dishes that will leave you licking your fingers. You've obviously heard of the famous Gujarati thali and wholesome mains like the sweet Gujarati Kadhi, the Dal Dhokli or the mixed vegetable Undhiyo that are all part of the grand feast. But that's not all that this land has to offer. Gujarat is also popular for their savoury snacks called Farsan. Farsan forms a significant part of Gujarati cuisine. In his book, 'A Historical Dictionary of Indian Food' , Food Historian and writer, K.T Achaya describes farsan as a "class of Gujarati snacks along with Nasto, consisting of items that can be eaten as a snack or as a part of major meal." Be it the fluffy dhoklas or the tender khandvis, there's a lot of discover when it comes to Gujarati snacks. Here are 5 Gujarati snacks to make tea-time worth waiting for and that can be easily prepared at home.





1.Khandvi
Recipe by Chef Niru Gupta





This rolled-up tender snack is one of the most loved Gujarati snacks. It is made with gram flour and is tempered with coconut, mustard seeds and curry leaves. This melt-in mouth snack is an absolute delight with a cup of tea.

(Also Read: Bhakarwadi: A Popular Snack You Believe is Maharashtrian Actually Belongs to Gujarat)
2.Dhokla
Recipe by Chef Aditya Bal and Devanshi
You saw this coming didn't you? The soft and spongy delight is a hit. The good thing is that it is also healthy and so it can be a good substitute for a fried snack. Steamed dhoklas can be made at home with a besan batter or even a rice flour batter. If you want to experiment try these chana dal dhokla.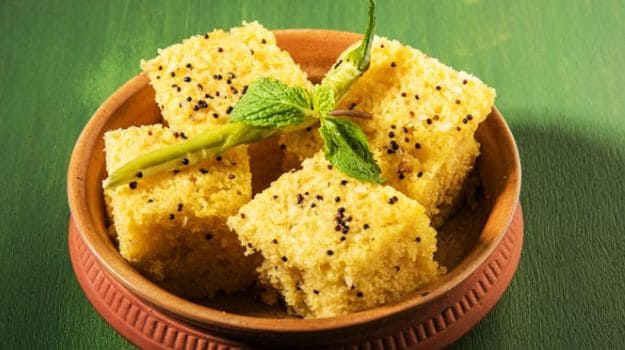 3.Fafda
Recipe By Niru Gupta

This traditional crunchy snack is made with gram flour, turmeric and carom seeds. It is fried crisp , looks like a thin wafer and is served with chutney. . It can be a good alternative to the regular potato chips.

4.Methi Khakhra
Recipe by Niru Gupta
Khakda or khakhda is a thin pappad-like snack. It is a staple in every Farsan preparation. You can make the traditional delicacy at home and serve it hot and crisp.

5.Ganthia
Recipe By Niru Gupta
Ganthia is a popular Gujarati Farsan snack which can be spotted at every tea stall across the state. These fried besan strips taste best when paired up with dried chilli or pickle.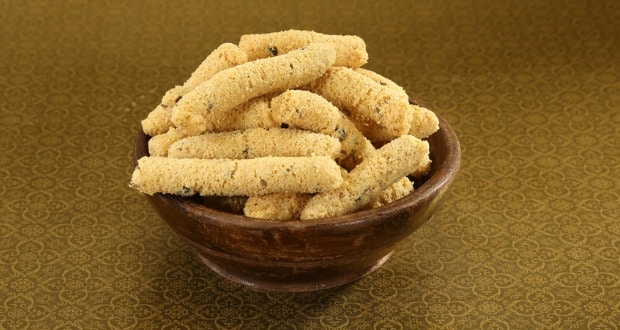 This time around, don't just settle for pakodas and bhajiyas and try these interesting Gujarati snacks to accompany your cup of chai.
About Sushmita SenguptaSharing a strong penchant for food, Sushmita loves all things good, cheesy and greasy. Her other favourite pastime activities other than discussing food includes, reading, watching movies and binge-watching TV shows.