One of Kochi's most successful restaurant launches over the last couple of years was Dhe Puttu. It helped that one of the restaurant's promoters is Dileep, a successful Malayalam actor. However, this is not a restaurant that depends solely on star power but is driven by an innovative idea. All this restaurant does is serve Puttu, Kerala's emblematic breakfast favourite. Dhe Puttu has over 20 different versions of Puttu. A year ago, I learnt to make Puttu at the Anantara Peace Haven resort in Tangalle, Sri Lanka's southern tip. They call it Pittu in this country, Chef Wijendra told me about how some of the locals here believe that puttu originated in Sri Lanka. It's the same claim you will hear in Tamil Nadu where a sweet version of the puttu is mentioned in Thiruvilayadal Puranam, an important Tamil literary work that dates back to the 16th century. The origins of this dish might be open for debate but there's little doubt that Kerala has made the puttu its very own.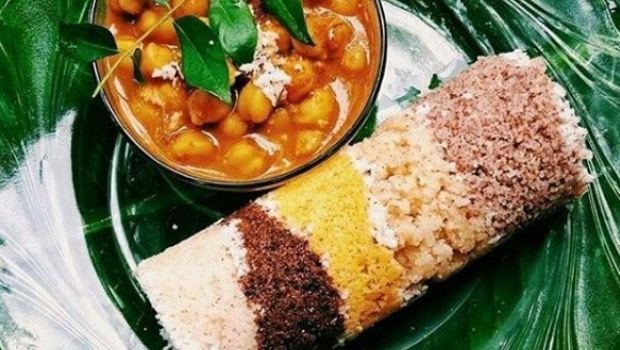 Photo Credit: instagram/ramees_zamanIt's not just Dhe Puttu, Puttu's health benefits have seen a flurry of restaurants across Kerala experiment with the dish and take it beyond breakfast. Chef Aji Joseph, (Corporate Chef for Oriental cuisines that owns the Ente Keralam chain of restaurants in Bengaluru and Chennai) also attributes this trend to all the innovation around the traditional puttu. He reminisces about his childhood in a typical Christian home in Kerala when the puttu was one of the regular breakfast options. It is usually served with Kadala curry (Black Chana) for breakfast or with green gram. However it has become common now to serve with meat gravies. The puttu with kadala curry is one of the most nutritious South Indian breakfast options. Locals will always tell you how this was an ideal breakfast for farmers who had to work hard on the fields. It kept them going all morning.
(Also read:
10 Local Dishes in Kerala That You Must Try
)I tried making Puttu the traditional way in Sri Lanka. This included pounding rice into flour the old fashioned way. It's a lot easy to do it now with
puttu podi
(powder) that is available in supermarkets and online shopping platforms around India. The trick is to find the right texture as you mix the rice flour with the water. Chef Aji also suggests using
coconut milk
along with water (equal parts) for a lovely texture and flavour. The Puttu is cooked with steam from under the mould. You can buy traditional bamboo moulds online or also buy a puttu steamer online too. It's quite common in Kerala for them to stick the mould in the pressure nozzle on the lid of a pressure cooker. It's how they make Cherata Puttu that is cooked in a coconut shell – one of the 'eyes' of the coconut is depressed to make a tiny hole for the steam to enter. This half mound shaped
puttu
is enhanced with the mild flavours of the coconut shell.Aside from the gravies, it is not uncommon to find Puttu served with a fluffy Kerala style
papadam
or a banana (steamed and mashed or a ripe
banana
) or even palm toddy (
paani
in Malayalam). It's also customary in some parts of Kerala for the Puttu to be accompanied with a sweet cup of black coffee (one of the accompaniments at Dhe Puttu). Chefs across Kerala have also started experimenting with the layers of the
puttu
that typically features white or red rice flour with generous quantities of grated
coconut
. From
keema
to steamed vegetables, there are quite a few variations. Even if you don't work on a farm, you can enjoy the benefits of a nutritious breakfast or try this dish for lunch or dinner. (Also read: 1
0 Best South Indian Dinner Recipes
)
Puttu and Kadala Curry Recipe
Recipe Courtesy: Aji Joseph (Corporate Chef, Oriental Cuisines and Ente Keralam)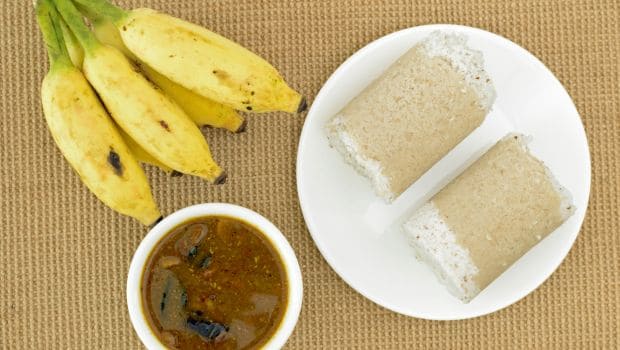 Ingredients for Puttu:Puttu podi (roasted rice flour):1 kg
Grated coconut: 2 nos
Salt: to taste
Water: 400 ml (Could also add coconut milk along with the water)Method:1. In a clean bowl mix together rice powder, salt and water to a course mixture. Mix well with both the hands so that lumps are not formed. This needs to be a coarse mixture and not a mushy texture.2. Heat up the vessel with water and allow water to simmer. Fill the cylindrical puttu mould (called puttu kutty in Malayalam) with the rice mixture layered with grated coconut. Fill it till the top of the mould and cover with the lid. Place this mould on top of the simmering water bath.3. Steam passing through the lid hole shows that the puttu is cooked and ready.4. Carefully detach the mould from the boiling water bath and push the cylindrical rice cake with a long stick called (Puttu Kol in Malayalam) on to a plate.


Ingredients for the Kadala Curry:

Black channa: 1 kg
Ginger garlic paste: 1 Tbsp
Onion: 400 gm, chopped
Green chilli: 15 gm
Tomato: 200 gm
Brown coconut gravy: 250 gmFor the spice powder:Turmeric powder: 1/4 tsp
Chilli powder: 1 Tbsp
Coriander powder: 4 tsp
Garam masala powder: 1 tsp
Salt: to taste
Fennel powder: 1/4 tsp

For the seasoning:Oil: 2 Tbsp
Mustard seeds:1 tsp
Asafoetida: a pinch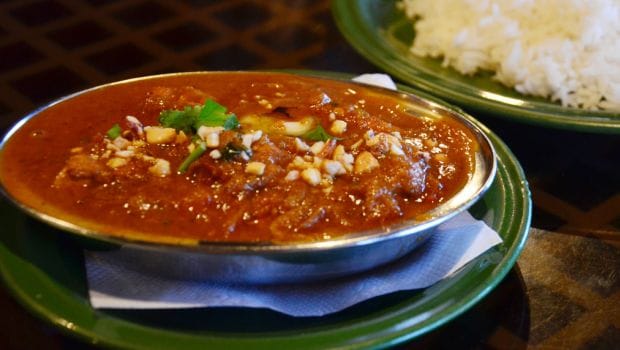 Preparation:1. Soak chana overnight or for 5-6 hours. 2. Pressure cook for 3 whistles or until soft with a little salt and just enough water.3. Heat 1/2 teaspoon of oil and sautE coconut on medium flame until it turns golden brown. Grind it to a smooth paste.4. Chop onions and tomatoes to medium size pieces.Method: 1. Heat oil in a pan, add mustard seeds and crackle. Add asafoetida, ginger garlic paste and sauté on low flame.2. To this add onions, green chilly and sauté until onions turn light brown. Add a little salt to the onions to hasten the process. Add tomatoes and cook until tomatoes become mushy.3. Once the tomato is cooked, add turmeric powder, chilly powder, coriander powder and saute until the raw flavour of the masala powder goes. If it becomes too dry, add a tablespoon of water.4. Add the cooked chana along with the water. Add the ground coconut paste and cook for a few minutes. Finally, add the garam masala and check for salt.5. Finally, crackle some whole red chillies and curry leaves and add to the cooked gravy.
About the Author:
Ashwin Rajagopalan is a Chennai-based writer who writes on topics related to food, gadgets, trends and travel experiences. He enjoys communicating across cultures and borders in his weekday work avatar as a content and editorial consultant for a global major and one of India's only cross cultural trainers.Disclaimer:The opinions expressed within this article are the personal opinions of the author. NDTV is not responsible for the accuracy, completeness, suitability, or validity of any information on this article. All information is provided on an as-is basis. The information, facts or opinions appearing in the article do not reflect the views of NDTV and NDTV does not assume any responsibility or liability for the same.
About Ashwin RajagopalanI am the proverbial slashie - a content architect, writer, speaker and cultural intelligence coach. School lunch boxes are usually the beginning of our culinary discoveries.That curiosity hasn't waned. It's only got stronger as I've explored culinary cultures, street food and fine dining restaurants across the world. I've discovered cultures and destinations through culinary motifs. I am equally passionate about writing on consumer tech and travel.