How would you react if you are served with a drink that changes colour? We were delightfully surprised while dining at Arth in Mumbai that not only serves
regional Indian food
in a totally new avatar but also a unique colour-changing cocktail which they call 'The Chameleon'.It is mixologist Jeet Rana's creation and the drink is made right at your table. You'll be served a glass full of bright and beautiful blue coloured ice cubes,
a shot of vodka
, tonic or soda and some lime juice. As the act begins, he swiftly pours the vodka into the glass and then alternates between soda and lime juice. In a blink of an eye, the drink that is initially blue in colour transforms into a deep purple cocktail and looks lovely. It is given a final stir and then served. Take a sip and it hits the right spots – subtle yet with a punch. So, what's the secret to this colour-changing cocktail?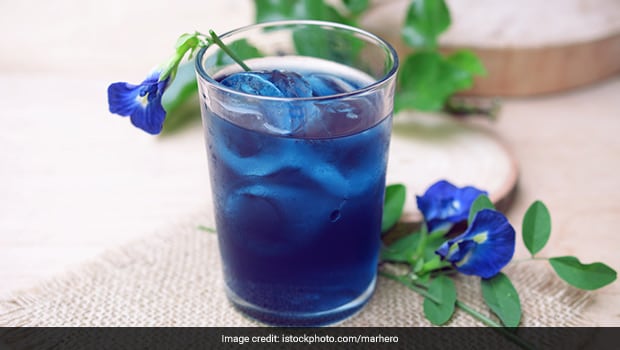 In a blink of an eye, the drink that is initially blue in colour transforms into a deep purple cocktail.
An interesting ingredient, a kind of
unique tea
, is used to make the ice cubes which gives them the bright blue colour. The butterfly pea flower tea is a
caffeine-free and herbal beverage
that is made by infusing a kind of South Asian flower. The tea is usually available as dried flowers sold along with dried lemongrass.Brewing a cup of butterfly pea tea is a mesmerizing experience. Add hot water to the tiny flowers and they'll open up and impart a deep midnight-cobalt blue colour. Squeeze some lime and you'll get a rich violet coloured drink. The tea offers earthy and woody flavours and is commonly enjoyed in Thaliand and Malaysia. Like green tea, the butterfly pea tea is full of potent
antioxidants
and is known for its anti-ageing effects. In many Thai and Vietnamese homes, it is often served after dinner as a digestive where it is popularly known as Nam Dok Anchan. The drink can be served hot or cold is and is mixed with honey, ginger, mint or passion fruit. In some Thai restaurants, it is even used to impart a natural hue to sticky rice desserts and puddings.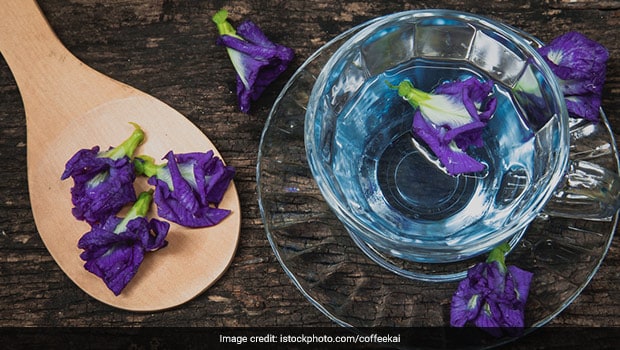 The butterfly pea tea is full of potent antioxidants
For this cocktail, the tea was brewed and then frozen into ice cubes. As the ice cubes melt and mix with the soda and lime juice, it creates an exotic indigo concoction. The drink slowly changes colour from bright blue to dark purple and you can watch the magic happen. This unique flower is a great natural ingredient to make a good looking drink without using artificial colours.
Another Mumbai restaurant, Nara Thai, is experimenting with the flower in its food and drinks. Butterfly pea tea has a neutral flavour and so it can be paired with a variety of ingredients. The Butterfly Pea Rice or Khao Phad Samunprai here will definitely catch your attention. This eye-catching dish is a mix of short-grained rice,
aromatic lemongrass
, kaffir lime, pungent peppercorns, deep fried red chillies and a decoction of butterfly pea flowers steeped in water that gives it a natural blue colour. At first blue, the rice takes on a deep purple hue on drizzling some lime juice over it which reacts with the tea and transforms the dish. We're waiting to see how other restaurants use this magical ingredient to create an entertaining effect. It's one ingredient that is definitely open to endless experimentation.