Each year, we celebrate National Nutrition Week from 1st - 7th September to raise awareness about nutritious food and its benefits for a healthier lifestyle. It's no secret that our sedative lifestyles and the easy 'order-in' culture have made us turn a blind eye to our health and body. The nutrition week comes around just the right time when festivities have recently started in the country and we have much higher chances of letting loose in the coming months than ever before.


But, if you think we are asking you to sit with a bowl of salad while others munch on samosas and jalebis, worry not, because we are asking you to do quite the opposite of that. What we have here is a list of various Indian snacks that are delicious, nutritious and you can munch on them guilt-free any day of the year. Interested to know which ones make the list? Read on.


(Also read: National Nutrition Week 2021: 5 Simple Ways To Boost Immunity)
National Nutrition Week 2021: 5 Easy Nutritious Indian Snacks
1. Tandoori Chicken:
Well, there is no bigger happiness than knowing that tandoori chicken is in fact one of the safest sacks that you can munch on. When made in a tandoor, this chicken dish uses minimum oil and cooks in the flavours of the marinade rather than any other unwanted fats which makes it one of the best high-protein snacks you can make for yourself, want to learn how to make this at home? Read the recipe here.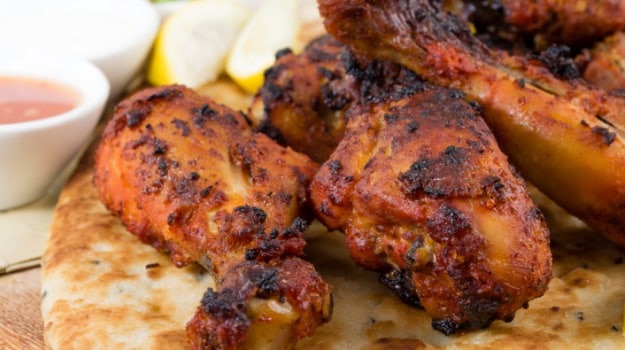 Tandoori chicken is a staple Indian snack
2. Atomic Mushrooms Recipe:
These roasted mushrooms will make you forget all about the chicken and mutton tikkas. Slightly charred mushrooms along with capsicums for the heat that are juicy and melt-in-the-mouth, what's not to love? Just marinate and grill, and your mushroom snack is ready in minutes, read the detailed recipe here.


3. Kabuli Chana chilli:
Kabuli Chana is high on plant-based protein and has a number of different benefits. This recipe is a delicious vegetarian version of your favourite Indo-Chinese chicken chilli, easy to make and requires just the basic ingredients and some Kabuli chana. Click here for the detailed recipe.
Chana chilli is a quick and easy snack that you can make at home
4. Amritsari Machhi:
From the land of our very favourite tandoori chicken comes another high protein and nutritious dish that is Amritsar machi. Fishes are rich in calcium and are great sources of minerals like potassium, zinc and iodine. Try this easy dish to snack guilt-free, click here for the recipe.


5. Paneer Afghani:
Paneer is another great source of vegetarian protein and a crowd favourite when it comes to delicious Indian snacks. Make this grilled Afghani Paneer with rich flavours of Kaju, poppy seeds, melon seed and butter. Click here for the easy recipe.
Try this quick and protein-packed snack today
(Also read: National Nutrition Week: Actor-Model Manushi Chhillar Joins The Conversation Around Eating Right)


Along with these varieties remember to add more pulses, leafy vegetables, yoghurt, garlic and Indian spices like turmeric and cinnamon in your daily diet. Enjoy a simple homemade platter of rice, dal, sabzi and curd to maintain a healthy and nutritious lifestyle.