Think Punjab and your mind is instantly directed to the never ending list of savoury delights the country has to thank the state for. Signature Punjabi delicacies like Makki di Roti and Sarso ka Saag,
Chicken Tikka
,
Lassi
and
Choley Bhature
have transcended the state's barrier and secured a place on several plates and hearts, both home and abroad. And then there are some hidden gems in the congested alleys and towns of the state still waiting to get its due. For instance, the Amristari Macchi - a fried fish snack coated in gram flour batter and served with mint and coriander
chutney.
Punjab is mostly renowned for its obsession with kukkad (chicken). The chicken and tandoori dishes of Punjab take away most of the limelight when it comes to talking about Punjabi cuisine. But did you know that Punjab also boasts of a fish delicacy that has had the locals hooked for centuries? Punjab may not have a coastline but it is a land of five rivers, and one gets the best variety of fish near Amritsar.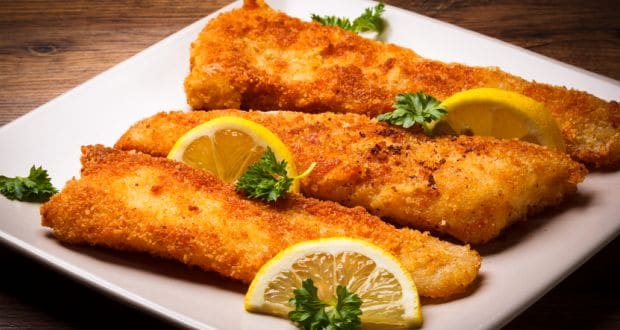 Chef Gurpreet Singh of Punjab Grill restaurant, Gurugram, says, "Near Amritsar, three rivers - Ravi, Sutlej and Beas - meet. Here you get the best fish in Punjab. The unique taste and preparation of Amritsari Machhi has made it popular across Punjab. The secret lies in a handful of ingredients like carom seeds (ajwain) and gram flour (besan), which gives it a distinctive flavour. You can find the best Amritsari fish in Makkhan Dhaba , Lawrence Road, Amritsar."
The Amritsari fish at Makkhan Dhaba proved to be quite a revelation for Chef Sadaf Hussain, MasterChef India 2016 contestant. "When my friends took me to Makhan Dhaba at Lawrence road to treat me Amritsari fish, it proved to be a shock of my life. I knew that Punjab is a land of five rivers but still I never imagined fish being served in the dhabas and restaurants. On my further research and interrogation with friends, I got to know that it is quite a popular snack during winters. And the best fish that one must use is either Sole or Singara. It is said that a similar kind of fish dish is also available in Pakistan, which is known as Lahori Fish."

Chef Sadaf further gives in a little anecdote to the popularisation of Amritsari Macchi as the local favourite delicacy of Amritsar. "The poor natives living around the rivers used to eat a lot of fish because of the easy availability and hence they tried different kinds of fish dishes. Soon it made it to the kitchens of the Mughal Darbar. The khansamas of Mughals took this fish and improvised it by adding their own version of masalas and cooking techniques."
"The locals wanted to reclaim the dish back on their plates and hence improvised it further by adding home grown spices. They would dry-roast the spices and used them in the marinade before leaving the fish to rest overnight in the cold winter. They would later deep fry the fish, coating the pieces in a batter made of rice flour and besan. It didn't just stop there; they even started double frying the fish to make it crispy, giving it the desired golden brown colour. And, because it is double fried, it can never go wrong in taste."
The Amritsaris love to relish fried food, which is what makes the fried fish snack so popular in the region along with other favourites like pakoras and kachoris. The fish is typically served with green chutney. Coated in a besan batter with freshly ground spices like garam masala, crushed dhanya seeds, ajwain, red chilli powder, lemon juice, chopped green chilli and salt, the spicy-fried delicacy is a must try when in Amritsar.
Here's a quick recipe of Fried Fish Amritsari at home.
Recipe By Chef Kunal Kapoor
Ingredients Of Fried Fish Amritsari
1 Sole (fish)
1 lemon
1 Tbsp red chilli powder
1 Tbsp heeng
1 Tbsp ajwain
1 Tbsp ginger & garlic paste
1 Tbsp besan
2 Tbsp maida,
1 Tbsp turmeric powder
1 Tbsp chaat masala,
Salt
Pepper powder
How to Make Fried Fish Amritsari (My Yellow Table)
1. Marinate the fish pieces with lemon juice, salt, red chilli powder, heeng, ajwain, ginger-garlic paste, besan, maida, & turmeric powder. Now, deep fry the fish.
2. Sprinkle some chaat masala & serve.
The Amritsari Macchi is best enjoyed with mint and coriander chutney. Fry some of these for yourself and beat the fried food cravings in the rainy evenings that lie ahead.
About Sushmita SenguptaSharing a strong penchant for food, Sushmita loves all things good, cheesy and greasy. Her other favourite pastime activities other than discussing food includes, reading, watching movies and binge-watching TV shows.