Navratri is celebrated twice a year; once to mark the coming of spring season and then again at the start of the autumn season. The nine-day festival sees many devotees observing fast and sticking to sattvik diet throughout the period of Navratri. This diet eliminates regular flours like whole wheat flour and all-purpose refined flour. Only some specific flours like buckwheat (kuttu), amaranth flour (rajgira flour) or water chestnut flour (singhara) are supposed to be consumed. It's easy to simply swap the flours and make your regular puri or roti with these flours. But, what to eat when hunger strikes like a thunderstorm during the evenings? Of course, you cannot have your regular snacks during Navratri, except for aloo chaat or fries. But, can you eat that every day for nine days? Of course, not!


Please don't muck around and eat unhealthy, high-fat fries every day. Make this delicious and healthy chaat made with kuttu flour. Now, you must be wondering how on earth is papdi better than fries? They both are deep fried in oil. Yes, papdi is usually fried but not this one. This papdi made with kuttu flour is baked. Yogurt, pomegranate and ginger bring their own flavours plus healthful properties to this delectable dish.


(Also Read: 3 Delicious Vrat-Friendly Kheer Recipes For Navratri)
Recipe Of Healthy Kuttu Papdi Chaat For Navratri –
Ingredients :


Half cup kuttu flour


Half cup curd


1 boiled potato, cubed


Half inch ginger, peeled and grated


Half teaspoon cumin seeds (jeera) powder


Sendha namak (rock salt) to taste


A handful of pomegranate (anaar)


Vrat special sounth chutney (tangy tamarind chutney)


(Also Read: How To Make 4-Ingredient Vrat Ke Aloo In Just Ten Minutes)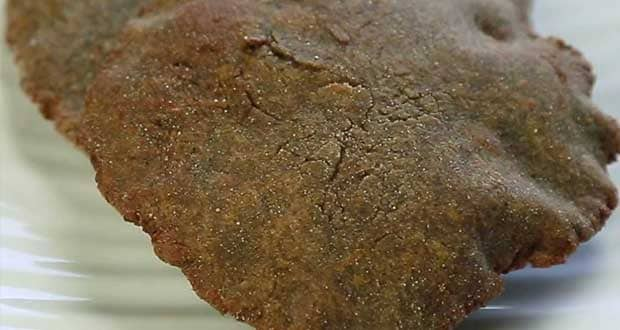 Method –


Step 1 – Make vrat-special sounth chutney in advance.


Step 2 – Knead dough with kuttu flour, some salt and 1 teaspoon oil.


Step 3 – Roll thin rotis out of the dough, part by part. Place a small bowl upside down on the rolled roti and cut out smaller papdi-sized rotis out of it.


Step 4 – Bake the mini rotis for 20 minutes at 180 degrees in the oven to make papdis.


Step 5 – Place kuttu papdis in a large bowl and top them with curd, chutney, some salt, chopped boiled potatoes and cumin seeds powder. Garnish with ginger peels and pomegranate pearls.


This sweet and sour snack is vegan and non-gluten and perfect for those who want eat healthy during Navratri. It can also make for a great snack for guests if you are organising a puja during these days.


About Neha GroverLove for reading roused her writing instincts. Neha is guilty of having a deep-set fixation with anything caffeinated. When she is not pouring out her nest of thoughts onto the screen, you can see her reading while sipping on coffee.