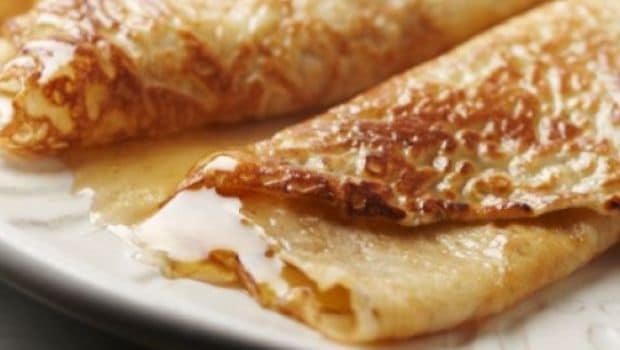 Bengalis and their affection for sweets is no hidden secret. Making the most of available ingredients is a craft Bengalis mastered years ago and some of the best exhibit of this expertise can be seen in their sweets. The world of confection churned just of chenna(spilt milk), cottage cheese or gur(jaggery) can boggle the most sound minds at times, and then there are a dozen more sweets made outside of these favourites too . Did you know? A significant portion of Bengal was also called 'Gour Banga' in the medieval times. This was because of the abundant produce of Jaggery. The use of Jaggery in Bengali desserts has caught the attention of many food lovers across generations. One such dessert we can't get enough of is Patishapta. Patishapta are thin crepes or pancakes made with refined flour, rice flour and semolina stuffed with a delicious caramelized shredded coconut filling.

Patishpata is lavishly prepared on the occasion of Makar or Poush Sankranti along with other Sankranti dishes like Pule, Pithe, Narkel Naru (coconut ladoo) and Moa(puffed rice and jaggery ladoo). Waiting for Poush Sankranti for their fill of delicious patishapta is something all children in Bengali households would relate too. Not just Sankranti, one can spot the delicacy on festive occasions such as Pohela Boishakh (Bengali New Year) too.

In terms of appearance, Patishapta can be called the Indian cousin of French thin and crispy crepes. Stuffed with delectable jaggery, and grated coconut filling, Patishapta is one of the forms of Pitha which is famous across East India territory. Pitha is a type of rice cake from the eastern regions of the Indian subcontinent; common in Bangladesh and India, especially the eastern states of Odisha, Assam, West Bengal, Jharkhand, Bihar and the north-eastern region of India. Pithas are typically made of rice flour, but there are many households who also make them in semolina and refined flour.
Traditional preparation of Patishapta would include soaking rice overnight. And grinding this soaked rice into smooth batter. The grinding business is typically done on 'shilnora' (a three inch high flat piece of stone on which you grind the rice with another stone, sliding it up and down). Nowadays, one can do that in mixer grinders as well.


For the filling, in a separate wok, grated coconut or khoya, with sugar or jaggery are placed over low flame. Milk and cardamom are then added to the mix for a fragrant touch. This sticky filling is kept aside for 15 minutes to cool. For the patishapta, a thin layer of the batter is spread using a laddle. Upon its cooking, the filling is added and the patishapta is rolled. And finally the patishaptas are topped with sweetened condensed milk and chunky nuts.

You can make the tempting treat at home with this delectable recipe of Patishapta by Lalita Chakraborty




About Sushmita SenguptaSharing a strong penchant for food, Sushmita loves all things good, cheesy and greasy. Her other favourite pastime activities other than discussing food includes, reading, watching movies and binge-watching TV shows.