From jellies to jams, pear is one versatile fruit that never disappoints. Apart from being one of the most juicy and flavoursome fruits, pears or nashpati as it is called in Hindi, is also a powerhouse of vital nutrients. According to the book 'Healing Foods' by DK Publishing House, "A cool, uplifting, low-allergy fruit and excellent source of water soluble fibre, pear also contains useful amounts of beta-carotene and B vitamins , as well as traces of copper, phosphorous, potassium and other essential elements." The book also notes that pears are excellent foods to manage gout and arthritis. Since it contains a combination of potassium, pectin and tannins that help dissolve uric acid, pears are ideal for those with rheumatic conditions. Because of its high quantum of fibres, pears may help in treating constipation by aiding bowel regularity. "Being a rich source of Vitamin C and Vitamin A, pear acts as an antioxidant against free radicals in the body which may do wonders for your skin, immunity and even bring down risk of cancer", remarks Bangalore based nutritionist Dr. Anju Sood. Packed with potassium, pears could help keep your heart healthy by regulating blood pressure levels. The fibre brings downs blood sugar and cholesterol levels, keeping the heart in a good working condition. However, one of the major reasons why pears are so popular amongst the nutritionists is its ability to facilitate weight loss. Yes, you heard us. Because of its low-caloric value, pears make for an ideal pick to add to a weight reduction diet. It keeps you fuller for a longer because it has extremely high fibre content, especially at the centre.
(Also Read 4 Incredible Benefits of Pear [Nashpati])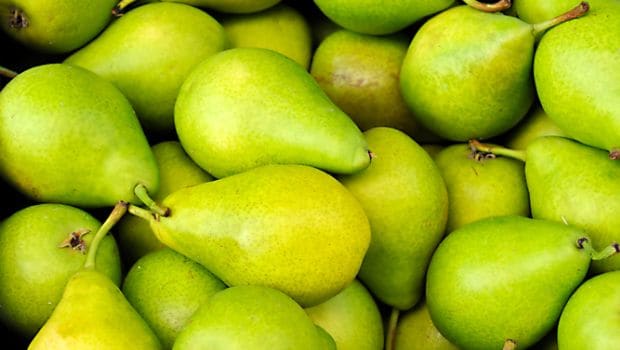 Pears is a powerhouse of vital nutrients
Here are the reasons why pears make for an excellent weight loss food:
High on Fibre: According to Delhi based nutritionist Dr. Gargi Sharma, pears are a great source of Vitamin C. Pear is the perfect fruit for weight loss. It is packed with fibre which keeps you full for longer as it gets digested slowly. Just one medium pear provides 6 grams of fibre, about 24% of the daily need for a woman under 50, as per The Food and Nutrition Board of the National Institute of Medicine (2001) reports.
Low on Calories: If you are on a weight reduction diet, your dietitian or nutritionist may have told you to keep a tab on your calorie intake. The crunchy fruit has only 56 calories per 100 grams, making it a reliable weight loss companion.
High in Water Content: Pears are made up of about 84 percent water. This helps make pears high in volume, yet low in calories and a perfect fruit for weight loss.
Aids Digestion: We have mentioned before that pears aid digestion and fight constipation. A healthy gut and digestive system have also been linked with healthy weight loss.
(Also Read -5 Genius Hacks to Keep Apples and Pears from Turning Brown)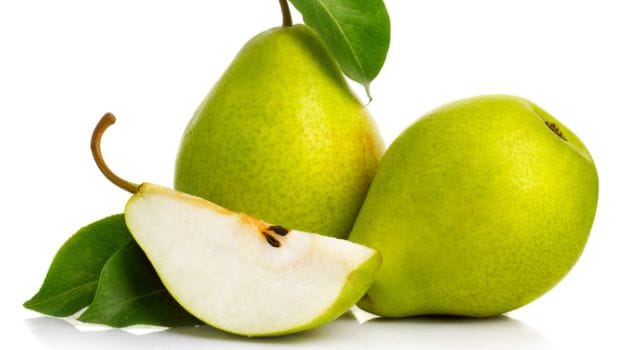 Pear is the perfect fruit for weight loss
Here are some exciting pear salad recipes that you can try at home:
Poached Pear Salad
A delicious medley of pears, cinnamon, organic honey, blue cheese, dill and hazelnut, this exquisite salad is nothing like anything you have had before.
A delicious medley Poached Pear Salad
Pear Salad
A hearty mix of pears, grated cheese, hung curd, cucumber, and chopped walnuts, this healthy salad is a powerhouse of nutrients you must add to your meal plan now.
Pear Salad is a powerhouse of nutrients
Rocket Pear Salad
Marinated slices of pears grilled and tossed with rocket leaves. Drizzled with some balsamic reduction and topped with blanched tomatoes. There, there we saw you slurping already.
Marinated slices of pears grilled and tossed with rocket leaves
It's always recommended to consult an expert nutritionist for advice, who can guide you well as to how much of pears you should include in your weight loss plan.
(Except for the headline, this story has not been edited by NDTV staff and is published from a syndicated feed.)
About Sushmita SenguptaSharing a strong penchant for food, Sushmita loves all things good, cheesy and greasy. Her other favourite pastime activities other than discussing food includes, reading, watching movies and binge-watching TV shows.