Meher Mirza | Updated: October 17, 2017 16:03 IST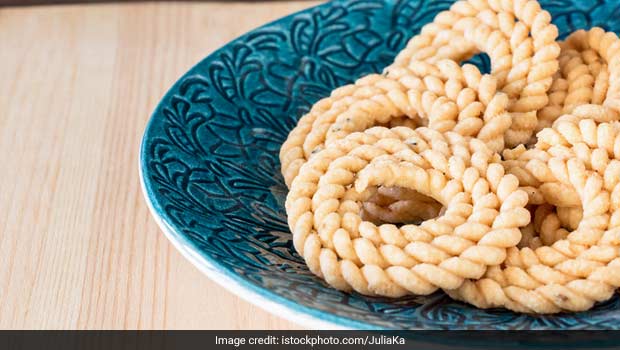 chakli. I was eight years old, and fresh off the boat (so to speak) from Kolkata; I had never eaten Diwali faral before; I hadn't even heard of it. So aunty Harsha invited me into her kitchen, where I watched her knead the batter into a smooth lump, then pipe it with what I now know to be a chakli press, and deep fry it in a hissing, angry kadai of lava -like oil. She went on to fry chivdas and roll ladoos, but what has held me in thrall all these years is the bhajani chakli.

Today, years and years later, I still find the bhajani chakli irresistible. Diwali throws up a cornucopia of edible delights - the sweet dumpling that is karanji, jaggery- infused anarsa, crunchy sankarpalli, halva, and chivda laced with raisins and flaked almonds. But most of all there is chakli, which is all the things I like - salty, savoury and crisp. It is the one snack that I cannot stop nibbling. Of course, I can never bite into it completely; I have to go round and round, tracing its twists, a childish habit I cannot quite rid myself of.

It's a bit hard to pinpoint the origins of chakli. It is a snack beloved of Maharashtrians, but most Gujarati farsan shops stock it, as well. Some say that it originated in Karnataka, whereas Tamil Nadu lays claim to the murukku, a sort of sister to the chakli, with a slightly varying recipe. (Also read: 4 Heavenly, Home-made Diwali Snacks) Bhajani Chakli is a snack beloved of Maharashtrians

Varieties of chakli

Differing versions abound, depending on whose kitchen you step into. Chakli can be made with whole wheat flour, rice flour (slightly paler in complexion than their brethren), maida, urad or moong dal, a potato mixture, and what have you. The sky is the limit when it comes to chakli flours.

Nowadays, chakli are often also laced with various flavours, such as tomato and masala. And although the traditional method of cooking involves deep frying the dough, you now have baked versions for the health conscious.

(Also read: 10 Regional Snacks from Maharashtra)


However, a typical Maharashtrian bhajani chakli, the kind that aunty Harsha makes, necessarily contains urad dal and poha. The verb 'bhajaney' means to 'roast', in Marathi; the ideal name since all the ingredients are roasted and then ground into a flour. Minimally spiced and flavoured, the dough is then deep-fried.

Making bhajani chakli is not a very involved process, but it does require quite a bit of practice. There are few ingredients, but they need to be just right. The colour has to be a perfect golden brown, the dough fluffy and soft and moist, but the final product crumbly and brittle. I've given aunty Harsha's bhajani chakli recipe - even though she is now perhaps 75 years old, she still makes hundreds of chaklis, sending packets of them to clamouring friends and family around the world. I am blessed to be one of those recipients!

Bhajani Chakli a la Aunty Harsha

Making chakli requires the use of a chakli mould or press, or at the very least, some sort of piping cone. The chakli press has the jagged perforations that give the snack its inimitable patterning.


Ingredients for the bhajani flour:

Rice 250 grams, washed and dried thoroughly
Poha 1 cup
Urad dal 1 tbsp
Jeera 2 tsp
Cumin seeds 2 tsp
Coriander seeds 1 tbsp
Gram dal 2 tbsp
Sago 2 tbsp

Ingredients for the chakli dough:

Water 1 cup
Chilli powder 1 tsp
Asafoetida 1 tsp
Turmeric powder 1 tsp
Oil 1 tsp
Salt to taste

Method:

1. For the bhajani flour, each dry item is dry roasted one by one, on a flat pan, without any oil. She starts with the rice, which should be roasted until it changes its colour to a pale brown and starts giving off a wonderful aroma. Once that happens, take it off the heat and pour it into a big bowl, and move on to the urad dal and gram dal, both of which can be roasted together, until they deepen and darken in colour. Similarly, roast the sago and poha, and the spices. Make sure to roast each ingredient separately, since they all have varying roast times. Otherwise one will burn, while the other will remain raw.

2. Leave all of them to cool. Once cooled, grind them into a fine powder. This is your bhajani flour. Add the water, chilli, asafoetida, turmeric, oil, and salt into a deep pan, and allow it to come to a boil.

3. Once it starts boiling, turn off the heat. Into this bubbling water, add in a heaped cup of the bhajani flour, and mix it all well with a spoon. Allow the mixture to cool, for at least ten minutes or so. Now it has to be kneaded properly until it becomes a smooth dough. If you need, add a little more water to it, but make sure that the water is not cold. Let the dough rest for fifteen minutes or so.

4. Meanwhile, heat up the oil in a kadai Break off a small piece of dough, roll it into a thick cylinder and push it into the chakli press, covering the press with the lid. Then squeeze out curls of dough onto a cloth or a sheet of foil.

5.Gently slide these one by one into the hot oil, frying until they glow golden- brown on both sides. Ensure that they do not stick to each other, while frying, but don't move them around too much. Repeat this process until all the chakli dough is exhausted. Then serve at once or store for up to a week, or ten days, in an airtight container.


About the Author:

Meher Mirza is an independent writer and editor, with a focus on food and travel. Formerly with BBC Good Food India, she loves anime, animals and artsy things but also comics, technology and death metal.

Disclaimer:

The opinions expressed within this article are the personal opinions of the author. NDTV is not responsible for the accuracy, completeness, suitability, or validity of any information on this article. All information is provided on an as-is basis. The information, facts or opinions appearing in the article do not reflect the views of NDTV and NDTV does not assume any responsibility or liability for the same.



One of my fondest memories is watching my neighbour pipe out intricate whorls of dough for