When on a weight loss diet, one of the biggest challenges faced by most of us is to create harmony between taste and nutrition. We must carefully choose our foods that we can easily include in our daily diet and at the same time satisfy our taste buds. Pulses and legumes are one of the best known vegetarian sources of protein. Legumes include chickpeas, lentils, peas and soybeans. Chickpeas are one of the most popular legumes and are a prominent feature in various international cuisines, including Indian and Middle Eastern cuisines. Did you know that these pearl-like, cream-coloured beans have another name too - garbanzo beans?! This protein-rich diet may help you in achieving your weight loss goal.


(Also Read: 5 Best Protein-Rich Paratha Recipes For A Healthy Breakfast Meal)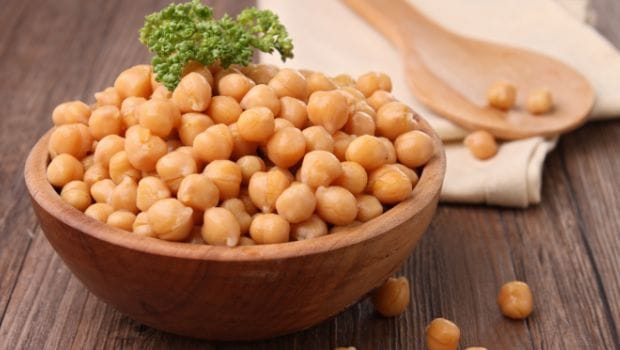 Chickpeas Nutrition
Chickpeas are not only versatile and easy-to-cook but are also brimming with protein and fibre. According to the United States Department of Agriculture nutrition data, 100 gram portion of boiled chickpeas have 9 gm of protein, 8 gm of dietary fibre and no cholesterol. Moreover, there is just 2.6 grams of fat and good amounts of iron and magnesium (16 percent and 12 percent of Daily Value, respectively) in chickpeas.
Chickpeas Health Benefits
Also known as Bengal gram or Egyptian peas, chickpeas are a treasure trove of various health benefits. Since chickpeas are high in protein and fibre, adding them to your weight loss diet may help lose extra kilos. Both protein and fibre are known to promote satiety, curbing hunger pangs and helping in weight management. Additionally, fibre in chickpeas also helps control blood sugar levels and blood lipid levels - all of this keeps diabetes in control.
Chickpea Recipe
Chickpeas are one of the most common foods in Indian cuisine. We add them to curries, salads, soups and dips for breakfast, lunch and dinner meals. But when it comes to weight loss, it is important how you cook chickpeas and what all other ingredients you add to your chickpea dish. Here we have a healthy chickpea recipe - Chana Chaat - that you not only can add to your weight loss diet but also serve as a delicious party snack. This is probably one of the best and healthy ways to enjoy a plateful of chana (white chhole). And the best part, unlike other chaat recipes that have fattening ingredients, this chaat recipe comprises all healthy and nutritious ingredients like peas, potatoes, pomegranate, tomato, sesame and mild spices.


Here's the recipe for Chana Chaat that you can easily prepare at home and give your body a healthy boost!