Ramadan 2022: The holy month of Ramadan began on 2nd April 2022 and will end on 2nd May 2022, followed by the celebration of Eid. This month-long pious festival is considered to be the holiest month in the entire year according to Islamic tradition. During this festival, Muslims across the world observe fasting as an act of worship, a chance to get closer to God, and a way to become more compassionate to the people in need. In the evenings, they gather together for iftar (first meal to be served during the day) to end their fast. Family and friends gather around to enjoy it together. This meal involves a variety of delicacies such as kebab, curries, Haleem, biryani and more followed by irresistible desserts.


However, an Iftar meal is incomplete without some delicious biryani. It is one of the most commonly prepared recipes in Muslim households during Ramadan. If you love to have biryani, here we bring you a list of 5 mutton biryani recipes to add to your delicious iftar meal. Take a look:
Ramadan 2022: Here's A List Of 5 Mutton Biryani Recipes You Must Try:
Our Recommendations:
1. Classic Mutton Biryani
One can never get bored of the classic mutton biryani served with salan. We've got a stellar mutton biryani recipe in which the juicy mutton pieces are marinated with beaten curd, ginger-garlic paste, raw papaya paste, chilli powder, salt, lemon juice, garam masala and a host of other spices. It is then cooked with crispy brown fried onion slices called birista, and tomatoes. Find the complete recipe.
2. Hyderabadi Mutton Biryani
Iftar is a grand feast that includes an extensive spread of various types of foods, biryani being the most preferred one. Having said that, we bring you the classic Hyderabadi Mutton Biryani recipe that can easily be cooked at home, with some basic kitchen ingredients. Click here.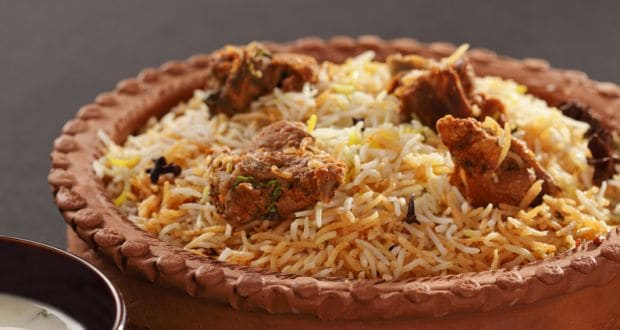 3. Mutton Goli Biryani
Here we bring you another stellar mutton biryani recipe. The steaming hot biryani rice, the aroma of saffron (kesar) and kewra and the juicy and chunky mutton pieces make our hearts melt without any effort. Click here for the full recipe.


Other Recipes You Must Try:
4. Mutton Mandi Biryani
Originally an Arabic dish, this biryani has slowly found ways to be included in Eid festivals all around the world. The specialty is the mutton pieces which are soft and falling off the bone along with the rice cooked in the mutton stock itself, every bite of this mutton biryani version feels like a piece of heaven on the taste buds. Click here.
5. Awadhi Biryani
A discussion of biryani can never be complete without talking about the rich and flavoursome biryani from the Awadhi cuisine. The Awadhi or Lakhnavi biryani is considered as pakki biryani. In other words, meat and rice are cooked separately; they are layered together and cooked in Dum-style. Click here for the recipe.
For more recipes for Iftar, click here.


These mutton biryani recipes are perfect for Iftari. Try them out and let us know how you liked them in the comment section below. Ramadan Mubarak!