"I like to make veg the focus of midweek meals - so many more options seem to appear when you stop thinking 'there must be meat'. Though of course, if in doubt, add bacon," says Ed Smith. Photograph: Elena Heatherwick for the GuardianLet your imagination run free when cooking up your weeknight suppers – no need to plan or shop in advance, just get creative with weekend leftovers and whatever's lurking in your kitchen crannies.My favourite sort of cooking is spontaneous and unstructured. Yes, I meticulously plan elaborate weekend dinners. However, through the week I much prefer, and find it easier, to take inspiration from an ingredient or two at the grocer's or whatever's left in the fridge. There's an element of just chucking things together because they're there, though there's understanding and occasionally invention too.
Being able to cook off the cuff largely comes from time spent at the stove, as well as the voracious reading I mentioned last week. That said, I think hours of watching Ready Steady Cook after school in the 1990s have been formative too. It's probably not very cool to admit the likes of Brian Turner and Antony Worrall Thompson influence your cooking, but I have no problem saying that the show taught me how to make the most of a small set of ingredients and a reasonably stocked larder.
From an early age, I'd try to recreate the challenge of preparing at least three dishes in 20 minutes, while simultaneously kiboshing Mum's weekly menu plan and leaving countless dirty pans and utensils around the kitchen for others to clean up.
These days, an evening fridge forage usually ends in a pasta dish, a stir fry, or something on toast - like everyone else ever. The pasta will often be a faux carbonara using any leftover brassica (roast cauliflower's my favourite bacon alternative), lubricated by soft cheese and white wine dregs, or often just stacked with anchovies, garlic, fried breadcrumbs and olive oil. When it comes to stir-fries, I try to avoid using too many things; one or two vegetables punctuated with plenty of fresh herbs and ginger works best for me (try courgette, sesame, soy and mint). As to the [x] on toast, it's usually whatever green vegetable is left from the weekend, plus butter, garlic, herbs (thyme, parsley, chervil or tarragon) with an egg on the side.
I can see eyebrows being raised at this point. Indeed, I'd be muttering "a piece about impromptu cooking that finishes with two basic recipes?" and "who just happens to have a radicchio and a bunch of tarragon "left over' in the fridge?", just like you. However I've thrown these two dishes together on a number of occasions precisely because I was left with those ingredients, having religiously followed a recipe a few days earlier. Both were quicker and more satisfying than the original, more deliberate dishes. In any event, these recipes are good enough to plan for, too.
Radicchio, anchovy and lemon spaghetti
I love the tussle here between the bitter radicchio and lemon juice, savoury anchovies and the palpable crunch of the fried panko crumbs (both of which are essential store cupboard items) " it makes for a really satisfying bowl of pasta.
If you're not a half-radicchio-in-the-bottom-of-the fridge kind of family, you could use grilled chicory, endive or fennel slices, roasted cauliflower or even broccoli.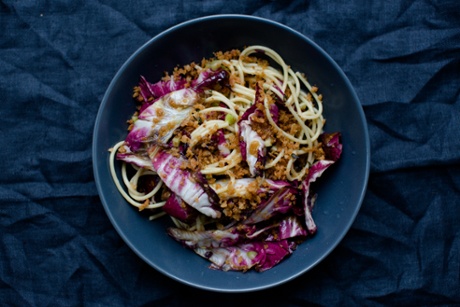 Serves 2
50g salted anchovies in olive oil
30g panko breadcrumbs
6-8 sprigs of thyme
200g dried spaghetti
1 medium radicchio
2 celery stalks, finely diced
1 garlic clove, finely sliced
Sunflower oil, for frying
Juice of 1 lemon
Salt and black pepper
1 Put a large saucepan of salted water on to boil, and a large, heavy-based frying pan on a medium-hot hob.
2 Open the anchovy tin and pour its oil into the frying pan. Roughly chop the anchovies, then set them aside. Add the panko crumbs to the pan along with the leaves from 2 of the thyme sprigs. Cook for 3 minutes, or until they have turned golden-brown, stirring occasionally. Scrape the breadcrumbs from the pan into a bowl.
3 Wipe the frying pan with kitchen towel and return it to the heat, adding a splash of sunflower oil. Put the spaghetti in boiling water and cook as per packet instructions.
4 Split the radicchio into quarters through the root, then each quarter in half again through the root, so you have 8 wedges. Turn up the heat beneath the frying pan and place the radicchio wedges cut-side down on its hot, oiled surface. Cook for 90 seconds, until the edge has turned brown/black. Then flip each wedge on to its uncooked cut side. Fry for 10 seconds more, then remove from the heat. The radicchio will be part brown and wilting, part purple, fresh and crunchy. Leave the pan on the hob.
5 Turn the heat down and add 1 tbsp of sunflower oil. Add the diced celery and chopped anchovies to the oil. Sweat them for a minute, watching the anchovies dissolve. Then add the garlic and the leaves from the remaining thyme stems. Cook for 30 seconds more, add a ladle of pasta water into the pan, then turn the heat off.
6 When the spaghetti is al dente (you may need to wait a few moments longer), tip it into a colander to drain. Transfer the drained pasta to the frying pan. Use a wooden spoon to move it around the pan and coat it in the broth. Add the radicchio, lemon juice and plenty of ground black pepper, then toss. Add " of the bread crumbs, toss once more and serve. Sprinkle any remaining anchovy crumbs evenly over each pasta bowl.
Tarragon and garlic spring greens with fried eggs
Succulent, just-cooked greens tossed with butter, softened garlic and handfuls of tarragon is one of my go-to weeknight supper dishes. This recipe uses spring greens " and they work extremely well " but purple sprouting broccoli, kale, cavolo nero, and cabbages are totally interchangeable. It also helps to use up sourdough that's past its best.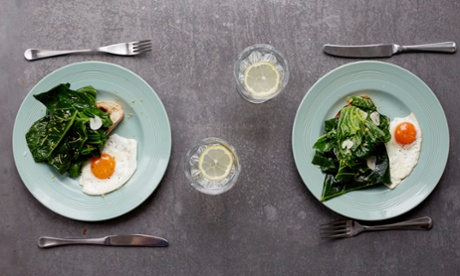 Serves 2
2 slices of sourdough bread
300g spring greens (weight after trimming)
2 eggs
25g butter
1 large garlic clove, finely sliced
Zest from ½ lemon
4 sprigs tarragon, leaves stripped and roughly chopped
Salt and black pepper
1 Put a large saucepan of heavily salted water on to boil. Toast the bread " ensuring it's fully browned.
2 Cut the stalks from the spring greens and discard. Trim the largest leaves into 8cm pieces, leaving the smaller ones intact. When the water is at a rolling boil and you've prepared all the ingredients, drop the greens in the water for 45 seconds. Drain and leave in the colander while you bring everything else together.
3 Fry the eggs, then set aside. Melt the butter in a saucepan over a medium-low heat. Add the garlic, cook for 20 seconds, then add the greens, tarragon, loads of black pepper and a little salt and toss well. It needs no more than 30 more seconds on the hob.
4 To serve, pour any butter and garlic juices over the toast, pile the greens on, and grate the lemon zest over the top. Serve with an egg on the side.