Salmon from Norway comes to India with 'Desi' Twist
Press Trust of India | Updated: November 29, 2016 16:26 IST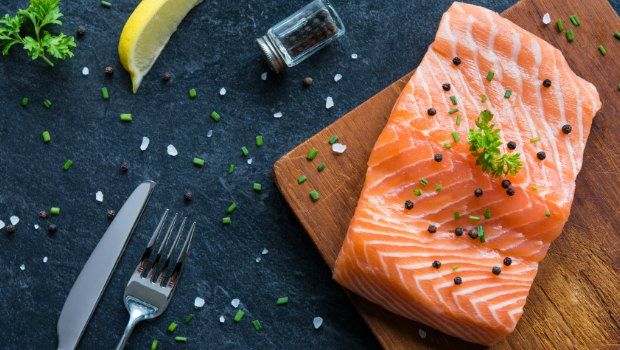 Sea food lovers are in for good news as they can now relish salmon, native to tributaries of North Atlantic and Pacific Ocean, in Indianised versions like 'Amritsari Tawa Salmon' and 'Bengali yogurt mustard Salmon'.

Aimed at sharing knowledge and passion for producing the best tasting salmon from Norway, Consul General of the Royal Norwegian Consulate H E Torbjon Holthe and Vice Counsel and Norwegian Seafood Council Director India, Yogi Shergill, held a demo cooking session in Mumbai recently to offer a glimpse of the European country's aquaculture known for producing delicious and delicately flavoured salmon fish.

"Salmon from Norway is raised in cold, clear waters. It grows at its own pace, gaining a pure and fresh taste, fat marbling and an attractive red-orange colouring. It also has a firm consistency, making it a pleasure to eat," Shergill, who dished out 'Grilled Salmon Fillet with Tandoori Marinade' and smoked salmon appetisers at the event, told PTI.

The production and consumption of farmed salmon is around 2.4 million tons in the world, of which Norway's share is 1.3 million tons. Ninety five per cent of Norwegian salmon is exported to other parts of Europe, Asia and the US.
"The Indian consumption of salmon was around 450 tons in 2015, which is small compared to the consumption base we have identified to be around 25 million people, who have the buying power to purchase salmon and cod," he said.

When asked if he sees a growing demand for salmon among fish lovers in India, he said the country consumed around 9.2 million tons of seafood every year, half of which comes from the Indian Ocean and the rest from fresh water aquaculture.

This consumption growth has increased six times in the past 15 years and we believe this trend will continue, he said.

"So yes, we believe that there is a long term potential for imported seafood in India as the wild catch from Indian coastal waters is not growing. India also has a young population which is more health focused and also willing to explore new foods," he said.

"We believe that preparing the groundwork now will result in long term benefits," the official said.

On the unique recipes of salmon, Shergill said the fish is popular around the world. Atlantic salmon can be served in variety of ways - from poached to pickled, smoked to sushi.

"Smoked salmon is a favourite in many hotels, we have seen salmon tikka, fried salmon in Indian cuisine," he said.

"In Norway, salmon is eaten raw as sushi, baked in the oven, pan fried and grilled. We have recently made a recipe brochure for Norwegian salmon in Indian cuisine with disheslike 'Amritsari Tawa Salmon', 'Bengali yogurt mustard Salmon' and 'Vindaloo glazed Salmon' to mention a few," he said.


(This story has not been edited by NDTV staff and is auto-generated from a syndicated feed.)