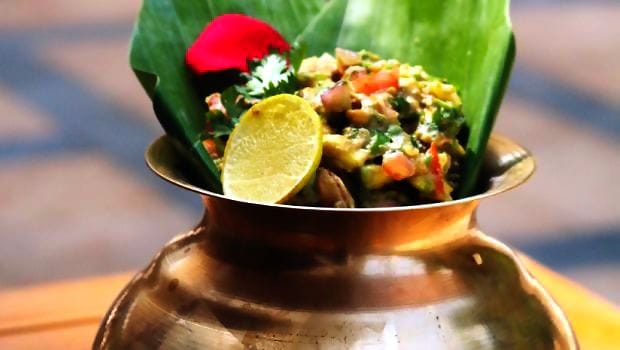 5. Guacamole with 6 Topping Variants
Recipe by Chef Prem K Pogakula, Executive Sous Chef of The Imperial Hotel, Delhi
Ingredients:
½ red onion (finely chopped)
1- fresh green chillies, finely chopped
1 tsp Salt and Pepper
3 Ripe Avocados
Juice of 1-2
limes
50gms Fresh Coriander (chopped)
1 Ripe
Tomato
(peeled, deseeded and chopped)
Method:
1. Put a half of the onion and half the chilli and salt in a pestle and mortar and mash.
2. Cut open avocados, remove the stones and scoop out the flesh into the large bowl.
3. Roughly mash the flesh with a fork, add half the lime juice as you go.
4. Stir in the rest of the lime juice and chilies, coriander, red onion and tomato.
5. Season with black pepper and salt.
Spruce it up with the following toppings:
1. Fennel, orange and caramelized onion
2. Roasted red pepper and ginger
3. Roasted
corn
4. Toasted sesame seeds and parmesan
5. Peanuts and bacon
6.
Coriander
and onion seeds