While scouring the Instagram universe, I came across bizarre sushi fillings like peanut butter and jelly, banana and nutella, peanut butter and nutella (sensing a pattern?)... transforming the iconic Japanese dish into an over-the-top, outside-the-bento-box creation. So I had to know where chefs from Delhi's best sushi restaurants draw the line when it comes to 'creative' sushi fillings.
Japanese
sushi may be known for incorporating different kinds of
seafood
traditionally, but don't let that limit you. I recently tried sushi with mango and avocado, and it was downright divine. Mango is the perfect combination of tangy and sweet, and if rolled up with avocado - it's a whole new experience. You can even go the
Italian route
and pair asparagus with prosciutto. Or if you're a fan of Hawaiian pizza, there is a very high probability that bacon and pineapple will hit the spot for you. I even love my sushi with smoked salmon and
cream cheese
.
It's common to see cucumber in restaurant-made sushi for that added crunch, but Takanori Fukuda, Chef De Cuisine, Megu, The Leela Palace suggests, "Broccoli, blanched spinach, carrot, daikon radish sprouts add a great twist. You can even make Temaki sushi at home with egg and chicken to impress your guests". He adds, "Being a Japanese chef, I have high regard for
traditional
authentic sushi". That being said, the food at Megu manages to create a balance between innovation and comfort, ensuring that the dish is novel. "I created Prawn Tempura Sushi with Ebi Cracker, and spruced it up with
tomato salsa
". Needless to say, we're nuts about this roll.
Chef Vikram Khatri, Guppy by ai says. "Very honestly, people enjoy our straightforward rolls the best, like our Spicy Salmon and Shrimp Tempura rolls". But it's a fusion of flavours that makes this restaurant different from the likes of Yum Yum Tree. "We create our own recipes and spike it with Japanese
condiments
. As of late, our decorative rolls have been really popular. We use our in-house Sakura Denbu as a filling. It's a sweet-salty, fluffy pink flaked fish condiment. We use reef cod fish to make it, and add beetroot colour to make it pink. Since it's summer, we've been experimenting a lot with mango as well. Guests are really enjoying our
Tuna
and Mango roll, as well as our vegetarian Mango, Avocado and Asparagus roll spruced up with kimchi". He adds, "But that's where I draw the line. I would never experiment with Tandoori Chicken Tikka or Chicken Teriyaki when it comes to sushi (laughs). Never."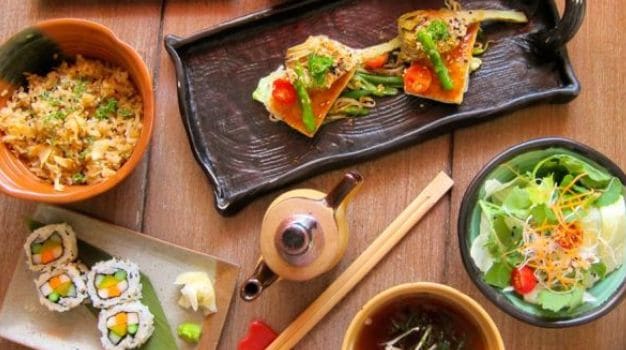 Since no one does a Spicy Mushroom Sushi Roll better than The Fatty Bao, I had to get Executive Chef Prashant's opinion. "Sushi seems to intimidate even its most loyal fans. So we've been exploring different shapes, sizes and fillings to celebrate sushi and make it easier to eat - from rolls to cones and squares, and even tiny purses. Think: Fiery
Shrimp
Hosomaki, delicately wrapped Smoked Salmon Temaki to a whole new epicurean experience featuring sushi bowls. We want even the most reluctant sushi eaters to take a bit out of these one-of-a-kind, imaginative dishes. Our Chirashizushi sushi bowls basically contain cold
cooked rice
dressed with
vinegar
, and various toppings including avocado, cured mushrooms, pickled greens, snow peas and asparagus for vegetarians. We also have seasoned
tofu
pouches with Inarizushi, prawn salad inari, crabmeat, tokibo inari, mirin glazed eggplant and crispy shallots. The Temaki (cone shaped sushi) is quite a visual treat with smoked salmon, capers, avocado and
horseradish
sauce or spicy mushroom, lettuce and vegetables. Guests are loving the Gunkan (boat shaped sushi) with crispy bacon and cheese". This roll is a game changer in more ways than one.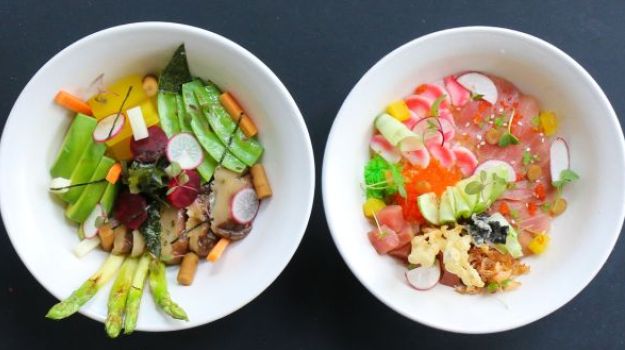 Fatty Bao's Chirashizushi Sushi Bowls. Image Credits: Kunal Chandra
Mohit Dutta, XO Catering By Design (popular for the catering at Shahid Kapoor's wedding) is of the opinion that, "Sushi has stood the test of time, and it's here to stay. Since traditional sushi is easily available now, it gave us the confidence to take a step forward and serve sushi the desi way, contrasting traditional Japanese
ingredients
with Indian elements. For Shahid and Mira's wedding, we created Bharwan Jaipuri Mirchi
Beetroot
Sushi, and served it with Wasabi
Dahi
. Guests were apprehensive at first, but once they popped the roll in their mouth - they were wooed no end. We've also been experimenting with
KadiPattaAam
Salad as a stuffing for California Roll with
Dhaniya
,
Aam
Wasabi
Chutney
. We even have a Sweet Imli and
Avocado
Maki that is delectable, and Beetroot Green Apple Sushi with Crispy Chivda Crust."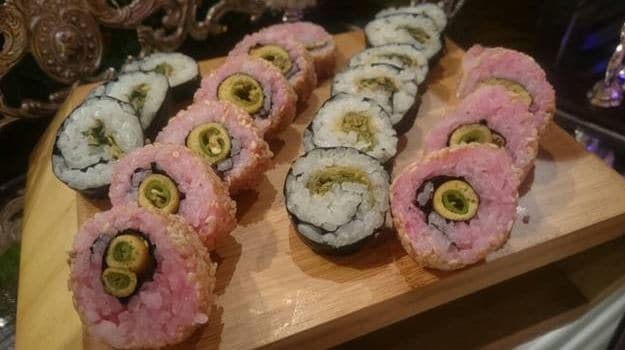 Bharwan Jaipuri Mirchi Beetroot Sushi
While Executive Sous Chef Ashish Ugal, Wasabi by Morimoto, The Taj Mahal Hotel says, "I would never marry sushi with
Indian flavours
like chillies, raw ginger and garlic. Sushi is an authentic Japanese dish, with its own unique character and taste. A
delicacy
can only be enjoyed if its flavours are not altered completely".
We can roll with that!
Chef Ashish adds, "We constantly try to come up with something exclusive and unique at Wasabi, and have recently been experimenting with distinct fillings like Tempura Fried Kampyo, Kinome Miso Marinated Chutoru, Five Colored Bubu Arare, Smoked Salmon, Tempura Fried Gari, Truffle Caviaroli and Sweet Shrimp. As a surprise for our guests, we also introduced home-made wine caviar. Guests have also thoroughly enjoyed our Alaskan King
Crab
Roll flavoured with
guacamole
and orange tobiko, and garnished with wine
caviar
, kinome leaf and hanaho and our Aburi (seared) Salmon roll".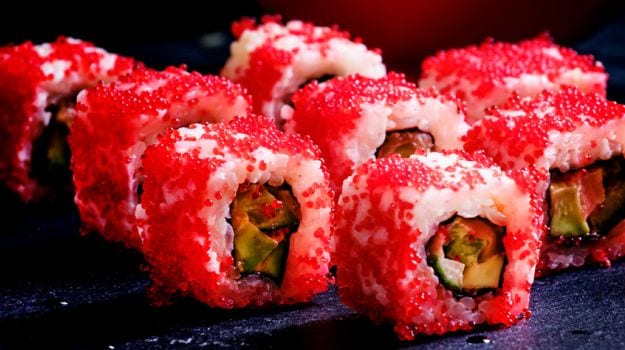 Here's the mind blowing recipe:
Aburi Salmon Roll
Recipe by Executive Sous Chef Ashish Ugal, Wasabi, The Taj Mahal Hotel, New Delhi
You know you're in for a delectable dish when the neighboring table stares in awe when it lands in front of you. And that's exactly what happened when we ordered the Aburi
Salmon
, and for good reason. Creating this roll was nothing short of seared genius.
Ingredients:
50gm Salmon
30 gm Tamago(egg custard)
50gm Mexican Avocado
5gm Sesame seed
120gm Sushi rice
50 ml Sushi vinegar
5gm Orange tobikko
5gm Gari
3gm Wasabi
For Garnish:
Truffle Caviar (garnish)
Japanese flower
Kabocha julienne (Japanese pumpkin)
Instructions:
1. Take half piece of sushi nori and spread rice evenly on nori sheet.
2. Sprinkle sesame seed over rice.
3. Turn nori sheet upside down.
4. Place tamago and avocado in the center of rice.
5. Roll it and give it a square shape with the help of makisu(bamboo sheet).
6. Evenly place thin slices of salmon on the roll and do aburi of salmon with the help of blow torch.
7. Cut sushi into six equal pieces.
8. Arrange it in a platter and garnish it with kabocha truffle caviar and Japanese flower.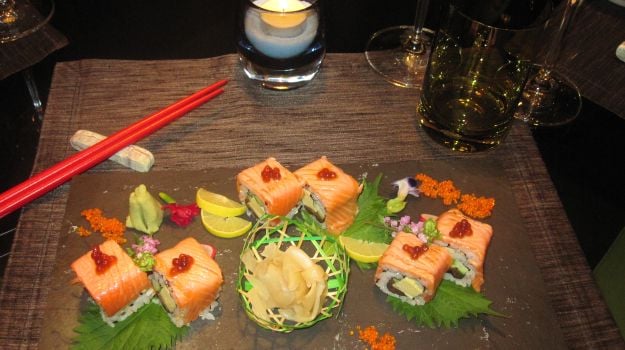 This has my appetite screaming. May need to get out the sushi mat this afternoon.