Seasonal Hummus: 4 Fresh Recipes
Thomson Reuters | Updated: November 10, 2016 16:09 IST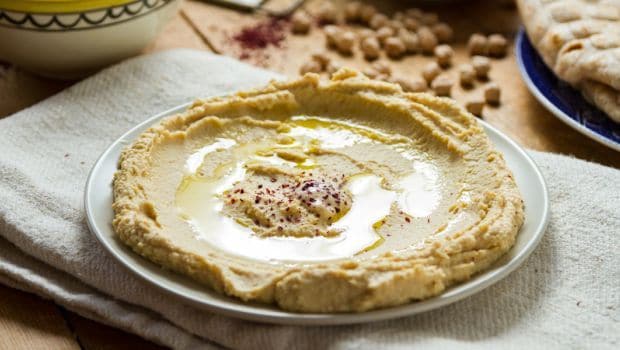 hummus came years ago, at a potluck dinner I was organizing. Even before tasting the dip I was drawn to its elegant appearance, drizzled with olive oil and sprinkled with paprika.

From that first experience I could never have known hummus would become my claim to fame and salvation -- in certain circles at least.

I liked hummus well enough before it took American tables by storm, but it was my son, then 3, who started my journey with this Levantine dip that originated in Egypt. When he declared he liked it and asked whether I could make it, I started experimenting and haven't looked back.

At its most basic, hummus is a simple, six-ingredient dip made with chickpeas, olive oil, tahini, garlic, lemon and salt. Healthy, delicious and versatile, hummus in Arabic means "chickpeas," which certainly sounds much cooler than their other name, garbanzo beans.

The everyday chickpeas that I use in stews and other assorted recipes found yet another purpose in my kitchen with hummus. When children ask for something healthy, it is a mom's call to action, and I am no different. If your youngsters positively love something good for them, you thank the heavens and give them what they want.
Through my experimentation making hummus, I've come to realize it is all about the chickpeas. A good hummus should be reasonably smooth, but not greasy; therefore, the softness of the chickpeas is essential.

When I make hummus, I do not skin the chickpeas. I'm told this is the everyday, authentic way, of course as with any cult food I'm sure there are people who would swear otherwise. However, as with all beans and legumes, there is a big difference between cooking your own chickpeas and using the canned variety.

Cooking them yourself adds a light, rich flavor without the trapping of extra salt. I soak chickpeas and cook them until they are extra soft, discarding any loose skins along the way.

As hummus has become a staple in our lives, gracing sandwiches (yes, my children prefer hummus to mayo on their sandwiches) at parties and playdates, I began to experiment with the flavors. Over time, I have created an assortment of variations, most of which have their own dedicated fans.

Like everything I cook, my hummus variations celebrate the seasons of life. Here are four variations that we enjoy at various times of year.

When the chives come in as the first harbinger of spring, I make a chive and black pepper hummus with a dose of parsley thrown in for good measure. The spring hummus brings with it memories of tiny green leaves, daffodils and birds in our backyard.

Then with the summer sun comes other herbs, including my favorite -- hauntingly fragrant cilantro. During the hot months, I make a refreshing cilantro hummus, sometimes spiced up with a little jalapeno. The summer hummus reminds me of smoke and grilling, beach times and picnics by the sea.

Fall is all about peppers and brings to my table roasted red bell pepper hummus, reminding me of getting back to school because it is very often our lunchtime hummus.

Finally, as winter arrives, I make a ruby-red hummus colored and flavored by roasted carrots and beets and tinged with the natural sweetness of the roasted vegetables. This is a hummus for holiday entertaining and snowy winter days. I usually have it by my side as I write my holiday cards.

Chive and Cracked Black Pepper Hummus

This hummus is for people who like the dip drier and enjoy a touch of spice. The hint of parsley thrown into the hummus gives it a nice grassy freshness. Using the skins from the cooked chickpeas adds just the right touch of texture to this rich and creamy dip.

Prep time: 10 minutes
Total time: 10 minutes
Yield: About 1 3/4 cups

Ingredients

1 1/2 cups cooked chickpeas (reserve cooking liquid)
1 1/2 tablespoon chopped parsley
1/3 cup tahini
4 tablespoons extra virgin olive oil
2 cloves of garlic
Salt to taste
1 lemon
2 tablespoons chopped chives
Several grinds of fresh black pepper

Directions

1. Place the chickpeas, with about 1/4 cup of the cooking liquid,in a food processor or blender and pulse several times. You want to retain some of the texture.

2. Add the parsley, tahini, olive oil, garlic and salt and blend until smooth. Cut the lemon in half, squeeze in the juice and stir. Taste to ensure it is tart enough, adding more lemon juice as necessary.

3. Stir in the chives, leaving a little for garnish.

4. Add the black pepper and stir well.

5. Garnish with additional chives and black pepper and enjoy.

Cilantro and Jalapeño Hummus

This hummus is for people who like the dip spicy, flavorful and creamy.

Prep time: 10 to 15 minutes
Total time: 10 to 15 minutes
Yield: About 1 3/4 cups

Ingredients

1 1/2 cups cooked chickpeas (reserve cooking liquid)
3 tablespoons chopped cilantro, plus extra for garnish
1 jalapeño pepper, minced and chopped
2 cloves garlic
7 tablespoons tahini
4 tablespoons extra virgin olive oil
Salt to taste
1 lemon

Directions

1. Place the chickpeas, with about 1/4 cup of the cooking liquid, into a food processor or blender and pulse several times. You want to retain some of the texture.

2. Add the cilantro, jalapeño, garlic, tahini, olive oil and salt and blend till smooth.

3. Cut the lemon in half and squeeze in the juice then stir. Taste to ensure it is tart enough, adding more lemon juice as necessary.

4. Garnish with the extra cilantro and serve.

Roasted Red Bell Pepper Hummus With Mint

This delicate hummus is flavorful and creamy with just a hint of sweetness from the roasted bell peppers. It is my favorite sandwich hummus, perfect with mozzarella and sliced tomatoes.

Cook time: 20 minutes
Prep time: 25 minutes
Total time: 45 minutes
Yield: About 2 1/4 cups

Ingredients

1 medium-sized red bell pepper, quartered and seeded
1/3 cup extra virgin olive oil, plus 2 tablespoons (use a good, fruity variety, the kind you would use for dipping and enjoying in its most natural form)
2 cups cooked chickpeas (reserve cooking liquid)
2 bulbs of garlic
1/4 cup fresh mint leaves, chopped
1/2 teaspoon red cayenne pepper (more or less to taste)
3/4 teaspoon sea salt
1/3 cup tahini
1 lemon
Sumac, pine nuts and chopped mint leaves for garnishing

Directions

Preheat the oven to 375 F. Place the bell pepper in a small casserole and drizzle with 1 tablespoon of oil and roast for 20 minutes.

Remove the bell pepper from the oven and place it and the chickpeas in a food processor or blender with about 1/4 cup of cooking liquid from the chickpeas.

Add 1/3 cup olive oil, garlic bulbs, chopped mint leaves, red cayenne pepper, sea salt and tahini and blend to a paste.

Add more of the cooking liquid if necessary to get a smooth, soft consistency.

Cut the lemon in half and squeeze in the juice then mix well.

Place in a serving bowl or platter, gently swirl over the remaining 1 tablespoon of olive oil and sprinkle with sumac, pine nuts and mint leaves to garnish.

Quick Roasted Root Vegetable Hummus

Cook time: 20 minutes
Prep time: 15 minutes
Total time: 35 minutes
Yield: About 1 1/4 cup

Ingredients

For the vegetables:
2 medium-sized beets, peeled and diced
2 medium-sized carrots, peeled and cut into 1-inch pieces
1 or 2 medium-sized tomatoes, diced
1/4 cup olive oil, plus more for serving
3 cloves of garlic, minced
1 teaspoon salt
For the hummus:
1 cup freshly cooked soft chickpeas (reserve cooking liquid)
2 tablespoons tahini
1/4 cup olive oil
1 teaspoon salt or to taste
1 or 2 bulbs of garlic
3 tablespoons fresh lime juice
4 tablespoons chopped mint
Optional garnish:
Sumac
Slivered almonds
Olive oil

Directions

1. Toss the vegetables with the olive oil, garlic and salt. Spread in a large, flat dish and microwave for 5 minutes. Mix well.

2. Place the chickpeas, 1/4 cup reserved cooking liquid, vegetables with the juices, tahini, olive oil, garlic and lime juice in a food processor and process until puréed.

3. Remove from the food processor. Stir in the mint.

4. To plate, drizzle with the sumac, slivered almonds and extra olive oil and serve.



(This story has not been edited by NDTV staff and is auto-generated from a syndicated feed.)


My first taste of