Every vegetarian knows that a party is incomplete without a paneer dish for the main course. This creamy and soft ingredient makes for an excellent snack and main course! Paneer is made by curdling milk and straining the water out of it. The best part about paneer, also known as cottage cheese, is that it is a rich source of protein for vegetarians. According to the USDA, 100 grams of paneer has 11 grams of proteins. The fact that paneer is protein-rich allows us to enjoy this ingredient in all its forms guilt-free! That is why so many restaurant menus carry a paneer-filled menu from paneer butter masala to shahi paneer and much more. We have found the recipes of all the classic paneer curries that we know and love! So if you are a paneer fan like us, then you will enjoy eating these curries.


Also Read: From Paneer Tikka Masala To Haryali Paneer Tikka: 5 Paneer Tikka Recipes You Must Try
Here Are 5 Paneer Curries Recipes To Try:
1. Paneer Makhani
If you are a fan of creamy and buttery curries, then paneer makhani is the curry for you. Paneer is cooked in spicy tomato gravy, along with cream and butter to give this mouth-watering dish. You can pair it with tandoori roti.
Click here for the full recipe of Paneer Makhani.
2. Shahi Paneer
The name of this dish indicates royalty, and shahi paneer indeed tastes like a dish made for royals! Shahi paneer is an extremely popular part dish for vegetarians as it is creamy and delicious! Shahi paneer can be cooked in red and white gravy.


Click here for the full recipe of Shahi Paneer.
3. Matar Paneer
Matar paneer is a versatile dish that can be a party main course dish or a weekend indulgence. To make matar paneer, you will need to cook the paneer and the matar separately, and then combine them to make this spicy dish.


Click here for the full recipe of Matar Paneer.
Kadai paneer is a hot and spicy paneer curry that sings to the hearts of spice lovers. The best part about this dish is that it can be made dry, demi-dry and gravy, depending on what you want to eat it with! Rice, rotis and parathas go well with kadai paneer.


Click here for the full recipe of Kadai Paneer.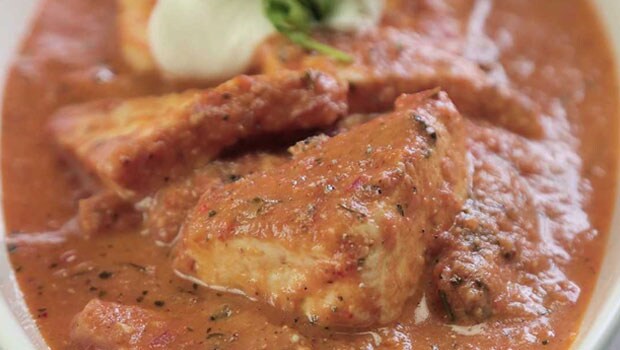 5. Paneer Butter Masala
The vegetarian variation of chicken butter masala, this flavourful curry makes for the perfect curry for parties. The rich tomato and cashew-based gravy are cooked with butter-fried paneer, making it taste absolutely delicious.


Click here for the full recipe of Paneer Butter Masala.


Try out these recipes and tell us how you liked them in the comments sections.