Being fit and staying in shape involves following a daily routine and not achieving a one-time goal. Sonakshi Sinha is famed for her gorgeous curves that rebel against skinny bodies in the industry. But she wasn't always the same. Her journey of transformation is an inspiring one. She works out, is strong and healthy and that's what matters the most.In a recent interview with Devang Bhatt, Sonakshi shared, "As a child, I was always on the heavier side which is why it never occurred to me to act in movies. I started losing weight because of health issues. At the age of 16, I would get breathless while climbing stairs and therefore, I decided to
shed the extra weight
and become fit. That's how my makeover started and finally on Salman's insistence I signed Dabangg. In fact, I was never given a choice; I was just told by him that I have to do the movie which was another reason to get in shape."She had to lose about 30 kilos to flaunt her rustic look in the movie and fit into her role. She took her weight loss very seriously and worked on a strict diet. "Salman helped me a lot, he made sure I went to the gym every day after the shoot and not got lethargic about it," she says.
Sonakshi is a big foodie but also tends to put on weight very quickly. She had to give up on some of her favourite foods and also hated going to the gym. But she was determined to trim down. She ate small, well-balanced and frequent meals to keep her
metabolism
up through the day. She followed a
low-carb, high-protein diet
to support her intensive daily workout. She went to the gym twice a day and trained for at least two hours. She was
doing a lot of cardio
and heavy weight training in that period. In fact, she even included hot yoga and spinning in her workout routine to improve her flexibility.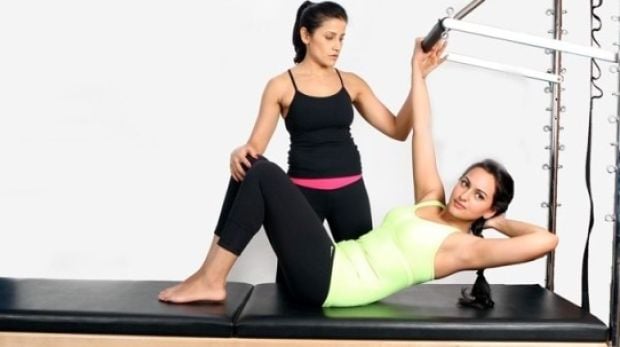 Photo Credit: www.bodyimage.in
She trained with celebrity fitness trainer, Yasmin Karachiwala who advised her to keep herself hydrated at all times and
avoid eating carbs after 6 pm
. Her diet was simple, packed with whole wheat
grains
,
fresh fruits
, vegetables and pulses for lunch and breakfast. Fish, chicken or egg whites were mostly served for dinner. These energy giving foods were great as a post-workout meal to compliment her intense training sessions. In her recent movie appearances, Sonakshi looks leaner and toned as fitness is now a part of her daily routine. She does occasionally indulge in her favourite junk foods but her
daily meals are balanced and healthy
. Since she has a tendency to put on weight very easily, she works out regularly to maintain it. Sonakshi believes that there's nothing like quick weight loss, it's a process that requires time, consistent effort and a major lifestyle change, especially for those who are overweight. So, if you are looking to drop a few pounds, don't resort to shortcuts, just make up your mind and get going. That's a great piece of advice, Sona!