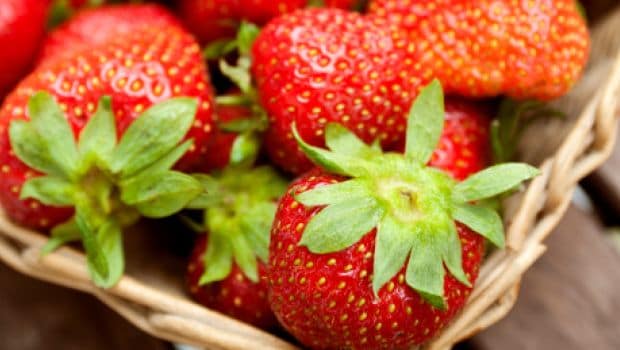 Calories In Strawberries

According to the USDA dietary guidelines, a 100-gram serving of strawberries contains about 32 calories. As per the USDA, strawberries typically range in size from 1" diameter to 1-5/8" diameter. Larger strawberries have a few more calories. Strawberries can easily be eaten as an evening snack and they have the tendency to boost the body's metabolism as well. However, if you wish to make the most of this wonder fruit, then you may have to keep few things in mind. This citrus fruit is grown all over the world and is available through the year. However, they tend to lose their nutrients once plucked. So, in order to reap their maximum benefits, it is always advised to consume them fresh in season. Apart from this, one must try and opt for organic produce. With the ever-increasing rate of chemical contamination in the food sphere, there are high chances of strawberries being exposed to pesticides. So, in order to avoid this chemical contamination, one must go organic and opt for the organic produce only. (Also Read: 8 Amazing Strawberry Benefits: From Boosting Immunity to Regulating Blood Pressure​) Healthy Recipes That You Can Prepare Using Strawberries

Now, that you are aware about the calorie count in strawberries, let's bring this citrusy delight to use with these simple recipes that are not only easy-to-make but quite delicious at the same time as well.

1. Strawberry Amaranth Cupcakes

Recipe by Plavaneeta Borah

Are you fond of cupcakes? If yes, then this one's for you. This delectable cupcake recipe is quite appetising and loaded with the seasonal goodness of strawberries and amaranth flour. The delicate buttercream is hard to resist!

(Also Read: Strawberry Nutrition: Amazing Strawberry Nutrition Facts And Health Benefits​) 2. Strawberry Tiramisu

Recipe by Chef Vivek Chauhan - The Imperial New Delhi

A classic Italian dessert made with fresh strawberries, mascarpone and cream. This easy and no bake recipe is sure to impress your loved ones.

3. Strawberry Mess with Fruit Coulis

Recipe by Chef Virender - Mia Bella

This recipe is perfect to cool down on a summer day and soak up on the goodness of some citrus fruits. Strawberries add a sweet taste to the dish. So, go ahead and experiment with your culinary skills. 4. Strawberry Jam Shortbread Biscuit

Recipe by Chef Virender - Mia Bella

If you're craving for something sweet, then this is exactly what you need. This buttery delight is filled with sweet jam and a little sugar glaze drizzle! There is absolutely nothing that you will not love about this recipe; it is easy, quick and not at all messy.

5. Strawberry Margarita

Recipe by Chef Neha Lakhani

Strawberry margarita is a perfect summer cooler. This refreshing drink can brighten up your mood in just no time.

Now, that you know how nutritious and healthy these tiny delights are, include them in your daily diet and make the most of them.



In order to maintain a healthy lifestyle, it is imperative to consume a diet rich in various essential and nutrients. One of the most nutrient-dense foods that the nature offers is strawberry. This citrus-loaded fruit is refreshing and delivers a significant boost of vitamin C along with other vitamins like vitamins K and B9 and minerals like potassium, manganese and calcium. According to the book 'Healing Foods' by DK Publishing, apart from the fruit itself, its leaves are quite beneficial for the health as well. A tea made from its leaves is a traditional remedy to soothe acid indigestion. Fibre in the fruit can aid a sluggish bowel, notes the book. Since this plump red fruit contains little or no fat, and has an extremely low-calorie count, it has gained quite a popularity among health experts and fitness junkies. So, how many calories are there in strawberries? How can we use this citrus fruit in easy and delectable recipes? Let's find out.
About Deeksha SarinAn eccentric foodie and a die-hard falooda lover, Deeksha loves riding scooty in search of good street food! A piping hot cup of adrak wali chai can make her day bright and shiny!