Thomasina Miers' Marseille roast chicken with red peppers and torn croutons: 'A remarkably ritzy dish.' Photograph: Louise Hagger for the Guardian. Food styling: Emily KyddWhen we're on holiday, no one wants to spend hours at the stove. Which is where this peppery take on roast chicken and a simple posset come in handy.Last summer, we went on a family holiday to the south of France, the first time I'd been there in years. And, quelle surprise, the food was every bit as glorious as I remembered, a celebration of everything in the markets at that time of year: juicy, plump tomatoes; ripe, gnarled red peppers; huge heads of garlic stained with streaks of pale pink; not to mention the melons, peaches and all that other fruit that benefits so much from proper sunshine and heat. You just can't go far wrong when you start off with such rich, vibrant ingredients.
In Marseille, though, there is an added air of exoticism thanks to the heady influences blown over the Mediterranean from North Africa. You can really taste this in the cooking, which, though still simply prepared, has much stronger, punchier flavours. Today's very easy way with chicken thighs is inspired by that trip, plus I've thrown in an easy pudding, making this menu a good one to conjure up when you're on holiday and may not much want to be in the kitchen at all.
Marseille roast chicken with red peppers and torn croutons
Heavy with garlic, ruby red with peppers and sweet, roast tomatoes, savoury with smoky paprika and oil: for something so easy to put together, this is a remarkably ritzy dish. Serves four to six.
4 red peppers
2 red chillies
2 red onions
200g stale bread, preferably sourdough, ciabatta or other good loaf
400g cherry tomatoes, each pierced once with the tip of a small sharp knife
8 garlic cloves, bashed and peeled
2 tsp sweet smoked paprika
6 sprigs fresh thyme
Sea salt and freshly ground black pepper
100ml olive oil
8 chicken thighs (or drumsticks), skin-on and bone-in
4 tbsp sherry vinegar
Heat the oven to 180C/350F/gas mark 4. Deseed the peppers and chillies, and cut both into eighths. Peel the onions and cut into eighths. Cut the crusts away from the bread and tear into rough pieces. Put all the ingredients except the chicken and vinegar in a large, deep oven tray, season generously and pour over most of the oil, reserving just a couple of tablespoons. Mix everything together with your hands, so it's all coated in oil, and leave the bread at the bottom of the pan covered with the vegetables.
Rub the chicken all over in the remaining oil, season generously and lay skin-side down on the vegetables. Scatter the vinegar over the top, then roast for 45-50 minutes (larger thighs may take a bit longer, smaller ones a little less, so adjust cooking times accordingly). Stir the contents of the tray a couple of times during the cooking, and halfway through turn the chicken so it's skin side up, to ensure the skin goes crisp. Check the chicken is cooked by inserting the tip of a knife into the thickest part of the thighs: if the juices run clear, the chicken is ready.
Take the tray straight from the oven to the table, and serve with a sharply dressed green salad.
Lime, brown sugar and ginger posset with sesame shortbread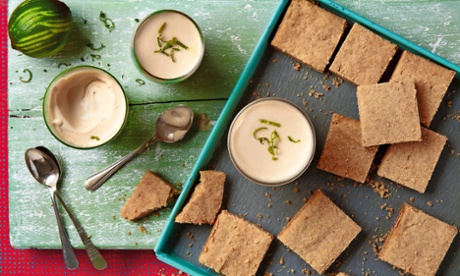 This easy take on posset does not set firmly; instead, it is a thick, exotic cream that goes beautifully with the nutty sesame shortbread. Serves six.
Juice of 6 limes, plus the grated zest of 3 limes
1 small thumb-sized piece fresh ginger, peeled and grated
170g brown caster sugar
600ml double cream
For the shortbread
45g sesame seeds
200g unsalted butter, softened
70g brown sugar
A few good pinches of salt
240g plain flour
80g corn flour
Heat the oven to 170C/325F/gas mark 3, and grease a 30cm x 20cm baking tin.
To make the possets, put the lime juice and zest, ginger and sugar in a small pan and cook very gently until the sugar dissolves and you are left with a syrup.
In a separate pan, slowly heat the cream, and take off the heat when small bubbles start appearing on the surface. Sieve the lime syrup into the hot cream, and stir to combine. Transfer the mix to a jug, then pour into six pretty glasses, bowls or ramekins " you will serve the possets in these " and leave to cool. Once cool, refrigerate for at least three hours, to set.
To make the shortbread, briefly grind the sesame seeds in a spice or coffee grinder until a fine crumb " about 10 seconds. Beat together the butter and sugar in a food processor until completely soft, then briefly whizz in the salt, flours and ground sesame seeds, until the mix just comes together. Press the dough into the greased tin so it's roughly the thickness of "£1 coin.
Bake for about 20-25 minutes, until the shortbread is turning a deep golden (this gives it a deliciously rich, toasted flavour). Leave to cool for five minutes, then cut into squares and loosen from the bottom of the tin. Once cold, turn out and serve with the chilled possets.
And for the rest of the week"...
Turn any leftover chicken into a ridiculously easy yet very gutsy summer salad: strip the meat from the bones and tear into bite-sized pieces, then toss with baby gem lettuce and any peppers, tomatoes, chillies and garlic left in the tray; dress with a few tablespoons of a punchy vinaigrette and scatter with chopped chives. The shortbread keeps for a week in an airtight tin. For an entirely different result, add a few ground nuts to the dough mix. Or roll it out into a sausage before chilling, then cut into thin rounds before baking: use these to make stacked shortcake sandwiches filled with cream and summer fruit, fruit curds and mascarpone or ice-cream.
Thomasina Miers is co-owner of the Wahaca group of Mexican restaurants.