It's the perfect weather to enjoy some crunchy, fried chicken. Dipping a hot restaurant-style fried chicken in your favourite
smoky sauce
is one of the simplest pleasures in life. As you bite into it, the crunchy crust cracks to reveal the juicy meat and a burst of flavours of garlic,
paprika
and white pepper. Here's some great news for fried chicken lovers. The always crispy and always juicy fried chicken you get at restaurants is super easy to make in your own kitchen and can be enjoyed in the comfort of your home. Watch our quick video to get the easy step-by-step recipe of restaurant-style fried chicken, but before you do, have a look at some tips and tricks to make sure that your fried chicken is crispy, juicy and flavourful in equal parts. Whether you're a first time fryer or a well-seasoned cook, consider this your guide to make the best fried chicken at home.
6 Essential Tips to Make Extra Crispy Fried Chicken at Home

What makes your fried chicken truly stand out is the coating and the frying. Getting the perfect fried chicken is easy as long as you avoid some common pitfalls and keep our tips handy.
1. The right oil temperature:
Make sure the oil is hot enough to dunk the chicken pieces in. If the oil is cold, you may end up with soggy and greasy fried chicken. So, make sure you heat oil and monitor the temperature accordingly while frying. Do not over heat the oil as this may lead to under-cooked chicken. Make sure you choose a cooking oil that has a high smoke point and neutral taste.
Peanut oil or canola oil
can be good options.
2. Avoid crowding:
Make sure you fry equal sized pieces together so that the meat cooks evenly. Avoid crowding and make sure the chicken chunks have enough space. There should be at least an inch of space between all the pieces.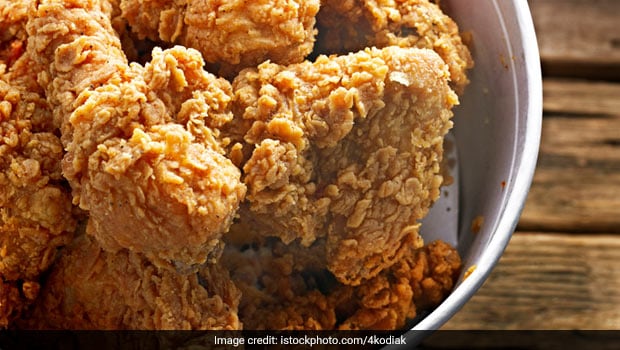 Make sure you fry equal sized pieces together.
3. When to fry:
If you dunk the chicken pieces right after dredging, the coating may fall off. Let the coated chicken sit for a while, till oil the heats up. Keep it aside for at least 10 minutes to allow the coating to stick on. It's not fried chicken, if the skin is not crispy. To check if the oil is hot enough, flick some flour in the oil. If it sizzles, your oil is ready. You can even throw in some garlic cloves or ginger pieces to season the oil before frying.
4. Salting for juiciness:
Salt the chicken before coating and frying and keep it aside for 30 minutes. This helps you get juicy and moist chicken. The salt tenderizes the chicken and also adds flavour to it. Some recommend
marinating the chicken
in buttermilk overnight to make it juicy.
5. For the coating:
You can use a mix of egg whites, corn starch or
maida
to get a crispy crust. Egg whites give a structure to the coating and allow it to stick. Corn starch will make the coating crispier. Adding chunkier
breads crumbs
on the outer most covering will give the fried chicken pieces a good bite.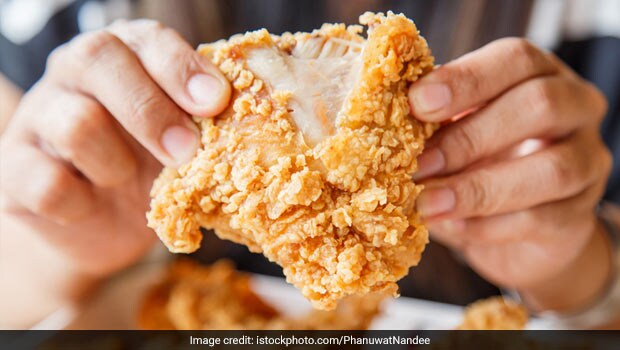 Corn starch will make the coating crispier.

6. Use a deep and heavy pan to fry:
Use a heavy pan with high sides and depth which helps in regulating the temperature of the oil as the chicken pieces are dipped in and taken out. Finally, let the chicken cool for a few minutes before you serve to let the crust set. The chicken continues to cook for a while right after you take it out of the hot oil, so give it a few minutes to finish all its carryover cooking. You can also place it in the oven for 10 minutes at 120 degree Celsius to allow it to remain crispy.
How to Make Restaurant Style-Fried Chicken at Home:
Watch the Video