Does it ever happen that you get the sudden urge to have something sweet and decadent? Well, let me tell you that you are not the only one to get this feeling often. Once we start craving something sweet, a simple piece of chocolate is not enough to satisfy us. That's when we need a whole dessert to devour. However, ordering these desserts regularly can get expensive and making them at home can turn out to be a hassle. But what if we told you that you could quickly and easily make a yummy dessert with the help of milk, bread and just a few other ingredients? Well, if just reading this piques your interest, we bring you a delicious recipe of bread pudding that you must try!


(Also Read: Homemade Chocolate Pudding: Make A Gooey, Chocolaty Dessert For Christmas Celebration)


The main ingredients in this dessert are milk, bread, eggs, a sweetener, and other things that add to the flavour. You can easily make this dessert with your basic kitchen ingredients. The delicious and sweet goodness of this dessert is sure to impress your family members. So, without waiting, let us check out the recipe for bread pudding!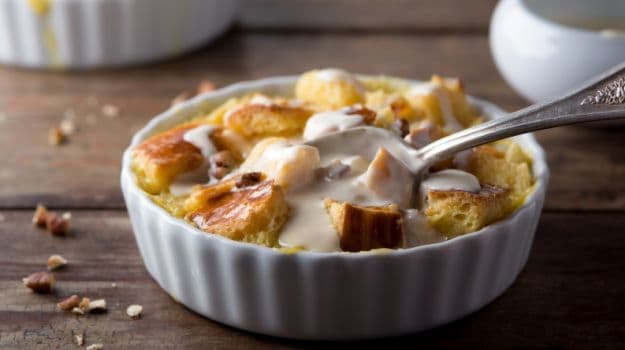 Bread Pudding Recipe: Here's How To Make Bread Pudding
First, preheat the oven at 180-degree celcius. Till then, apply butter on one side of the bread and cut each into four pieces and set aside. Heat milk in a deep saucepan, add the sweetener of your choice and stir till it dissolves. Take the pan off the heat and allow it to cool slightly. Break in the eggs in the saucepan, add vanilla essence and whisk till well combined. Add nutmeg powder and green cardamom powder and combine. Strain the mixture directly to the bread. Sprinkle raisins and bake for 30 minutes. Take the baking dish out of the oven and cool. Serve warm or cold as per your liking!


(Also Read: Quick Dessert Recipe: This Banana Pudding Will Satisfy Your Sugar Cravings In No Time)


For the full recipe of bread pudding, click here.


Make this delicious dessert in no time, and let us know how you liked the taste of it!