Bread
is probably one of the few ingredients that never fail to disappoint me. It is so versatile in character that you can use it in many ways to create
delightful dishes
. One of my recent favourites is Bread Halwa. Yes, you heard it right. This European-Indian
sweet treat
can be hard to picture, but take a spoonful of the
dessert
and I bet you will come back for seconds.In my opinion, it wouldn't be wrong to say that Bread Halwa is the Indian take on the English classic -
Bread Pudding
. The texture is almost similar, warm and gooey, comes loaded with
nuts
, mostly cashews instead of
pecans
, and doused in desi ghee, much like butter which is what makes the
pudding
so hard to resist digging into. Come
winter
and it is a bowl of absolute comfort, or should we say a guilty pleasure?
If you have a sweet tooth, then you will love Bread Halwa, more so because it is ridiculously easy to make, taking just about 10 minutes. Trust passionate Indian cooks to be able to use a common ingredient - bread - and give it a refreshing desi twist! Unlike the other bread-based Indian dessert Shahi Tukda, this one is lighter if you keep a check on the ghee, and needs only a few ingredients which are almost always stocked in the kitchen cupboard.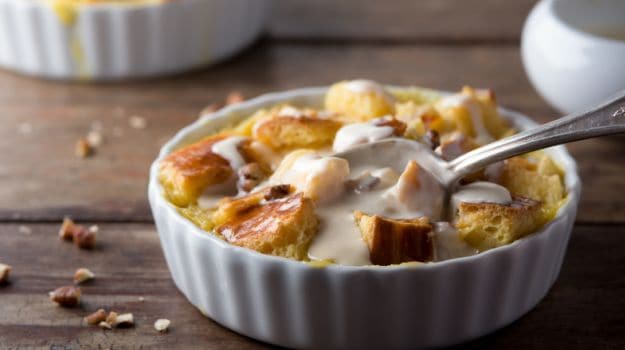 Making Bread Halwa
Following the same method of making most of the other halwas, this recipe too calls for milk which is the key ingredient that binds all the other ingredients together to ultimately give the desired crumbly texture. If you are up for some experimentation, then you can even substitute dairy milk and use nut milk to add more flavour to the dessert.
Next, coming to the bread, you can pick any type you like - white, brown, multi-grain, fresh, left-over, you name it! I usually like to use leftover multigrain bread to add some extra crunch to the dish.
All you need to do is cut the bread slices into small squares and then fry then in a little desi ghee in a kadai (round bottomed vessel). Once the bread pieces have soaked in the ghee and turned slightly golden, then add the milk and stir well to form a smooth mixture. Do these steps over a medium flame. Once the bread crumbs start to come together, then add a little sweetener - sugar or jaggery, and let it simmer. At this point you can also add in some more ghee and stir well so that all the liquid evaporates and you are left behind with a thick mixture.
I must admit that the first time I attempted making this dessert, I found the mixture turning rather sticky and gooey during the cooking process. The trick is to let it cook for a while and you will notice that it eventually comes together just right. Finally, top it with some nuts, raisins, a few spices and it's good to go.
Like most recipes, there are many variations to cooking Bread Halwa. While most cooks like to cut the bread slices into squares and use them, there are also some who use bread crumbs. You can also play around with spices, choosing cardamom, cinnamon, or even a little drizzle of rose water to finish off.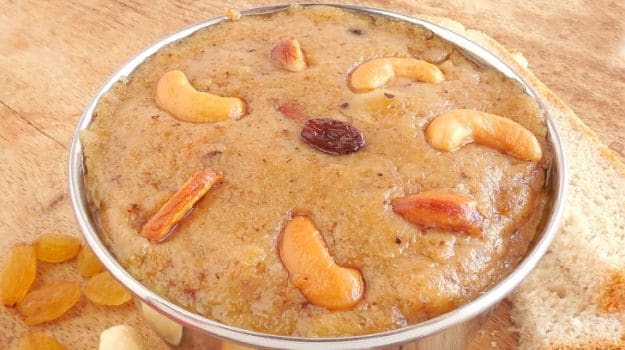 The Recipe
Bread Halwa
Serves 2
Cooking time: 10 minutes
Ingredients:
8 bread slices1/2 cup ghee2 cups milk1/3 cup brown sugar1/2 tsp cardamom powder1/4 cup chopped nuts
Method:
1. Cut the bread slices into small squares.
2. Heat ghee in a kadai, then add the bread squares and fry on a low flame until golden.
3. Add the milk and stir well so that the bread pieces start to crumble. Bring the mixture to a boil and use the back of the spoon to further mash the mixture.
4. Add the sugar and cardamom powder and let the mixture simmer for 3-4 minutes until the excess liquid has evaporated.
5. Finish off with a teaspoon of ghee and chopped nuts, and serve hot.