It is 10 am on a rainy morning in New Orleans, and I'm at the Court of Two Sisters with my school buddies. We've just managed to score a table at this hallowed New Orleans culinary establishment that combines two of New Orleans best known attributes with a Jazz brunch buffet. This city is not just the birthplace of Jazz but is also the home of Creole cuisine. Half an hour later, I've just polished off my second large (small portions are an alien concept in Louisiana and the American South) piece of Bread Pudding.
My quest for Creole cuisine almost invariably ended every New Orleans meal with bread pudding. This included a delicious, piping hot version served with a large dollop of fresh cream and ice cream at Pierre Maspero's, a quaint restaurant located in a historic 1788 building. It once housed a slave exchange and where Andrew Jackson (the Seventh president of the US) plotted the historic Battle of New Orleans in 1815. New Orleans is certainly not short of iconic dishes or historic restaurants, but a couple of locals told me that this dish typifies New Orleans cuisine. It's because it best embodies the Creole virtues of frugality and indulgence. Old bread that is combined with generous quantities of sugar, milk, nuts and raisins before being finished with a dash of liquor (usually Bourbon whiskey in these parts). It's almost reminiscent of the traditional thrifty Indian values where no food is wasted. Old bread still gets a fresh lease of life as a delicious bread upma in many homes. Of course, none of these restaurants take chances with the bread in their bread pudding, like home cooks used to a century or more ago.(For organic dry fruits and nuts to add to your baking, shop on SmartCooky)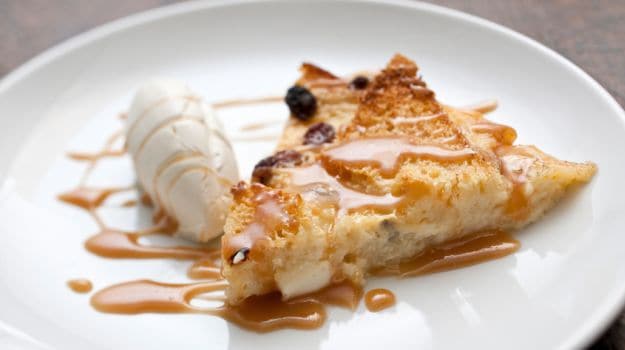 The Many Variations of Bread Pudding
The list of New Orleans restaurants that serve a wicked bread pudding is almost endless - I barely touched the tip of the iceberg, yet this city cannot call this dessert its own. A few years ago, I tasted a delectable version of the Bread pudding at The Taj West End, Bengaluru. It was part of a painstakingly researched menu to recreate some of the Anglo Indian culinary treasures of the Raj. Bridget-White Kumar, one of India's best known Anglo Indian food experts and authors was involved with that menu. She sees the bread pudding as a quintessential Anglo Indian dessert that evolved from its humble beginnings in England (during the Middle ages) to a festive treat. It's still made in some Anglo Indian homes and gentleman's clubs like the Madras Gymkhana Club. Some culinary historians believe that the bread pudding might have been the inspiration behind Hyderabad's famous dessert - double ka meetha (double because the bread puffs up to almost twice its original size), where bread is soaked in condensed milk.
It's no coincidence that bread pudding is an integral part of Creole and Anglo Indian cuisine, both among the pioneering fusion cuisines, even before the concept 'fusion cuisine' came into existence. Anglo Indian cuisine is not just an amalgam of Indian and British cuisine but also borrows from Portuguese and French culinary traditions. Creole literally means 'made here' and was the prevalent cuisine before Louisiana became part of the US in 1803 after the Louisiana purchase.(For flavourful fusion snacks to spruce up your munch time, shop on SmartCooky!)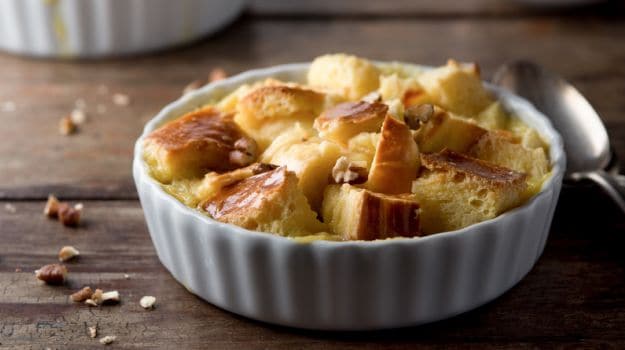 Creole cuisine is a heady mix of Southern American, French, West African and other European culinary influences. Bell pepper, onion and celery - often referred to as the holy trinity of Creole cuisine, are the bedrock of Creole seasoning. Bay leaf, oregano, cayenne pepper and dried shrimp are among the other frequently used flavouring agents. Some of the popular dishes include the turtle soup, New Orleans' own version of the doughnut - beignet, flavoursome gumbo with shrimp, and the popular rice and meat dish Jambalaya. But amongst all those rich flavours it was the bread pudding that stood out for me. I found the New Orleans version a tad sweeter than the Anglo Indian version but it uses almost the same ingredients as the Anglo Indian version. The whiskey sauce (with cream) is optional.
You can try to fix one at home, it tastes best hot and with a scoop of ice cream:
Bread Pudding
(Recipe Courtesy: The Taj West End, Bengaluru)
Ingredients:
50 gm soft butter
10 white bread slices, cut diagonally across
50 gm raisins
1/4 tsp freshly grated nutmeg
1/4 tsp cinnamon
350ml milk
50ml heavy cream
2 large free range eggs
25 gm white sugar
1 tsp vanilla extract
Method:
1. Heat the oven (180 degree C).
2. Grease a 1 litre pie dish with some butter and spread each of the bread triangles with butter.
3. Cover the base of the pie dish with overlapping triangles of bread, butter side up.
4. Sprinkle half the golden raisins evenly over the bread, and then lightly sprinkle nutmeg and cinnamon. Repeat this layer one more time or until the dish is filled, finishing with the raisins on top.
5. In a saucepan gently heat (Do not Boil) the milk and cream.
6. In a large baking bowl beat the eggs with 3/4 sugar and the vanilla extract until light and airy and pale in colour. Pour the warm milk over the eggs and continue beating until all the milk is added.
7. Pour the egg mixture slowly and evenly over the bread until all the liquid is added.
8. Gently press the surface with your hand to push the bread into the liquid. Sprinkle the remaining sugar over the surface then leave to one side for 30 minutes.
9. Bake the pudding in the hot oven for 40 - 45 minutes, until the surface is golden brown and the pudding well risen and the egg is set. Serve hot.
About the Author:
Ashwin Rajagopalan is a cross cultural training expert and lifestyle writer. When he's not writing about food, he thinks about gadgets, trends and travel experiences. He enjoys communicating across cultures and borders in his weekday work avatar as a content and editorial consultant for a global major and one of India's only cross cultural trainers.
Disclaimer:
The opinions expressed within this article are the personal opinions of the author. NDTV is not responsible for the accuracy, completeness, suitability, or validity of any information on this article. All information is provided on an as-is basis. The information, facts or opinions appearing in the article do not reflect the views of NDTV and NDTV does not assume any responsibility or liability for the same.
About Ashwin RajagopalanI am the proverbial slashie - a content architect, writer, speaker and cultural intelligence coach. School lunch boxes are usually the beginning of our culinary discoveries.That curiosity hasn't waned. It's only got stronger as I've explored culinary cultures, street food and fine dining restaurants across the world. I've discovered cultures and destinations through culinary motifs. I am equally passionate about writing on consumer tech and travel.