'Breakfast is the most important meal of the day' is an age-old saying, yet it's the only meal which is usually left out of our daily diet. Most of us are seriously pressed for time during the rushed mornings. Often, we tend to skip our breakfast or grab whatever we can get our hands on. The only hope for our tummy to be satisfied and our body to gear up for the day that lies ahead, is a meal that can be prepared in a jiffy (well, almost). Sooji toast is one nutritious breakfast dish that is surprisingly easy and quick to make and also tastes heavenly. This crispy bread toast can actually pass off as an eggless French toast and blow away your mind.



Sooji toast is made of sooji flour, also called rava or semolina. Sooji is essentially a South Indian food grain and has been mostly used to make upma, idli and dosa. Sooji ka halwa is another pan-Indian dish, which is commonly served as a dessert. The grainy texture and creamy flavour of sooji makes it a winsome past of any dish it is made with. Its various healthy properties give us another reason to pick it as our favoured flour.

Sooji is easy on our stomach.
It is rich in fibre and carbohydrates, energising us to take on the day.
Sooji is a powerhouse of minerals like zinc and magnesium.
It promotes and maintains healthy bones through its high calcium content.
Also Read: Sooji Dhokla Recipe

All these health boosting properties packed in one ingredient makes sooji toast an ultimate first meal of the day. The making of this dish calls for just a handful of ingredients. It is made of sooji and curd batter, mixed with veggies and spices, and takes minutes to draw up.


Crispy Sooji Toast Recipe


Ingredients:

1 cup sooji
Half cup curd
Half cup water
2 medium-sized onions, chopped
2 green chillies, finely chopped
1 tomato, chopped
1 capsicum, chopped
1 carrot, grated
Half cup coriander leaves, muddled
6-8 bread slices
Salt to taste
6 garlic cloves, grated
Half cup butter


How To Make It:

Step 1 - Add sooji, curd, water to a bowl. Whisk well.

Step 2 - Add all the veggies, chilli, garlic and salt to the batter.

Step 3 - Let it rest for 10 minutes.

Step 4 - Meanwhile, cut the bread slices diagonally into two pieces.

Step 5 - Heat butter in a pan and place the slices on the pan.

Step 6 - Once the bread is slightly toasted, flip it. Smear the batter on the top side of the bread and wait till the other side of the bread is toasted. Flip the bread again and place the batter on it. Cook the bread on both the sides till it turns golden brown and crispy.

Serve it with green chutney or sauce.


Also Read: Rava Pakodas Recipe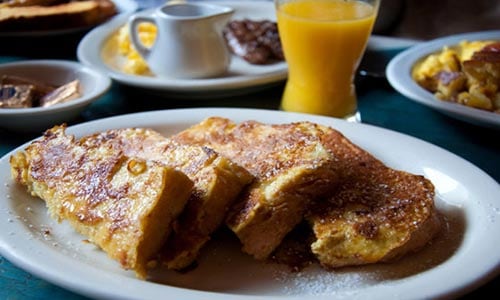 You can create another version of the toast by replacing curd with milk. You can also experiment with other vegetables like spinach, lettuce, corns and so on.

Welcome crispy sooji toast as the new addition to your breakfast menu and you'll never have to skip your morning meal again.