It has been close to a couple of years that I am associated with the food domain. These years have brought myriad opportunities for me to taste new flavours, try different cuisines, attend master-classes and learn the nitty-gritties of the trade. However, I have always been a reluctant cook. I know what a
perfectly rolled sushi
looks like or how well a
piece of meat
is cooked by the texture and sight of it, but I do not know what it takes to achieve that perfection when it comes to cooking them on my own.I therefore am famous among my circle of friends to take the easy way out. Yes, I avoid spending tedious hours in the kitchen, I hate to muster the patience in me to do elaborate groceries and simply detest waiting on a dish to get done. Then what do I cook? I cook easy, simple to rustle up dishes in a few minutes, which are also
good for health
. My obsession with eating healthy makes me eliminate a host of ingredients in my cooking. My style is predominantly simple and fuss-free, and I like to pick selective ingredients that make cooking not only easy but exciting for lazy-pants like me.
One such ingredient that you will find well-stocked in my small kitchen would be sooji. There is so much that can be done with this humble grain. Sooji, semolina or popularly called rava in the Southern states of India, is cooked with much enthusiasm across the country. It is light on stomach, loaded with health benefits and absolutely delectable.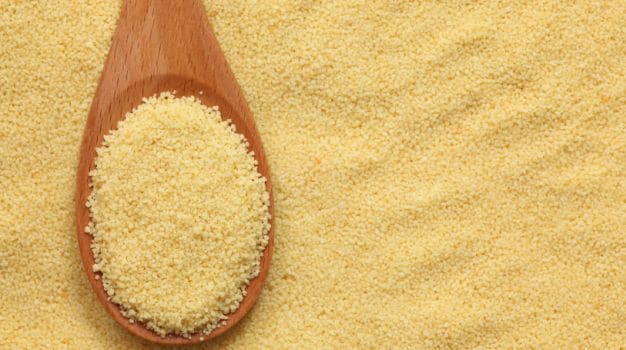 Plateful of Rava
From upma, idlis, uttapams, dosasto khichdi and a range of delightful desserts - rava has a world of its own in the culinary space. There are some stellar preparations that one can make from it.Here I am going to share some of my favourites from the best known chefs across the country.
Chefs' Best:
Masala Rava Idli, Suji Dhokla, Bolo de rulao, Bolinhasand Onion Rava Dosaby Chef Niru Gupta
Rava Upmaand Kesariby Chef Kishore D. Reddy
Semolina Oregano Popcorns by Chef Ajay Chopra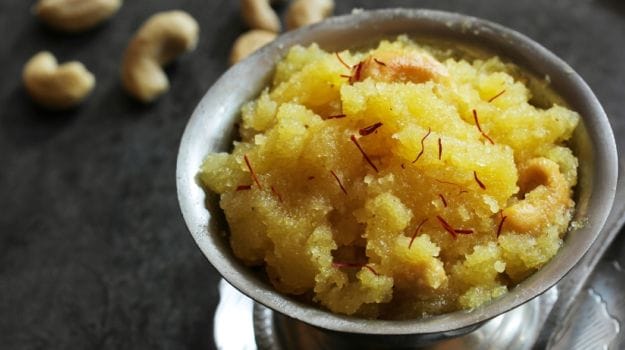 Rava kesari

Experimenting with Rava
Honestly, it has not been long since I have been trying my luck with sooji. Much to my surprise, I didn't really struggle with the ingredient. I didn't refer to any recipe and let loose the reigns of my imagination and what followed was delighting. Below I shall share with you the outcome of my playing around with the ingredient coupled with similar recipes from our most celebrated chefs.The Pancakes:
This was a fairly simple dish. I usually don't measure the proportion of water and wheat flour while making
chappatis
, I just know the correct consistency by instinct. Similarly while making rava pancakes, I banked on my instinct.So, I began by taking semolina and putting it in a large bowl. I added water along with a paste of ginger, garlic, coriander, cumin seeds, lemon juice and some coconut. I also added a pinch of turmeric,
black pepper powder
and salt to taste. I whisked two eggs and added that as well to the semolina mixture. While making the
pancakes
, I let the consistency of the mix be slightly coarse and thick, whereas while making
chillas,
my mix is a little runny. My version had just a few drops of oil that I used just to moisten the pan. The pancakes
/chillas
came out to be completely fluffy, feather-light and delicious.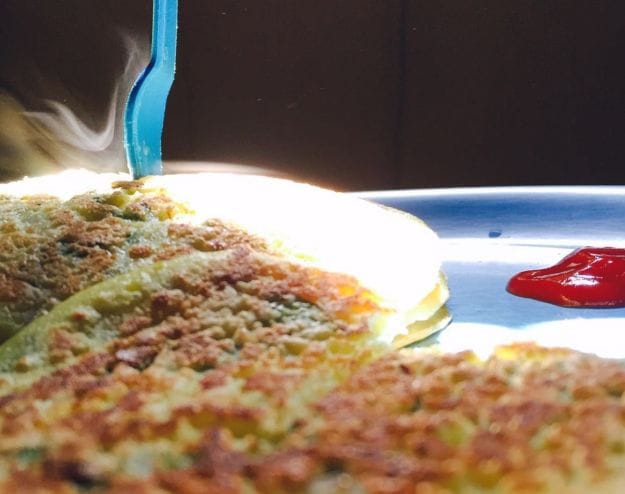 Rava pancakesThe Fried Treats:
Fried food is almost sacred to foodies, that is why I chose to call this experiment 'the fried holiness'. I had tried rava-fried fish before and that lead to my tryst with frying rava-coated veggies. I love okra and I decided to commence my frying expedition by teaming it with semolina.Take okra, wash them properly. Slit them lengthwise and pour some lemon juice on the pieces, keep aside. Take a bowl and make a mix of besan, little bit of ginger-garlic-coriander paste, cumin powder, turmeric, salt, black pepper, salt and a pinch ofamchoor powder along with water. Add a little (very little corn flour) to get the batter-like consistency. Take okra pieces and give them a nice dip in the batter. Now coat them in semolina completely and fry in hot oil.
You can serve crispy semolina okra with tamarind chutney or can make a bhuna masala using onion, garlic, ginger, mustard seeds, coconut, bay leaf, turmeric, red chilli flakes, black pepper, lemon juice, salt and coriander leaves and add fried bhindis to it.
You can also try: Prawn Rava Fry by Chef Aditya Bal and Kane Rava Fry by Chef Mallikarjun.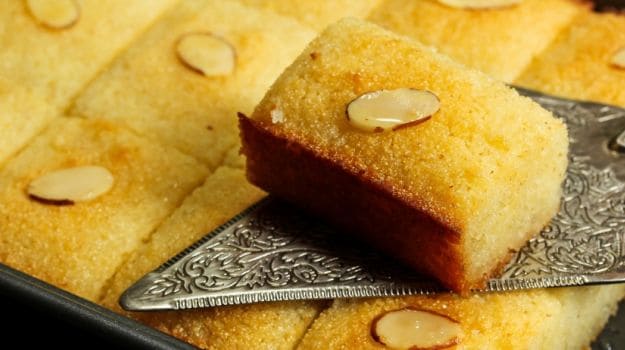 Basbousa: semolina cake
My Sweet Semolina:
Sooji isn't a new entrant in the world of sweets. Suji Halwa, kheer and laddoos are some of the most cooked desserts in most Indian households, especially in the Northern region. I mastered Sooji Kheer in just a day and took it a notch ahead by adding gur and chocolate into it.
Take a vessel, add a teaspoon of ghee and put small cardamom, cashew nuts, raisins, crushed almonds and pistachios along with coconut shavings. Now add semolina and roast it. Add a small piece of jaggery and a small bar of chocolate. I used the small bar of Bournville dark chocolate. You can also use chocolate syrup. Add a pinch of cinnamon followed by milk. Keep stirring, bring to a desired consistency and serve. (Make sure that you cook on a low flame).You can also try Sultanpur Style Suji Ka Halwa by Chef Aditya Bal and Rava Ladoo by Chef Roopa Gulati.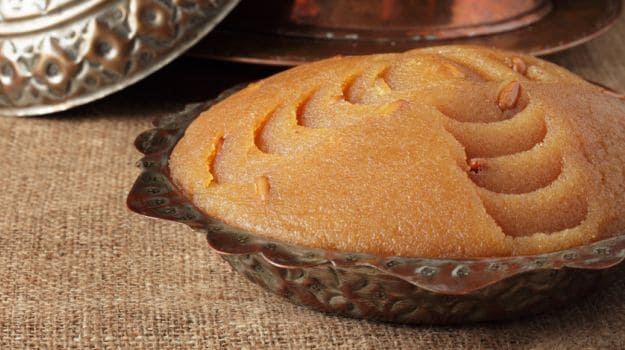 sooji halwa
How to Store Semolina: Simple, away from extreme temperature and moisture, stocked in an airtight container.

Till next time I try something new with sooji, or for that matter with any other ingredient, let us know what you think of the recipes and share with us some of your own in the comment box below.