Story Progress
Back to home
Suji Dhokla Recipe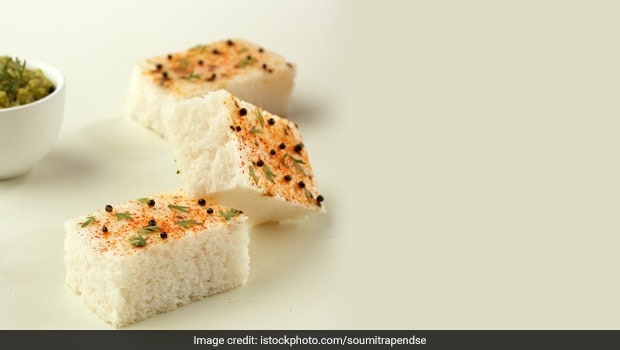 How to make Suji Dhokla
About Suji Dhokla Recipe | Dhokla Recipe: The all time favorite Gujarati snack, Dhoklas are soft and tender vegetarian snack that is loved by all across the country and even abroad. The light yet filling snack is a healthy option and just perfect for evening snacks along with a steaming cup of hot tea. This dhokla recipe can be prepared in just about 40 minutes that makes it a great option for snacks when unexpected guests arrive.
Ingredients in Suji Dhokla: Made with suji or semolina, this dhokla recipe is lighter and healthier! Mixed with chillies and spices, garnished with a tadka of curry leaves and coconut sauteed together. A must try!

Ingredients of Suji Dhokla
1 Cup Suji
1/2 tsp Sugar
1/2 tsp Ginger paste
1/2 tsp Green chilli paste
1 tsp Salt
1 tbsp Oil
1/2 cup Sour curd
1/2 cup Water
1 tsp Fruit salt or baking soda
For the Tadka:
1/2 tsp Rai
4-5 Curry leaves
2-3 Green chillies (slit)
1 tbsp Oil
Coriander
Coconut
1.
Mix the suji, ginger paste, chilli paste, salt, sugar and oil and beat in the curd.
2.
Beat till smooth. Add the water and mix well again.
3.
Add the fruit salt, stir gently and pour immediately into the greased tin and place in the steamer.
4.
Steam for 20 minutes. Remove the tin from the steamer and keep aside.
5.
Heat the oil for the tadka, add the rai, curry leaves and green chillies.
6.
Saute till slightly colored, and add 1/4 cup water.
7.
Cut the dhokla into desired sized pieces and pour the tadka over.
8.
Garnish with the coriander and coconut and serve.
Recipe Notes
Read about other best dhokla recipes that you can prepare at home.