Of all Mumbai's street snacks, the
vada pav
has grown to be the darling of the masses. A pillowy
pav
, stuffed with a golden-fried spiced
batata
(potato)
vada
, covered with a lick of tamarind and coriander
chutney
s and a sprinkling of garlicky
masala
- the
vada pav
is starch heaven, an instant energy booster. Delhi has its own inimitable
chaat
tradition and Kolkata and Delhi have both appropriated the
pani puri
into
golgappas
and
puchkas
. But the vada pav remains till date, a proud Mumbai tradition.
(The Parsi Trail: Top 7 Parsi Restaurants In Mumbai)
How it All Began
Legend has it, that it all started way back in 1971 with Ashok Vaidya's
vada pav thela
, stationed just outside Dadar station. He was the first one to envelope a crisp, hot
vada
with a
chutney
-slathered
pav
and serve it to a customer who was in a tearing hury. If we go even further back though, the
vada pav
becomes inflected with global roots - the
pav
's origins can be traced back to the Portuguese, the potato
vada
's to the Dutch enterprise in India. But of course, the fortuitous marriage between
pav, vada
and
chutney
is pure Mumbai tradition and has since been adopted as the snack of the Maharashtrian masses. In fact, the snack is now so popular that there is even a Vada Pav Day every 23rd of August.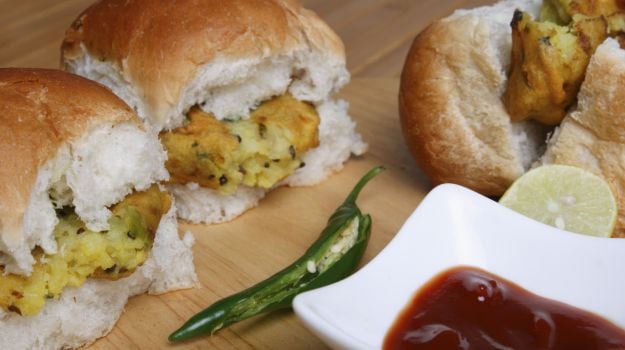 The 35-year old
vada pav
stall at Dadar's Kirti College, run by the genial Ashok Thakur, gets my vote for the best
vada pav
in the city. But don't take my word for it. Thakur lists stars like Jackie Shroff and Madhuri Dixit amongst his clientele, and day or night, there's always a bevy of people hanging around outside the stall for a bite. But
vada pav
-philes (including celebrities, business tycoons and politicians) also swear by Aaram Vada Pav opposite Chhatrapati Shivaji Terminus.Vile Parle's Shivaji Vada Pav deserves special mention. Its Schezwan version is a huge hit for students of nearby Mithibai and NM colleges. Samrat and Anand Vada Pav stalls nearby have their own fan following too. Shree Krishna Sweets at Bandra East near Guru Nanak hospital is also a favourite of many. Dutta Snacks Center in Panvel is a popular stop for people enroute to Lonavala and the ghats. They even have a counter within Bharat Diamond Bourse Canteen in BKC. Shree Samarth near the Shiv Sena Bhavan in Dadar West has quite the fan following as well.And almost every railway station has a
vada pav thelawala
, because it is perfectly portable food and great for people on the go (which basically sums up Mumbai's fast life). Graduate Vada Pav outside Byculla Station is particularly popular. But much as I begged them, none of them were willing to part with even a wee bit of the recipe they used. However, if no
vada pav wala
is near and your cravings are high, here is a recipe you can use at home.
(10 Best Maharashtrian (Marathi) Recipes)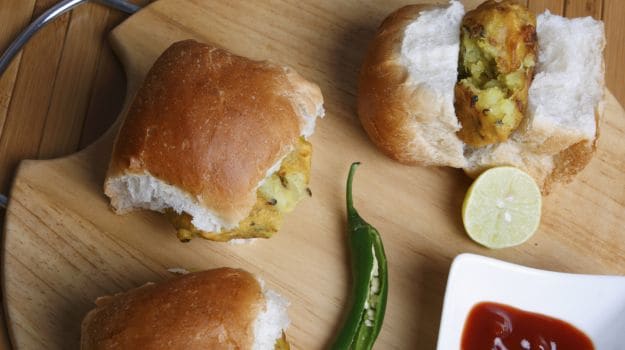 Recipe: Vada Pav
For the vada
1 1/2 cups boiled, peeled and mashed potatoes
2 green chillies
A pinch of ginger
1 1/2 tbsp grated garlic
1 tsp mustard seeds
1/2 tsp asafoetida (hing)
6 - 8 curry leaves
1/2 tsp turmeric
Salt to taste
Oil, for frying
For the batter
100g besan (gram flour)
Soda
Method:
Grind the ginger and garlic in a mortar and pestle. Heat the mustard seeds until they pop, then add in the curry leaves and chillies for twenty seconds or so. Turn the heat off and mix the potato with the spices (except the turmeric). Shape them into little balls.Mix the besan, turmeric and soda separately for the batter. Dip the potato balls into this mixture and then deep fry them until golden.
(Spicy Treats: 10 Best Classic Chutneys from India)
Recipe: Green Chutney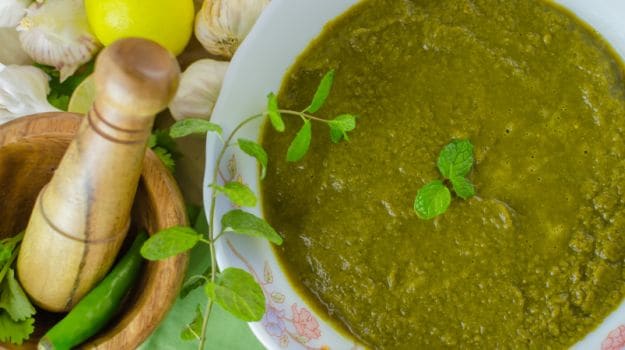 2 cups mint leaves
1 cup coriander leaves
1 sliced onion (optional)
Juice of 1 lemon
1 tbsp sugar
4 green chillies
Salt to taste
Method:
Grind everything together with just a little water.Everybody I spoke to agreed that the dry garlic sprinkle made the dish, but there was a general squabble when I asked how I could perfect the same. A consensus was reached with this recipe though (although a vendor I spoke to in Vile Parle said he didn't use coconut at all and only crushed the left over bits of the
vada
mixture in with chilli and garlic.)
(10 Best Indian Chutney Recipes)
Recipe: Dry Garlic Mix
10 peeled and chopped garlic cloves
35g grated dry coconut
1 tbsp chilli powder
Salt to taste
Method:
Fry the coconut and garlic cloves until golden. Cool. Then blend in a mixer with the remaining ingredients and slather on soft loaves of fresh, hot
pav
.
The Upscale Vada Pav
Mumbai does offer some hygienic options for the finicky
vada pav
lover. The closest version to that on the street are the hygienic Jumbo King and Parleshwar Vada Pav Samrat in Vile Parle. But there are a bunch of posh places across the city that offer souped-up versions and one of the most interesting variants I came across was Social's
vada pav
slider-style dish. Executive Chef Gaurav Gidwani, whose favourite
vada pav wala
is the one at Dadar, told me that Social serves their potato mix crispy with a crumb-fried batter, accompanied by a mayo-garlic
chutney
and elements of pickle, all served in a small pita bread. "It's one of the Social's top 15 dishes," he assured me. Here is the recipe.
Recipe: Social's Vada Pav Slider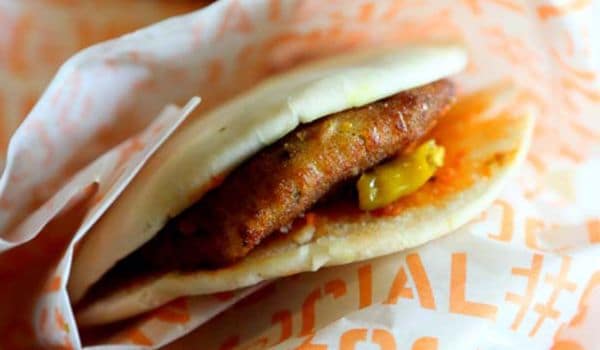 For the vada
40g boiled, peeled, cubed potatoes
5g chopped garlic
3g chopped chillies
2g chopped coriander
1g mustard seeds
0.5g curry leaves
2g turmeric powder
30g breadcrumbs
10g maida
2 pita breads (4 inches)
20g garlic chutney
15g mayonnaise
10g pickle
100 ml oil
75g masala fries
Method:
1. Add oil into a pan, let it heat and then add curry leaves, garlic and mustard seeds till it crackles. 2. Add the potato mixture and mix well with all the spices. Let the mixture cool. Then use it to make 20g patties.
3. Mix the maida with water to make a batter. Dip the patty in batter and coat with the breadcrumbs. Deep fry the patty.
4. To make lehsuni mayo, mix the mayo and lehsuni chutney. Take the pita bread, apply pickle and lehsuni mayo on it, then stuff the deep-fried patty in the bread.
Disclaimer:
The opinions expressed within this article are the personal opinions of the author. NDTV is not responsible for the accuracy, completeness, suitability, or validity of any information on this article. All information is provided on an as-is basis. The information, facts or opinions appearing in the article do not reflect the views of NDTV and NDTV does not assume any responsibility or liability for the same.