Vegetarian Egg! US Company Creates Plant-Based Egg
PTI | Updated: September 12, 2013 14:54 IST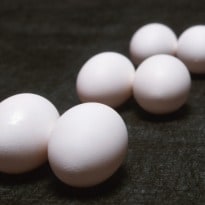 Veg egg! In some good news for vegetarians, an artificial egg made entirely from plants has been developed by food scientists at a US company.

The company has successfully created faux mayonnaise and a variety of baked goods using the egg substitute. The eggs are made from a "simple, but awesome species of peas," sorghum and "11 plants (in total) that are particularly awesome," FoxNews.com quoted the company CEO Josh Tetrick as saying.

Tetrick sought help of Chris Jones, a contestant on the TV show 'Top Chef', and biochemist Joshua Klein to help him create, what they describe as, the most realistic egg-free egg product yet.

Tetrick insists the plant-based egg is not just for herbivores. The company may have some big name backers such as Bill Gates and Paypal co-founder Peter Thiel, however, some experts believe the egg and poultry industry will not be affected.

"Realistically they are never going to replace any significant amount of the poultry industry," US Department of Agriculture research physiologist Raymond Glahn said. "Products like these come along all the time," said Glahn.
While Glahn agrees there is great nutritional value to plant-based foods, he said there is a need for a diverse diet for optimal health, the report said. The San Francisco-startup Hampton Creek Foods' website claims its product is healthier and costs 19 per cent less
than normal eggs.

Tetrick said the company's new product is different than what is already available in the market.