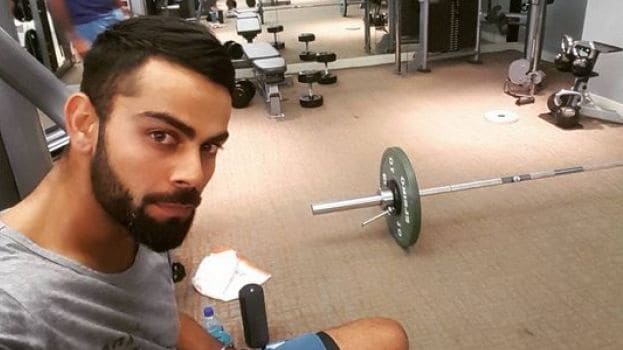 Cricket is a unifying force in India, almost an obsession. It is no surprise, thus, that cricketers achieve celebrity status. Their fan following rivals that of superstars like Shahrukh Khan and Amitabh Bachchan. Virat Kohli, the young captain of the Indian Team (test cricket) rose to fame when the Indian Under-19 team won the 2008 Under-19 World Cup under his captainship. Soon after, he made his ODI debut.

He played his first test match as recently as 2008 and due to his incredible performance and leadership qualities, quickly rose through the ranks to become the captain of the team. A Punjabi from Delhi, he loves his food and is very passionate about it. However, he is also very fitness conscious and keeps an eye on what he eats.
Being a sportsman, Virat keeps a strict check on his diet and his fitness regime. When the cricketer is off ground, he is into hardcore training, something enough to give you a lifetime of fitness goals.


(Buy energy boosting foods on SmartCooky today)

In the gym, Virat simply loves his "lifting sessions". An accomplished batsman, he realises the importance of building upper body strength.


The charm of restaurant food doesn't woo this cricketer. Virat prefers home cooked meals, whenever he has a chance to enjoy them. His hectic schedule often plays spoilt sport though. Reportedly, when he tours, he prefers a diet of lamb chops or pink salmon. This protein heavy diet is also great for powering his rigorous gym routine and practice sessions.It is also said that he is very particular about the water he consumes when he travels and makes sure he only has bottled mineral water. He is particularly biased towards Evian water which is imported from France.

A propagator of healthy food, Virat has spoken out against junk food and its ill effects in many conversations. He can often be seen substituting fried chips with healthier alternatives like wheat crackers and the like. He particularly detests fried chicken and has been heard asking people to avoid KFC and other junk food chains. However, it has been said that even his will power cracks a little when it comes to chocolate brownies. He has a soft corner for those and can't resist them.

He usually loves his "favourite nibbles" - dried fruits and nuts - along with a cup of steaming black coffee.


Virat Kohli has worked very hard to reach where he is. His perseverance and exceptional talent have been well rewarded in the recent years. He never fails to underline the sacrifices that sportspeople make in their lifetimes and hopes people understand and appreciate the same. It takes a lot of discipline and hard work to rise to such heights. We wish him all the best and hope that he helps the Indian Cricket Team get home many more laurels in the years to come.