Whet your appetite at the 10 best Italian restaurants in Delhi.
When you've tasted delightful
bruschetta
, bursting with flavours of
pesto
and sundried tomatoes at a small cafe in San Gimignano, or melted parmesan oozing out of lasagne, you yearn for
a taste of Italy
wherever you are. Lucky for us,
Italian fare
in Delhi has moved from the staid
pizza
-pasta variety to a
truly gastronomical
range of
authentic Italian
over the past few years. So if you're hunting down the best Italian restaurants in
Delhi
, look no further. With local Italian ingredients, evolving menus, in-house
bakeries
and a whole lot of
vino
- these 10
restaurants in Delhi
promise a gourmet journey in the heart of the city, with the utmost attention to detail.
1. Spago
Located in the bustling N-block market of Greater Kailash-I, Spago rustles up gourmet Italian with such simplicity. The restaurant has recently been renovated, so expect dim lighting, floral accents, wooden furniture and a cafe style vibe. Though the food is exceptional, especially their Grilled King Prawns in a Spicy Harissa Olio, Saltimbocca, Grilled Artichoke Hearts stuffed with walnuts and Parmesan, and Lasagne Alla Bolognese - Their complimentary in-house
bread
basket is a sure shot winner. Savoured with a drizzle of olive oil and vinegar and spruced up with pesto… You feel like you're in Italy with every bite you take. If you're in the mood to indulge, don't miss out on their boozy
Tiramisu
and baked Torta Royale -
the king of desserts
.
Where: N-Block, Greater Kailash-I
Open: 12:30 pm to 12 am
Price for Two: Rs. 2000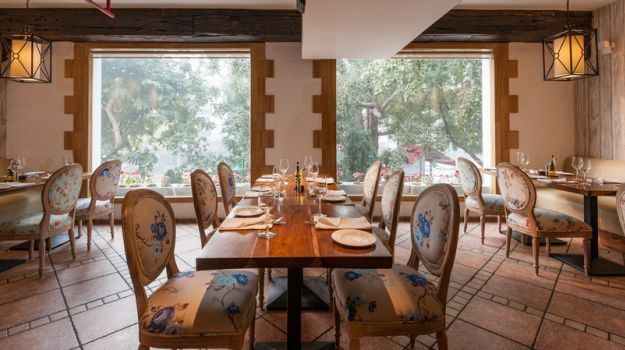 2. Artusi Ristorante e Bar
Located in Greater Kailash-II, this authentic abode lavishly celebrates the region of Emilia-Romagna. From the moment you step into Artusi, you're transported to a different place. It is the
perfect place for a romantic
Italian dinner - candlelit with soothing music rifting through the air, an extensive wine list and truly gastronomic delights on offer. What should you order? Burrata Maestro Fellini (Burrata cheese with aged Prosciutto de Parma, caramelised figs and balsamic vinegar), Pappardella Faraona (home-made pasta with a ragu of chicken and herbs), Gamberoni alla Griglia (jumbo prawns served with mashed potatoes and a small salad of tropical fruits) and The Lamb Chops
.
And their eggless Panna Cotta spruced up with sweet figs and almonds is the best I've had in the city.
Where: M 24, M-Block Market, GK II
Open: 11:30 am to 1 am
Price for Two: Rs. 3000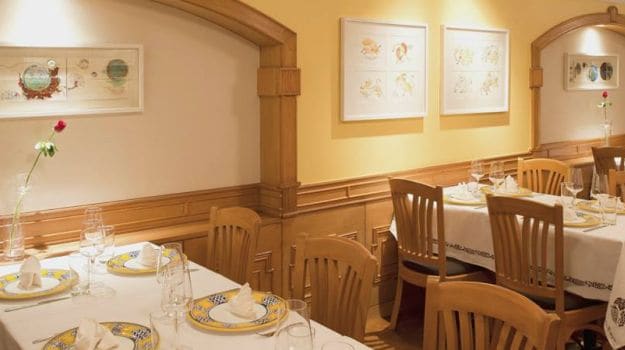 3. Travertino
If you're in search of a truly fine dining and authentic Italian experience, Travertino is just the ticket (to Italy, that is!). What we love about Travertino? The restaurant is designed in such a way that the wine cellar opens into the dining area, and their collection of cheese - nothing compares, nothing. What should you order? The Homemade
Fettuccine
plated with Crab & Asparagus, Wild Mushroom Risotto and scrumptious Minestrone Soup. If you're a fan of gnocchi or ravioli, you have to head here for the real Italian deal. Most of the ingredients used are in fact straight from Italy which just adds to the authenticity.
Where: The Oberoi, Dr Zakir Hussain Marg, Lodi Road
Open: 12:30 pm to 3 pm, 7:30 pm to 11:15 pm
Price for Two: Rs. 6000
4. Tonino
A stand-alone restaurant resembling a Tuscan villa, which is
ideal for a romantic dinner
, as well as a hearty meal with la familia. You can enjoy the nip in the air in their lounge area which is like an archaic British living room, but the garden area is my favourite - welcoming and beautifully decorated sans the fancy decor. What should you order? Their scrumptious Costolette Di Maiale, Mushroom Ravioli, Con Crème Di Aglo E Erbe and Tiramisu. By far, the best Bruschetta Pomodoro E Basilico and date night spot in town.
Where: 76/27, Near Andheria More, Mehrauli
Open: 12:30 pm to 3:30 pm, 7 pm to 12:30 am
Price for Two: Rs. 3000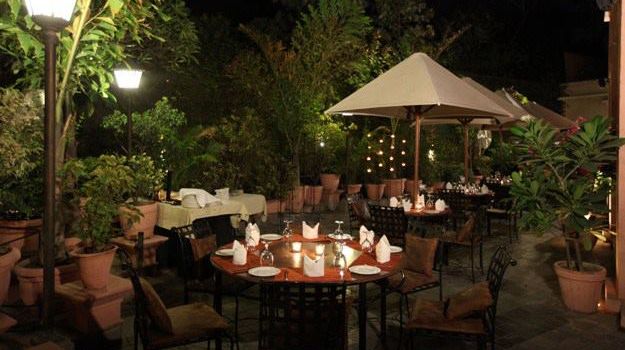 5. Big Chill
Think: Funky decor in shades of green, pale cream and bright orange, Hollywood posters strewn all over, creamy pastas and decadent desserts. Yes, Big Chill is by far the most popular hangout in the capital city. It boasts of all things yummy so it's difficult to pick a favourite dish, but here's your cue: Penne a la Vodka with Prawn, Chicken in Red Wine Sauce, Pepperoni Pizza, meaty Lasagna, Blueberry Cheesecake and Chocolate Decadence. The flavours are seductively intense and yet beautifully balanced. Wash it down with a pitcher of their Lemon Iced Tea or Ginger Ale and go straight to foodie heaven. Note: Big Chill never disappoints.
Where: Kailash Colony, Khan Market, DLF Place Mall, DLF Promenade
Open: 12 pm to 11:30 pm
Price for Two: Rs. 1500
6. Le Cirque
By far the most expensive Italian restaurant in the city, but also the most extravagant - it's difficult to define Le Cirque in just a few words. Right from the moment you step off the elevator on the 10th floor, everything screams luxury. You can eat at the bar, the main dining area, outside with a panoramic view of New Delhi, over-looking the show kitchen or at the exclusive Chef's Table. The restaurant offers a mind blowing collection of wine - over 80 labels of
Italian wines
and 100 labels of French wines. The menu is straightforward comprising Le Cirque classics like Mama Egi's Ravioli, Truffle-dusted fries and a variety of meats, and scrumptious creations by Chef Diego Martinelli presented beautifully. It may be tough on the pocket, but it's ideal for a very special meal. The Handmade Pumpkin Tortellini with crispy pancetta, Morel Mushrooms Risotto and Seared Cod Fillet go highly recommended. And their Dark Chocolate Fondant? It's pure sin.
Where: The Leela Hotel, Chanakyapuri, 10th Floor
Open: 7 pm to 11.45 pm
Price for Two: Rs. 7500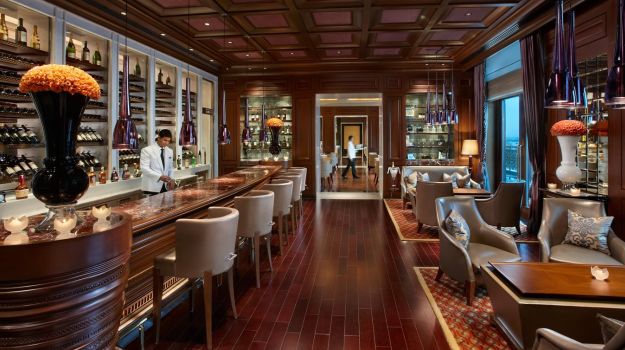 7. La Brezza
There is precisely one reason and one reason only why you should head to La Brezza - the food. It maybe all the way in Greater Noida, but trust us, it's worth the trip - a true find for authentic Italian, a hidden treasure. La Brezza is spread over two floors, with an entire wall stacked with bottles of vino and decanters of olive oil infused with aromatic spices including rosemary, garlic et al. Oh and the freshly baked breads, served straight out of the oven are a treat in itself. What should you order? The Fazeli Ricotta Pasta oozing with cheese, their
Pork doused in barbeque sauce
, The New Zealand Lamb Chops served with Saffron Risotto. La Brezza's thin crust pizzas are heavenly as well, especially the Parma Ham. Just in case you're stumped for choice, the staff is extremely courteous and will help you choose the right dishes to suit your palate and your cravings. Note: The restaurant is shut on Tuesdays and open for lunch only on Saturday and Sunday.
Where: Jaypee Greens Golf & Spa Resort, G Block, Surajpur, Greater Noida
Open: 7 pm to 11:30 pm
Price for Two: Rs. 2500
8. San Gimignano
San Gimignano takes you away from the hustle-bustle of the capital city to a more imperial era with captivating white upholstery and earthy tones. And what San Gimignano lacks in style, it makes up for on the menu. This understated gem has managed to maintain its position thanks to a consistently delicious food selection, blending flavours and ingredients procured locally and imported from Italy. Their grilled meats and greens are just exquisite, and their wood-fired
pizzas
? Oh my! If you're headed here, do enjoy your meal on the dreamy outdoor patio. After all, it is the perfect weather to dine under the stars!Where: The Imperial, Janpath
Open 12 pm to 2:45 pm, 7 pm to 11:45 pm
Price for Two: Rs. 5000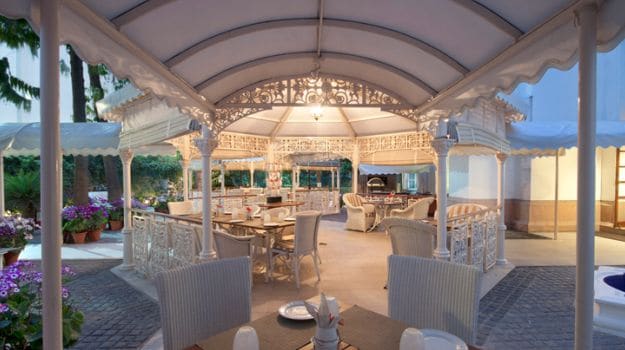 9. La Piazza
Stone finishings, wooden tables and archways… As you step into La Piazza, you get a sense of what awaits you. A classic Italian Trattoria transplanted into the heart of Delhi, La Piazza boasts an elaborate menu which includes wood-fired pizzas, al dente pasta and a dessert section to kill. The food is served with an essence of Italian country-style cooking, but it definitely pinches the pocket. What should you order? Wood-Oven Roasted Salmon with Garlic Spinach, Wild Mushroom Risotto, Pizza La Piazza and Pan-Fried Sea Bass.Where: Hyatt Regency, Ring Road, Bhikaji Cama Place
Open: 12 pm to 2:30 pm, 7 pm to 11:30 pm
Price for Two: Rs. 4500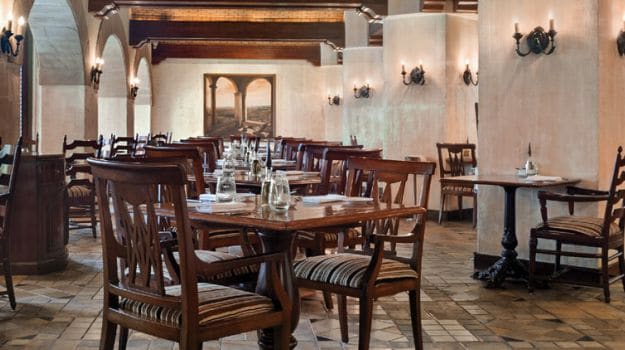 10. Prego
Lively and vibrant, rustic and refined - Prego at The Westin Hotel promises food rooted in tradition while creating innovative preparations as well. The restaurant prides itself on using the freshest produce. Sadly, what distinguished Prego from the other restaurants in Delhi is not the food - but the ambience. The food is delightful especially the Pizza Diavola loaded with Mozzarella, the Asparagus Risotto and the Honey Glazed Salmon; but the size of the mains are a tad bit disappointing and even the desserts seem better on paper.
Where: The Westin Hotel, Sector 29, Gurgaon
Open: 12:30 pm to 3:30 pm, 6:30 pm to 3:30 am
Price for Two: Rs. 3000