Aashna Ahuja, NDTV | Updated: July 14, 2017 10:37 IST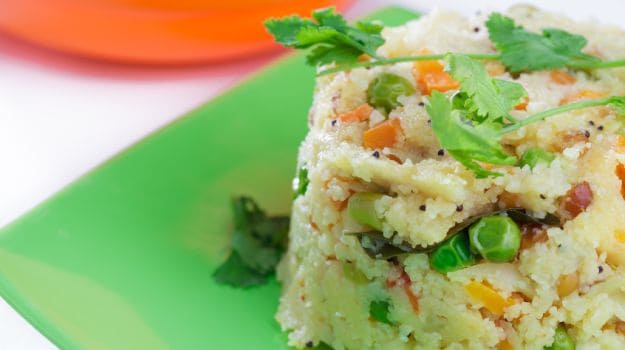 upma has been a popular way to kickstart the day since ancient times. If nothing else is available in the kitchen, it's upma to the rescue for women throughout the country. It may be simple and speedy, but let's not take away the beautiful play of flavours involved in making this healthy yet scrumptious snack. While curry leaves set off a fetching smell that is hard to resist, the generous squeeze of lime makes it a delightful treat. The humble upma is a classic, and a classic deserves special mention.

Piping hot, nutritious and delicious, it is traditionally cooked as a thick porridge from coarse rice flour or dry roasted rawa. Upma can also be made with whole or refined ground wheat, vermicelli or oats (even leftover idlis). It can be garnished with a plethora of greens and seasonings, ranging from French beans to green peas. Malini Ahuja, a passionate home chef, opines, "It's a 5-minute snack. So easy to make and wonderful to experiment with!"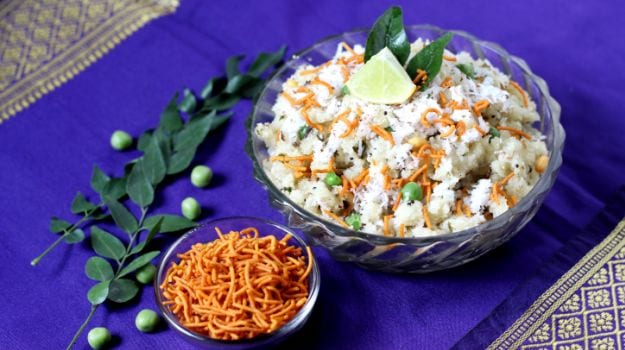 Every cook incorporates different flavours and concocts their own recipes while making upma. It assumes various forms across India - Uppittu in Kannada, Rulanv in Konkani and Uppuma or Upma in Tamil and Telugu. Whatever you may call it, this breakfast staple is sure to satiate any snack attack that comes your way. In many Dravidian languages, the term 'Uppu' refers to salt and the word 'Mavu' or 'Hittu' means flour. Hence the name Uppumavu or Uppittu. Known as Kharabath in Karnataka, this spicy version of upma is basically flavoured with sambar masala or garam masala and red chilli powder sans the green chillies. A recipe that's sure to set your mouth on fire, and definitely keep you going till lunchtime.The Evolution of Upma

Chefs all over the country today are experimenting with upma and recreating it in their own ways, using global ingredients. Here are three restaurants across India that play up upma like never before.

Indian Accent, New Delhi
Head Chef Manish Mehrotra remarks, "At Indian Accent, we use upma in different menus and I absolutely love the texture it creates. For our winter menu, we serve Chettinad Duck with Upma Barrels, stacked in the shape of a pyramid, with roasted onion and tomato chutney." The restaurant does a divine take on French fries as well which are tawa-fried instead of deep-fried version, and cooked with upma. "We also do a portion of crispy soft-shelled crab tossed in gunpowder and served on a bed of cheesy upma."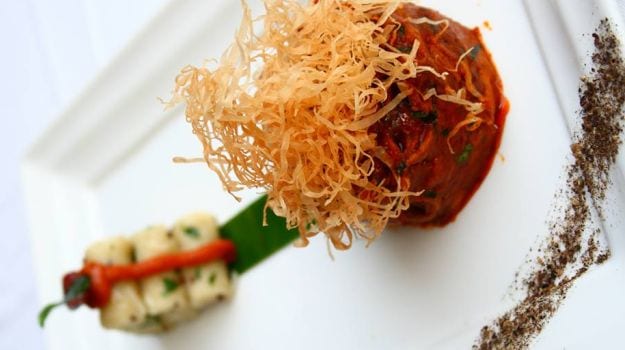 The Bombay Canteen, Mumbai
Since Mumbai-born Chef Floyd Cardoz won US$ 100,000 on Top Chef Masters for whipping up Wild Mushroom Upma Polenta with Kokum and Coconut Milk, we had to find out his latest take on upma. Bombay Canteen's Chef, Thomas Zacharias spills, "Inspired by Chef Floyd Cardoz, our signature dish is in fact Upma with Bhindi and Mushroom. It involves a creamy upma cooked in buttermilk to impart that tangy flavour instead of coconut milk, spiced with red chillies, ginger and curry leaves. It is then topped with mushrooms and grilled karak bhindi for a beautiful contrasting texture."




Cafe Lota, New Delhi
Upma meets Quinoa (INR 285) at Cafe Lota. It is protein rich, gluten-free and way too healthy. Cooked with smoky mustard seeds, crunchy green beans and roasted peanuts, their version is nothing short of spectacular.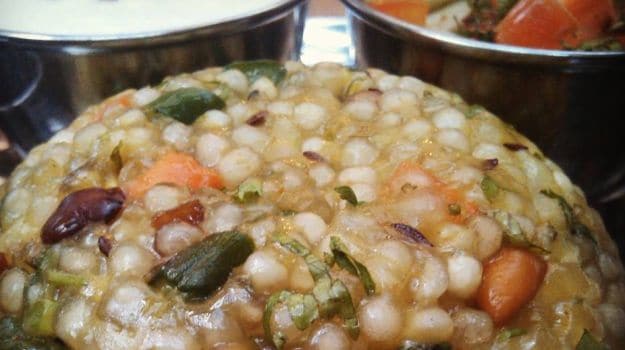 My Grandmother's Upma Recipe

Serves: 6 to 8

Preparation Time: 7 minutes

Ingredients:
1 cup rava (semolina)
4 Tbsp Oil
2 cups water
10 curry leaves
2 green chillies (whole)
3 red chillies (whole)
½ tsp black gram dal
½ tsp Bengal gram dal
1 medium-sized onion (chopped)
2 tbsp corn
⅓ tsp red chilli powder
1 tsp salt
1 tsp mustard seeds
¾ tsp sugar
Juice of 2 lemons
Few coriander leaves
Handful of cashew nuts

Method:

1. Dry-roast semolina (rava) until it just begins to turn brown, then keep aside.
2. In a large saucepan, heat the cooking oil. Add mustard seeds and wait for them to sputter. Then add curry leaves, slit green chillies, red chillies, soaked channa dal and split urad dal.
3. Add chopped onions and fry until they become slightly brown.
4. Add some corn, salt, red chilli powder and then add the roasted rava. Stir for 1-2 minutes to let the flavours combine.
5. Then add double the water, and keep stirring properly to avoid lumps.
6. The upma is done when all the water is absorbed by the rava. Add a bit of sugar and lemon for a subtle sweet yet tangy flavour.
7. Garnish with fresh coriander leaves, spruce it up with a few cashew nuts for that added crunch, and you're good to go.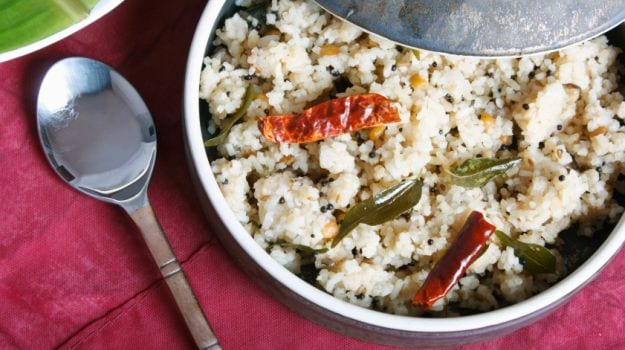 More Delicious Recipes

We've compiled a list of umpa recipes for you, so quick and so easy, they will soon be a part of your recipe repertoire.

Idli Upma
Recipe by A Shanti
Got leftover idlis? Fret not, in just a few minutes you can transform them into a mouth-watering portion of upma. It just doesn't get easier than this.

Chawal Ka Upma
Recipe by Chef Niru Gupta

During Navratri, satisfy your hunger pangs while fasting with this upma recipe. Made with samvat ke chawal, it is tempered and sautéed in ghee along with potatoes.

Upma
Recipe by Chef Roopa Gulati
Whip up this easy to make upma recipe flavoured with garlic, ginger, turmeric, yoghurt and ground coconut. Wholesome and yet so delicious!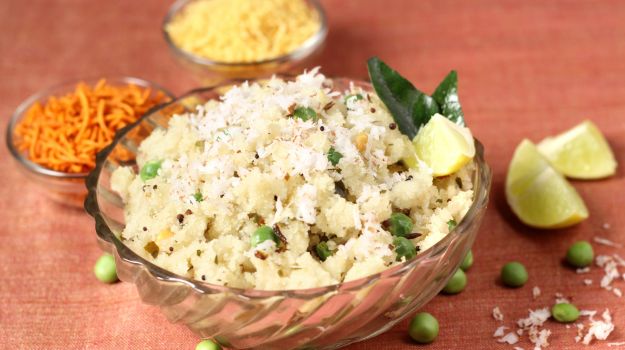 Savoured all over the Indian subcontinent and not just the South,