Most pool toys are made with polyvinyl chloride
Summer is here and your kids can't wait to dive into the pool. You're all set and have probably already bought them new costumes,
swimming
gear and some pool toys to have fun with. But wait, if you've picked those common inflatable pool toys such as the beach balls and arm bands, here's something you must know. Researchers from Fraunhofer Institute for Process Engineering and Packaging IVV in Germany have warned that inflatable pool toys may contain certain potentially hazardous substances that can put your child at the risk of
cancer.
Researchers have conducted several tests on an inflatable beach ball, a pair of swimming armbands and two bathing rings. A small piece of material from each sample was analysed and it was concluded that the inflatable objects were all made with polyvinyl chloride (PVC).PVC is the world's third-most widely produced synthetic plastic. Previous studies have shown that the manufacture of PVC releases dioxins which is considered to be a potent carcinogen and may cause a wide range of health effects including cancer, birth defects,
diabetes
, learning and developmental delays. Not just these toys, but PVC is all around us and is found in a number of things we use every day - from bathroom curtains to credit cards. According to the World Health Organization's International Agency for Research on Cancer (IARC), vinyl chloride, the chemical used to make PVC, has been recognized as a known human carcinogen.
Carcinogens
are suspect substances which has the potential of causing cancer in humans. The researchers also investigated the molecular make-up of the distinctive smells arising from the pool toys. They extracted the odours from each sample and then identified the main odorants. They detected between 32 and 46 odours in each sample out of which about 13 were quite intense.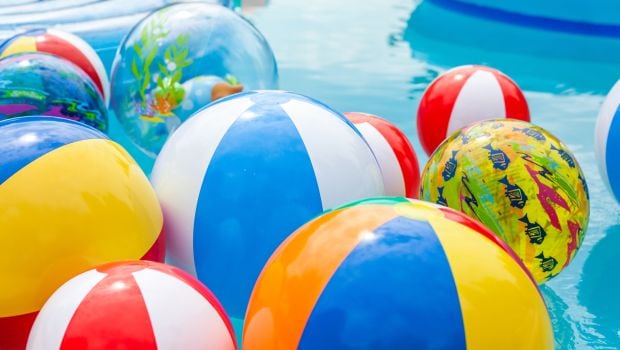 The chemical used to make PVC has been recognized as a known human carcinogen
A majority of these odorants were identified as fatty smelling mono-or di-unsaturated carbonyl compounds and also odouractive organic solvents such as cyclohexanone, isophorone and phenol. Cyclohexanone can be harmful if inhaled, phenol is known to be acutely toxic and isophorone is a category 2 carcinogen. It is best to protect your kids from such possible heath risks by reducing the use of products made with PVC and other toxic materials. There are many alternatives that may be available, you just have to choose wisely.