Learning a sport and making it a part of your routine is probably one of the best ways to keep fit. The best example are people who get into some kind of sports right from their childhood days and still hold on to it during their adulthood. Not only are these people
agile and fit
but also tend to enjoy good immunity and an active metabolism as well. Swimming is one such activity that will not only add a life-saving skill to your personality but also help you stay active and fit.
Fitness experts
from across the globe have long been advocating the efficacy of swimming as an overall
fitness regime
that will not only work on each muscle group of your body but also
increase muscle tone, resistance and flexibility
.Once you have got your basics right, swimming becomes easy, effortless and so much fun. It is exhilarating, exciting, challenging and stress busting. There's nothing quite like taking a headlong
plunge in cool water
, swim a few laps and let your worries and lethargy melt away in water. Swimming has great health benefits. Some believe that it helps in relieving stress too. One of the most interesting things about swimming is the fact that it combines both cardio and muscle training. Once under water, our body struggles to keep balance and manage its own weight, which results in accelerating heart beat, working up muscles, thereby burning calories and facilitating weight loss.Our body behaves differently when under water. While you would have to regulate your bodily movements, the pressure is significantly lesser on your bones. Underwater activities are extremely beneficial for those with bone issues as in this case your bones don't bear the entire pressure of your weight. These days, fitness experts have come up with specialized underwater fitness regimes combining aerobics, yoga and dance movements to help those who would otherwise find it difficult to do various exercises on-ground.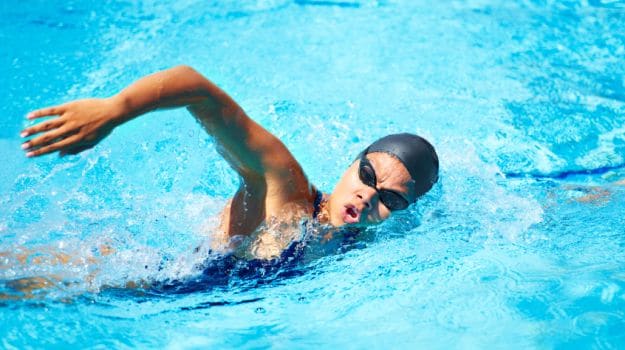 Swim For a Fitter You
Taking a swimming lesson is easy. Almost every school and college has a swimming pool and training facility for its students. Community pools and those in clubs are also available for use, for a fee. The earlier you start, the better it is, so if you have been keeping away from swimming all this while, let us tell you why you need to keep cool, and swim your way to a fitter you.
Benefits of Swimming
1. Swimming is a great way to
exercise
you heart. Studies prove that swimming for at least half an hour thrice a week can significantly cut risks of developing
heart diseases
.2. It is a great way to enhance flexibility and burn calories. Some of the stiffest bodies adapt to fluid movements, thereby gaining flexibility.3. It is great for bone density and joints, especially for older people and those with bones issues and ailments like arthritis.4. Swimming involves more of muscles and balance; hence your weight is off your bones and
joints
. You get to exercise your body without actually putting stress on your bones or joints.5. Swimming is a feasible way to add
physical activity
in elderly people's routine. Also for those with joint and
bone related issues
.6. Breathing plays an extremely vital role in swimming. It is a great way to exercise your lungs as well. Swimming focuses on breathing - you practice deep breathing in small intervals which is great for your respiratory system and the lungs.7. Swimmers tend to have great lung capacity which also aid in running and other physical activities.
8. It is meant for one and all, from kids to elderly to even pregnant women.9. It is known to relieve from
stress
and uplift your mood. It is therapeutic!10. It is great for blood circulation.Nothing else can be so refreshing and uplifting than
working out
without actually feeling the heat and the trickle of sweat running down your temple. If you are scared of water, take it as a challenge, take a deep dive and believe us, you will never stop just at that. Swimming also opens up opportunities to submerge yourself and take a swim outdoors in natural habitats, which can give you some of the most precious memories in your life! It's about time you took that plunge, don't you think?