Summer season is in full swing and it is all about soaring temperatures, humid weather and bright sunshine. These harsh weather conditions cause skin trouble even in the best of us thanks to excessive sweating and skin irritation. We struggle to keep our body cool and our skin clear and acne-free. While there are many skin care regimes and topical applications out there, we believe that the right kind of diet can go a long way in keeping skin healthy and glowing. Summer season comes with a bevvy of delicious fruits that are beneficial for keeping us cool from within, thus keeping skin trouble at bay.
Which Summer Fruit Is Good For Skin?
There are so many seasonal fruits and vegetables that can help hydrate and replenish the lost nutrients in our summer diet. These help maintain supple and glowing skin that is strong from within. It is ideal to stock up on summer fruits that have high Vitamin C and A content both of which are excellent for skin health.
Here Are 7 Fruits To Eat For Healthy And Glowing Summer Skin:
1. Watermelon
In the summer season, the more water you consume, the better it is for your skin. Watermelon is one of the most delicious and hydrating summer fruits that contains up to 94% water. It keeps your skin supple and elastic and adds an additional cooling element to your summer diet too. It also offers natural protection against the sun and its harmful UV radiation.
(Also Read: 5 'Desi' Drinks For Nourished And Glowing Skin This Season)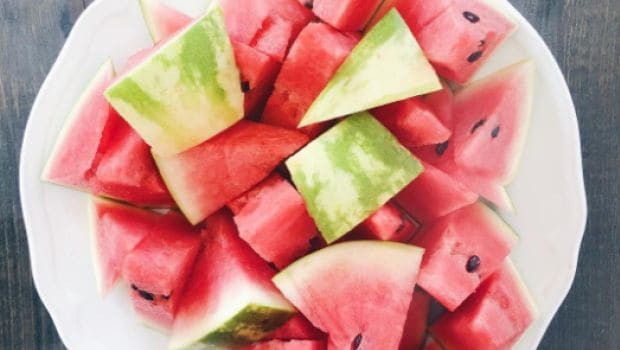 2. Papaya
Papaya is probably one of nature's miracle ingredients for skin. It is full of water and skin-friendly nutrients such as Vitamin C. "Fruits like papaya are high in Vitamin C, which helps to prevent acne inflammation and is found in many skincare serums. Furthermore, Vitamin C is known as a powerful antioxidant that promotes collagen production in the skin," says Dr Somodyuti Chandra, a dermatologist at Medica super speciality hospital.
3. Mango
Mango once again is an excellent source of Vitamins C and A, both of which boost skin health and improve collagen production. It also contains antioxidants that provide relief from recurring acne and other skin trouble. Experts suggest not going overboard with the consumption of mango as too much of it may lead to breakouts.


Also Read: Mango Face Packs: 5 DIY Ideas For A Healthy Skin This Summer
4. Pineapple
When it comes to fresh and juicy pineapple, who can resist taking a bite? This tropical fruit is not just extremely delicious but is also loaded with good health. A single 100-gram serving of pineapple can fulfil up to 79% of your daily required Vitamin C intake, as per USDA data. It also contains bromelain, an anti-inflammatory enzyme that has benefits for skin and hair health.
5. Melon
With plenty of water content and essential nutrients, melon is a summer must-have. Muskmelon (or cantaloupe), whichever variety you consume, can improve your skin health significantly. It also contains anti-bacterial and anti-fungal properties that can benefit skin health.


Also Read: 7 Refreshing Summer Mocktail Recipes That Are Sure To Delight Guests
6. Strawberries
The abundant antioxidants in strawberries can help reverse the damage from UV rays and reverse skin ageing. Whether you consume it in the form of a smoothie or add it to your salad, strawberries can help brighten skin complexion and remove dead skin cells too.
7. Kiwi
If there is one summer fruit that contains more Vitamin C than an orange, it has to be kiwi. A single 100-gram serving can fulfil up to 154% of your daily required Vitamin C intake as per USDA data. Apart from this, kiwi is also enriched with Vitamin E and antioxidants that brighten your skin.


So, keep your skin acne-free and glowing all summer! Which fruits do you like to consume during this season? Tell us in the comments.
About Aditi AhujaAditi loves talking to and meeting like-minded foodies (especially the kind who like veg momos). Plus points if you get her bad jokes and sitcom references, or if you recommend a new place to eat at.