Tai Chi, alternatively known as Tai Chi Chuan, is an ancient
Chinese
Martial Art. The practice is often described as 'meditation in motion' and is believed to increase vitality and promote health. Tai chi involves a series of postures that are performed in standing position. The activity consists of bodily movements, flowing from one pose to another without any pause. A Taoist monk is believed to have created the technique after closely watching the slow and intense battle between a snake and a crane.As you practice Tai Chi, it makes you more aware of your body and the various senses. The focus is on
breathing
and the way the body moves, and as such, you are more sensitive towards the working of the smallest of muscles in the body.
"A growing body of carefully conducted research is building a compelling case for Tai Chi as an adjunct to standard medical treatment for the prevention and rehabilitation of many conditions commonly associated with age," said Peter M. Wayne, assistant professor of medicine at Harvard Medical School and director of the Tai Chi and Mind-Body Research Program at Harvard Medical School's Osher Research Center.(Add nutrition boosters to your daily diet- Shop now!)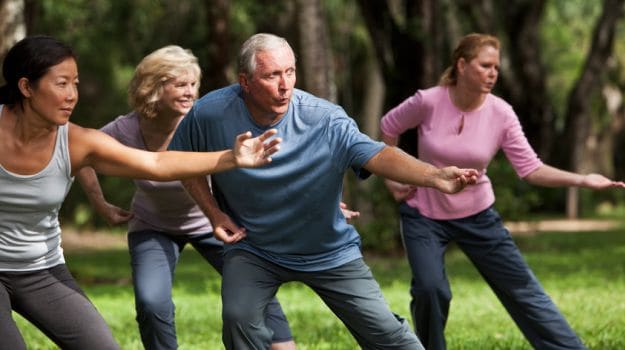 Benefits of Tai Chi
1. Strengthens Muscles
Tai Chi isn't grueling yet bears a bevy of health benefits. The movements are slow, usually circular in motion, and help strengthen the core muscles. Tai Chi doesn't require you to completely bend or extend your joints. You are always in between. Most postures rest on squatting, therefore it works wonder on your lower body muscles.
2. Improves Flexibility
Tai Chi is great for flexibly as it involves giving your entire body a nice stretch.
3. Helps in Attaining Balance
The practice is beneficial for the elderly who require a lot of balancing exercises. Practicing Tai Chi on a regular basis helps check faulty postures too.
4. It's Convenient
Tai Chi demands very little effort from you. You can practice it anywhere, from your apartment to the community park in your neighbourhood. It requires no costly equipment, devices or machines.
5. Age No Bar
Tai chi is a low-impact exercise; it doesn't put much pressure on joints or bones. This makes it a suitable form of exercise for the elderly and for those who have just recovered from an injury or a surgery. The beauty of the practice is that most people are able to do it without getting intimidated or hassled.
"While there's scope for more rigorous research on Tai Chi's health benefits, studies have shown that it can help people aged 65 and over to reduce stress, improve balance and general mobility, whilst increasing muscle strength in the legs," said the National Health Service, UK.
Planning to give it a shot already? Look out for classes near you. It is recommended that you take trial classes before signing up for a programme. There are many forms of the technique that vary on the basis of speed, movement and posture. Explore all and choose according to your suitability.Powered by BodyPower
Disclaimer:The opinions expressed within this article are the opinions of the author. NDTV is not responsible for the accuracy, completeness, suitability, or validity of any information on this article. All information is provided on an as-is basis. The information, facts or opinions appearing in the article do not reflect the views of NDTV and NDTV does not assume any responsibility or liability for the same.