A healthy and balanced diet can go a long way in maintaining a fit body and mind. Every food in our diet has an important role to play, especially the micronutrients including vitamins and minerals. When we think of vitamins, the common ones including Vitamin A, C and K are the first ones to pop up in our mind. But there are so many more vitamins that have a crucial role in our body. Vitamin B12, for instance, is an essential nutrient that our body requires for daily functioning. Also known as cobalamin, it helps in formulating red blood cells, and DNA synthesis and boosts metabolism too.


Also read: What Is Vitamin B-Complex And Where To Get It Naturally


Vitamin B12 deficiency can cause a range of issues including fatigue, lethargy and weakness. Thus, it is ideal to maintain good levels of this essential vitamin in the body. In fact, experts suggest that vegans and vegetarians are at a higher risk of having Vitamin B12 deficiency since this nutrient is found mostly in meat and poultry sources. Luckily, there are some vegetarian sources of Vitamin B-12 too that can be added to the diet. So, those following the vegetarian diet need not stress about Vitamin B12 deficiency.
Here Are 5 Vegetarian Foods That Are High In Vitamin B12:
1. Milk
There is a reason why daily milk consumption is recommended by our grandmothers since times immemorial. Milk is one of the great vegetarian sources of Vitamin B12 and can provide up to 8% of the daily requirement as per USDA data. For those following a vegan diet, soya milk can also be a good alternative.
2.Yogurt
Not just milk, but even yogurt is an excellent source of Vitamin B12. A single serving of 100 grams of yogurt may provide up to 12% of the cobalamin required by the body. Thus, even if you cannot consume milk, yogurt can be a good alternative to stock up on Vitamin B12.
3. Nutritional Yeast
Another popular ingredient used in vegan cooking, nutritional yeast can be a powerhouse of Vitamin B-12. It is basically a form of inactivated yeast that can be used to add an umami flavour to your food and also offers several health benefits.
4. Fortified Cereal
These days, even cereal is enriched with vitamins and minerals to up the nutritional quotient of your meal. Known as fortified cereal, it is quite a healthy addition to your diet and a great way to fulfill your daily Vitamin B12 requirement. Pair it with milk and you have a winner!


Also read: Vitamin B12 Foods: Foods You Must Eat To Avoid Vitamin B12 Deficiency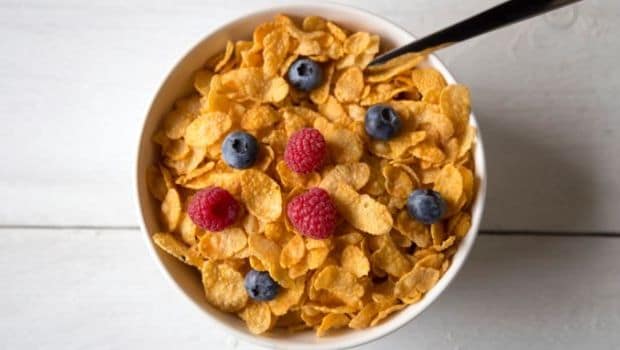 5. Buttermilk
Yes, even the humble buttermilk or chaach contains a good quantity of Vitamin B12. Low-fat, homemade buttermilk has about 3% of the daily required value of Cobalamin as per USDA data. Drizzle some salt or pepper on it, or add any other spices of your choice.


So, stock up on your daily Vitamin B12 intake with these vegetarian foods and make sure your body is healthy and fit.
About Aditi AhujaAditi loves talking to and meeting like-minded foodies (especially the kind who like veg momos). Plus points if you get her bad jokes and sitcom references, or if you recommend a new place to eat at.